CNN
Why I blew the whistle on the Rick Perry meeting
By Simon Edelman      March 29, 2018
Simon Edelman is the former Department of Energy chief creative officer. The views expressed in this commentary are his own.
(CNN) I was fired from my job as Department of Energy chief creative officer for releasing public domain photos of a meeting between Rick Perry, secretary of energy, and Robert Murray, CEO of Ohio-based Murray Energy, a large US coal company. There was no classified information present, I didn't engage with either of them and I didn't interrupt their conversation.
The pictures showed Murray, who donated $300,000 to Donald Trump's presidential inauguration, give Perry an "action plan." Murray's company has previously lobbied the Trump administration to end new federal public health protections for greenhouse gas emissions and smog pollution, loosen mine safety rules, and cut the staff of the Environmental Protection Agency by "at least half."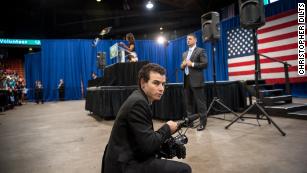 Simon Edelman
Perry and Murray shook hands, hugged and agreed to get it done. Then they kept everything that happened that day a secret.
If this raises a few flags for you, then you understand the predicament I was in when I was still employed at DOE in March 2017. I thought about it and decided to release the photos and the story to the public, after which I was placed on leave and then fired. My personal laptop was seized (though it was recently returned to me), and I was subjected to intimidation tactics from DOE staff.
Some of the policies Murray's company has advocated for have been faithfully executed without research, thoughtful public comment periods or policy input from public health professionals. President Trump pulled out of the Paris Agreement on climate that cuts down on greenhouse gas emissions globally, and his administration gave notice of repealing the landmark Clean Power Plan, which reduced greenhouse gas emissions from coal plants nationwide. The Trump administration attempted to delay, but was eventually forced to proceed due to lawsuits, clean air protections against smog pollution. The President also nominated a coal company consultantto oversee national mine safety and began cutting EPA scientists and other career agency staffers in droves.
Secretary of Energy Rick Perry reviews Murray Energy CEO Robert Murray's "action plan."
Additionally, during this time, the rapidly growing clean energy industry that employs hundreds of thousands of people was also relegated to a footnote through cuts to solar and wind energy research and shifts in focus to fossil fuel development. Perry also tried, unsuccessfully, to manipulate the energy market by attempting to force electricity customers to pay billions of extra dollars to prop up uneconomic coal plants that were ready for retirement. Not surprisingly, the news reports and industry analysts found that the coal plants that would benefit the most from Perry's manipulation attempt would be ones supplied by Murray's coal mines.
But that's not even the worst of it. At that same meeting, Andrew Wheeler, the nominee for the number two position at the Environmental Protection Agency, was present. Prior to his nomination, Wheeler spent much of his career as a mining lobbyist, where he worked for Murray and other mining interests in Washington, fighting to shape clean air and water protections in his clients' favor.
In addition to Wheeler's past relationship with Murray, it's also been reported that he proactively fundraised last year for two senators on the Senate Environment and Public Works Committee. This committee is responsible for determining Wheeler's fitness for the EPA and voting to bring his nomination to the Senate floor, making Wheeler's confirmation out of committee along partisan lines last month a potential conflict of interest.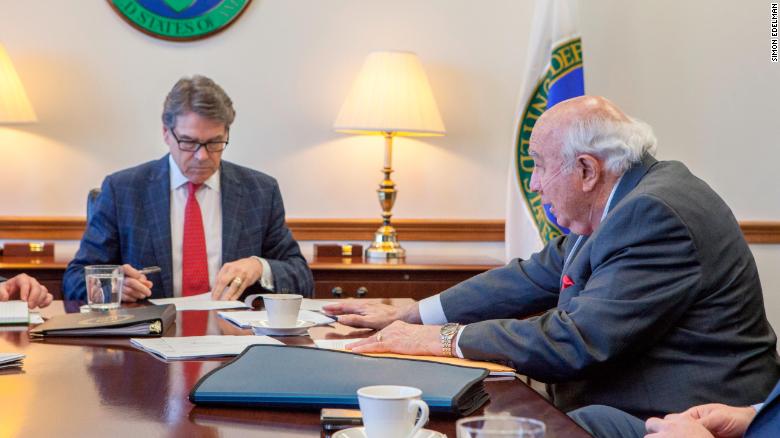 Secretary of Energy Rick Perry and Murray Energy CEO Robert Murray meet.
If he is confirmed by the entire Senate, he will likely vigorously try to prop up the coal industry in the same ways Perry has, despite the fact the coal industry has been in a tailspin for the past decade. The United States has rapidly been transitioning to cleaner, cheaper resources like solar, wind and energy efficiency, while coal plants are being retired due to their costs and pollution.
With full knowledge of these market realities, however, Wheeler, Murray and the Trump administration are adamant on using taxpayer funds to create rules to prop them up — and for releasing some photos that highlighted this fact, I was let go.
I showed the public what I felt they were entitled to see and now believe we need to do more to hold the Trump administration accountable. We cannot turn back time and undo a meeting that's already been done, but Congress does have an opportunity to limit the extent to which fossil fuel billionaires and D.C. lobbyists influences our government's policies.
Some good first steps would be delving into the governmental access given to coal, oil and fracked gas executives and rejecting the nomination of Wheeler when it comes to the floor of the Senate for a final vote.
Rick Perry fired me for exposing the truth about how energy policy was being made under the Trump administration. Now it's up to Congress to hold him and this administration accountable.
Editor's Note: DOE spokeswoman Shaylyn Hynes declined to comment on the circumstances surrounding Edelman's firing, but she did reiterate her earlier statement to CNN, saying Edelman's conclusions about the significance of the Perry-Murray meeting were "ridiculous" and that Edelman's statements are "based on his own subjective opinions and personal agenda."