BBC News   Highlands & Islands
Tidal turbines in firth 'set world record' for production
From Highlands & Islands       August 31, 2017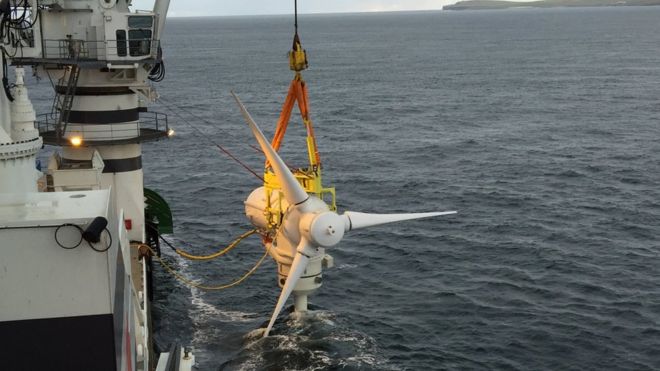 Image copyright Atlantis Resources Image caption Dozens of turbines could eventually be installed in the Inner Sound of the Pentland Firth
Two turbines in the Pentland Firth set a world record for monthly production from a tidal stream power station, according to the project's developer.
Atlantis said its MeyGen scheme in the Inner Sound of the firth off the Caithness coast produced 700 MWh of electricity.
The company said this was enough power for 2,000 homes.
The initial phase of the renewable energy project will involve three turbines.
Atlantis said there had been "minor delays" in receiving upgraded components for the third turbine, but hoped the device would be reinstalled at the site next month.
'Most powerful'
David Taaffe, director of project delivery at MeyGen, said: "The production performance from the installed turbines on the MeyGen project has been very good.
"August proved to be a world-record month, providing enough energy to power 2,000 Scottish homes from just two turbines."
Atlantis hopes to expand the project to have dozens of turbines.
Hannah Smith, policy manager at industry body Scottish Renewables, said the world record was the latest in a series of milestones for the MeyGen project.
She said: "The tides that flow through the Pentland Firth are some of the most powerful anywhere on earth and harnessing them has meant using machines and skills which have never before been tested on a commercial scale.
"This latest record is just one in a long line for the MeyGen project, which is leading the world in tidal energy deployment."
Energy Minister Paul Wheelhouse said: "It's great to see Scotland's world-leading marine energy sector continuing to make headlines.
"Phase 1A of the MeyGen tidal project, built with financial support from the Scottish government, has surpassed expectations.
"Two turbines alone produced enough energy during August to power around 2,000 homes – believed to be a world record for a tidal power station."