Trump voters must ask themselves: is this the "Great America" they had in mind, when they elected a Putin wannabe bent on dismantling America's democratic institutions and installing an autocratic kleptocracy, run by oligarchs parading as crony capitalists? I hope not!       John Hanno
The Guardian
Navalny's army: The Russians risking all to oppose Vladimir Putin.
Opposition politician's campaign gathers steam ahead of 2018 election, but his supporters face threats and intimidation.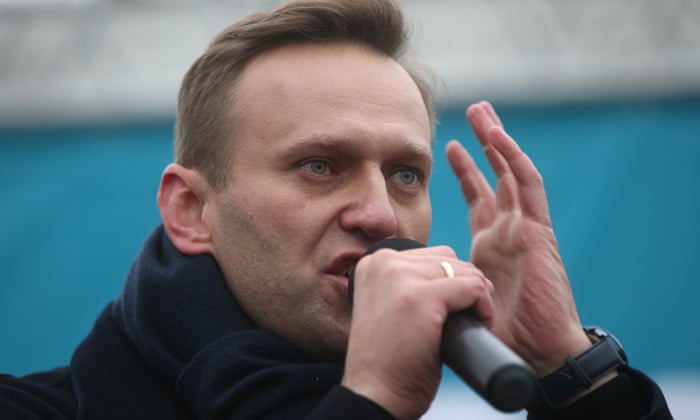 Alexei Navalny holds a rally in Izhevsk. His supporters are mainly young Russians who have known only a Putin presidency. Photograph: Yegor Aleyev/TASS 
Shaun Walker in Kemerovo     December 7, 2017
It has been a rough couple of months for Ksenia Pakhomova, a bright-eyed, garrulous 23-year-old from the Siberian mining town of Kemerovo. Her boyfriend was kicked out of university, her mother was fired from her teaching job at an arts school, and her grandmother was threatened with dismissal from her job at a gallery.
To top it off, someone plastered notices with her photograph in public places near her home, complete with her mobile number and an offer of sexual services.
All of this appears to be linked to Pakhomova's job: she is the regional coordinator for the presidential campaign of Alexei Navalny, an opposition politician who wants to challenge Vladimir Putin for the Russian presidency in elections next March.
Putin finally declared his candidacy on Wednesday in a long-expected announcement, and is likely to win comfortably. Standing against him are a familiar cast of political has-beens and a few spoiler candidates whom few Russians are taking seriously.
Navalny will most likely be barred from standing due to a criminal conviction in a case that was widely seen as politically motivated, but the 41-year-old anti-corruption campaigner is ignoring this. Instead, he has chosen to engage in the kind of enthusiastic, grassroots campaigning that has been absent from Russia in recent years: real politics, in short. He has embarked on a marathon of trips across the country's vast expanse, holding rallies and setting up campaign headquarters.
The liberal opposition has traditionally made few inroads in places like Kemerovo, a tough, working-class region four hours by plane from Moscow. Here, Navalny is attracting the support of a different kind of Russian from the chattering, Moscow intellectual class that many see as the natural supporters of the democratic opposition.
Navalny's supporters are mainly young Russians who have known little in their lifetimes except a Putin presidency.
Pakhomova, who studied law at university, said she was not particularly political until earlier this year, when she started watching Navalny's videos. She was particularly horrified by a video alleging staggering corruption on the part of the prime minister, Dmitry Medvedev, which led to major protests in Moscow and other cities earlier this year. In Kemerovo, she began volunteering for the local Navalny campaign, and in time, she was appointed head of the local office.
"Everyone in Russia knows that officials are corrupt, but when you see the details, how openly they think they can do it, it's shocking," she said.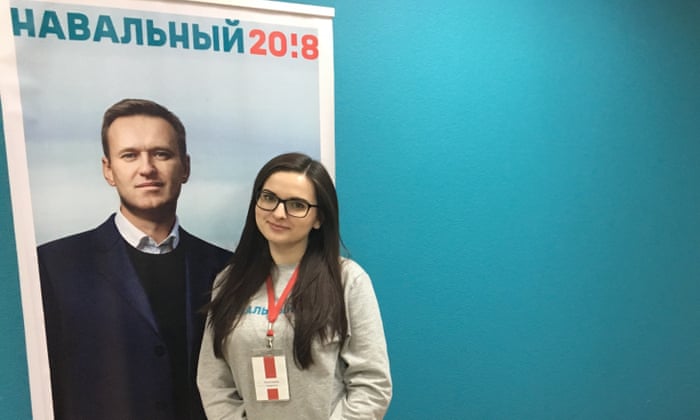 Ksenia Pakhomova, head of the Navalny campaign in Kemerovo. Photograph: Shaun Walker
Ksenia's mother, 46-year-old Natalia Pakhomova, said she was warned in September that she should prevent her daughter from working for Navalny, but refused. At the end of October, she was removed from her job, on the pretext that anonymous parents had called the local administration and complained that teachers at her school were soliciting bribes. She had worked at the school for 26 years, and in April had received a medal from the local governor for her service.
Natalia's 67-year-old mother, who works as a gallery attendant in the local art museum, was asked by her boss to talk her granddaughter out of working for Navalny and was also threatened with dismissal. She is on sick leave, which Natalia said was due to frayed nerves from the incident. Ksenia's boyfriend was kicked out of university, though he has since been reinstated after an online campaign.
Navalny has said if he is not allowed on to the ballot, he will call for an "active boycott" of the elections.
"No other candidate has opened regional offices, no other candidate is properly campaigning," he said in an interview in Moscow. "How can you have real elections without the only candidate who is campaigning?"
Navalny said that since the beginning of the year campaign staff had between them spent more than 2,000 days in jail and been fined more than 10m roubles (£129,000).
"What's happening in Kemerovo is extreme, but it's a pattern across Russia and it's clearly directed from the top," he said.
In almost every region, activists have found it hard to rent office space from which to run the campaign. In Kemerovo, Pakhomova's team is looking to move office after its landlord said the local administration called him and warned him not to rent to the Navalny campaign.
Whenever Navalny travels, authorities also create problems, and he has been jailed or assaulted on numerous occasions this year. When he visited Kemerovo earlier this autumn, local authorities cancelled public transport to the area on the outskirts of town where they had given Navalny permission to speak.
Despite all this, more than 2,000 people attended the rally, making it one of the biggest demonstrations in Kemerovo since the miners' strikes in the late 1980s and early 90s that heralded the collapse of the Soviet Union.
Views on how much damage Navalny can cause with his message that Putin's inner circle are "crooks and thieves" vary. In Kemerovo, many people have still not heard of Navalny, and among those who have, views are mixed.
Boris Pavlov, the deputy head of the Kemerovo Navalny campaign, holds frequent one-man pickets (gatherings of more than one person require permission) with a Navalny sign in the centre of Kemerovo. "Sometimes people come to shake my hand, but other times I've had people spit at me and call me a traitor," he said.
State television has long denied Navalny access to the airwaves, and claimed the opposition is working to promote foreign interests in Russia. Kremlin insiders portray him as a marginal figure who poses no serious electoral threat.
"His limit would be 5-10% in big cities and 2-3% overall," said one source close to the Kremlin, who added that the only reason to keep him off the ballot was to prevent "negative vibes" around the election. "He'd have three months of telling everyone that the government is lying and corrupt, and nobody wants to listen to that."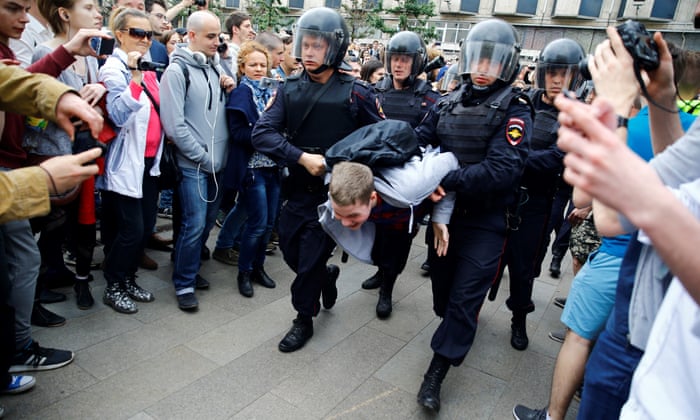 Russian police officers take into custody a protester during an unauthorized opposition rally in Moscow in June last year. Photograph: Anadolu Agency/Getty Images
But there are signs that Navalny's message could potentially resonate among a new audience, in a country where up to now Putin has managed to remain above widespread anger at corruption.
Natalia, Ksenia's mother, was always a Putin fan. She voted for him at the last election in 2012, and even bought Ksenia a Putin-themed calendar as a present that year, because her daughter was too young to vote, with the election falling a few days before her eighteenth birthday. But recent events have led to a recalibration of her views.
"Ksenia made me listen to the Navalny videos, and I'll be honest, I've realised he's really saying the right things. It has completely changed my views on politics," she said.
Hers is not the only case of children changing the minds of their parents. At a training session run by Ksenia on how to deal with police last week, all but one of the eight attendees was under 18.
Dima, 14, was initially scolded by his mother for attending Navalny-backed protests in Kemerovo earlier this year, after the child support agency showed up at his house to complain. However, she is now helping to collect signatures for the campaign, and proudly took a selfie with Navalny when he came to Kemerovo.
"My mother had some problems with her politics," said Dima, with the tone of a parent indulging an errant child, rather than vice-versa. "But afterwards she started watching Navalny's videos and her political understanding is now more developed."
Since you're here …
… we have a small favor to ask. More people are reading the Guardian than ever but advertising revenues across the media are falling fast. And unlike many news organizations, we haven't put up a paywall – we want to keep our journalism as open as we can. So you can see why we need to ask for your help. The Guardian's independent, investigative journalism takes a lot of time, money and hard work to produce. But we do it because we believe our perspective matters – because it might well be your perspective, too.
I appreciate there not being a paywall: it is more democratic for the media to be available for all and not a commodity to be purchased by a few. I'm happy to make a contribution so others with less means still have access to information.Thomasine F-R.
If everyone who reads our reporting, who likes it, helps fund it, our future would be much more secure. For as little as $1, you can support the Guardian – and it only takes a minute. Thank you.