Bloomberg – Politics
Pruitt Resumes Courting Industry as Ethics Controversies Swirl
By Jennifer A. Dlouhy and Ari Natter      May 9, 2018
EPA chief holds summit with mining, railroad, and other groups…No need to choose between environment and business, he says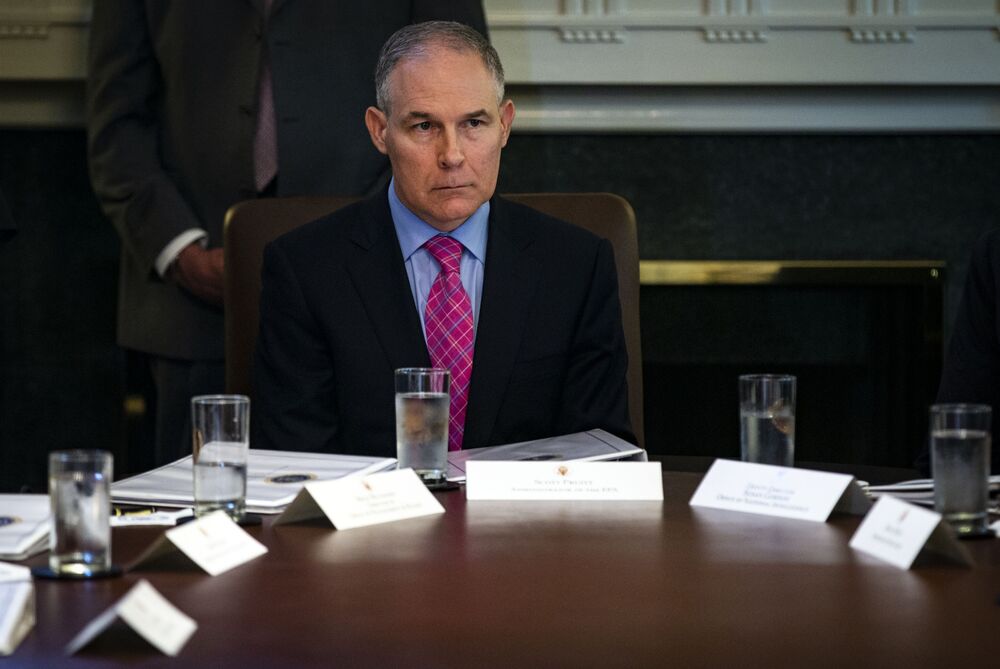 EPA Administrator Scott Pruitt. Photographer: Al Drago/Bloomberg
Embattled EPA Administrator Scott Pruitt is seeking to shift the limelight away from questions about his ethics and instead focus attention on his efforts to eliminate regulations on oil drillers, farmers, home builders and automakers.
Pruitt convened a meeting Wednesday of industry representatives, ranging from the National Mining Association to the Association of American Railroads, with a pledge to collaborate.
The session marked the second meeting of the Environmental Protection Agency's newly revived "Smart Sectors" program, designed to formally solicit the input of the industries the agency regulates. Although 13 specific sectors, including mining, agriculture and chemical manufacturing are part of the program, it doesn't include environmentalists and public health experts.
Pruitt told the group they no longer had to choose between protecting the environment and industry, as he outlined plans to accelerate permitting of new factories and refineries. Other industry groups that participated in the session included the National Association of Home Builders, the American Chemistry Council, the American Petroleum Institute, and the Portland Cement Association.
Oil and Coal Executives Clamored for Meetings With Pruitt
"Permitting should not be used as obstruction," Pruitt told the industry leaders who assembled in a wood-paneled room at the EPA headquarters Wednesday. Signs bearing slogans such as "True Environmentalism" stood in the background. "It should not be used to delay and obstruct so people don't invest capital," he said.
Quick-Take: Here's a Scorecard of the Scott Pruitt Investigations
The session took place amid criticism the EPA has taken a pro-business tilt at the expense of environmental issues.
'We Like Him'
It also came amid a swirl of controversies around Pruitt, who has been dogged for weeks by disclosures about his unorthodox condo rental from a lobbyist, questionable spending decisions and frequent taxpayer-funded travel.
There was no mention of that at the meeting on Wednesday. When asked by a reporter if he still had the confidence of the White House, Pruitt said: "I think they've spoken very clearly."
Earlier in the day, Marc Short, the White House's legislative director, said the administrator would remain in his position "for the foreseeable future."
"We like him," Short told reporters at the Capitol. "He's doing a good job."
The meeting was in keeping with Pruitt's business-focused schedule recently. He has tried to maintain a low profile with continued public appearance in front of generally friendly audiences. For instance, he said on Twitter that he also met Wednesday with the Industrial Minerals Association to highlight how the EPA is "striving to provide greater regulatory certainty for miners."
Pruitt also has met with the National Association of Farm Broadcasting to highlight policy changes that could benefit farmers and ranchers, and last month visited Georgia to talk about forest management.