Esquire
I Hope They Made Scott Pruitt Turn Out His Pockets on His Way Out the Door
The departing EPA chief was a first-class grifter—but he did his lasting damage elsewhere.
By Charles P. Pierce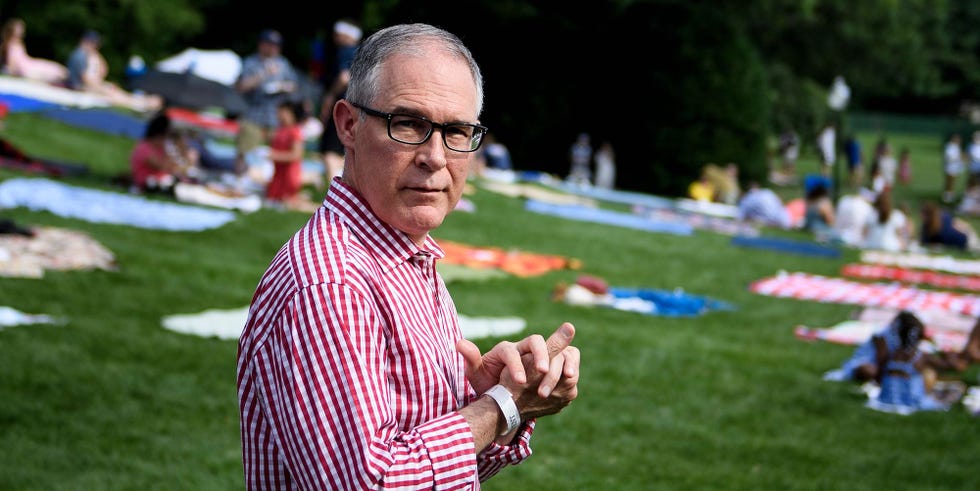 Getty Images
I have to admit, while watching the preposterous nomination of Scott Pruitt to be the head of the Environmental Protection Agency, I knew he was being put in the job not to do the job. That's been Republican practice going back to Ronald Reagan, who put Anne Gorsuch in charge of the EPA for roughly the same reasons and with roughly the same results. (Her son, of course, will now afflict us from the Supreme Court for decades.) I expected the environmental calamity, the wholesale sell-off of our public lands, and the rolling back of the regulations that protected the air and the water. Even the climate denial came as no surprise. That was what he was getting paid to do.
What I didn't anticipate was that Pruitt also would turn out to be so enthusiastic about gobbling at the public trough. (Borrowing your aides' credit cards to book rooms and then not paying them back? That's some first class deadbeatery right there.) It appears now that there's only room for one first-class deadbeat and grifter in this administration*. From The New York Times:
Mr. Pruitt, a former Oklahoma attorney general who built his career on lawsuits against the agency he would eventually lead, remained a favorite of Mr. Trump's for the majority of his tenure at the E.P.A. He began the largest regulatory rollback in the agency's history, undoing, delaying or blocking several Obama-era environmental rules. Among them was a suite of historic regulations aimed at mitigating global warming pollution from the United States' vehicles and power plants. Mr. Pruitt also played a lead role in urging Mr. Trump to follow through on his campaign pledge to withdraw the United States from the 2015 Paris climate agreement, despite warnings from some of the president's other senior advisers that the move could damage the United States' credibility in foreign policy. Under the landmark accord, nearly every country had committed to reducing emissions of planet-warming fossil fuel pollution.
That was his real job and he did it well enough to ride through an incredible array of scandals, most of them the kind of penny-ante greed that would embarrass Scott Walker, who is the master of that form. Pruitt did most of what he was hired to do and now he's going to be replaced by Andrew Wheeler, who used to be a coal lobbyist. The lasting damage will continue to be done. Anyway, I hope they locked up the office supply closet before they canned Scott Pruitt, or at least made him empty his pockets on the way out the door.
P.S.—Here is Pruitt's letter of resignation. If we had a functioning EPA, it would be a SuperFund site:
Respond to this post on the Esquire Politics Facebook page.