Esquire
Trump Didn't Forget to Pack His White Supremacy for His U.K. Trip
The president has made a biblical mess through his European tour.
By Jack Holmes      July 13, 2018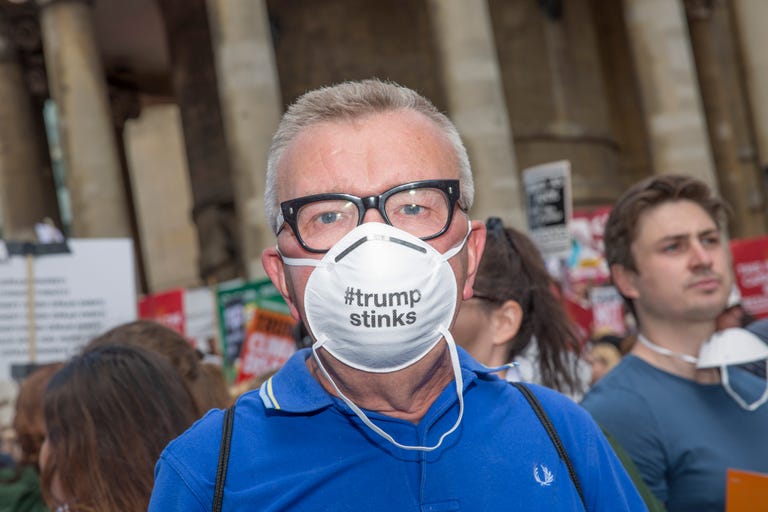 It's comforting to wake on a Friday morning knowing your Large Adult President is stomping around Europe, making things great again. Having done wonders for the NATO alliance—particularly over breakfast—Donald Trump, American president is now in the United Kingdom. He's there to touch base with our old allies through world war and more, and we can safely assume that, despite his penchant for innovation when it comes to foreign policy, Trump will seek to safeguard the U.S.-British friendship.
Right.
To coincide with his arrival, Trump did an interview with Britain's trashiest newspaper, The Sun, and trashed British Prime Minister Theresa May throughout. On the subject of Brexit, Trump complained May hadn't followed his advice and was instead pursuing a "soft" Brexit, in which the U.K. would maintain close ties to the European Union. This, he explained, would have profound implications on whether the U.K. can strike a separate trade deal with the U.S.:
TRUMP: If they do a deal like that, we would be dealing with the European Union instead of dealing with the U.K., so it will probably kill the deal … The deal she is striking is a much different deal than the one the people voted on.
So the United States and Great Britain just won't have a formal trade relationship if Trump doesn't like Britain's deal with the E.U.? Oh, and you might have noticed that splintering Western Europe by getting Britain as far as possible from the Union is—like undermining NATO—a priority of Vladimir Putin.
But Trump had more to say about May—or, more precisely, about who he thinks would be a great a prime minister. The answer is not Prime Minister Theresa May:
Trump praised Boris Johnson as a future Prime Minister. The US President described the former Foreign Secretary as "a very talented guy", adding: "I like him a lot."
"I have a lot of respect for Boris. He obviously likes me, and says very good things about me. I was very saddened to see he was leaving government and I hope he goes back in at some point. I think he is a great representative for your country."
Asked if the ex-minister could be in No 10 one day, he replied: "Well I am not pitting one against the other."
Certainly not.
Johnson, of course, is the Brexit clown with Trumpian hair who just resigned as foreign secretary in what many believe is a prelude to challenging May, who is incredibly weak at present as her cabinet fractures over Brexit plans. This is an amazing way to announce your arrival in a country and kick off your summit with its leader. When you take into account the U.K. is one of our closest allies, it's simply shocking. The United States president just shivved the leader of Britain on his way into town.
But the real shock was still to come. Our big strong president is steering clear of London during his visit because of mass protests that include a giant inflatable baby version of him. London's mayor, Sadiq Khan, approved the balloon's deployment on free speech grounds—but has his own history with Trump, which includes when Trump attacked Khan in the immediate aftermath of a terrorist attack in his city, because leadership and civility. When Khan criticized Trump's Muslim Ban—which the Supreme Court now assures us is, in its newest form, No Longer a Muslim Ban—Trump responded by challenging Khan to an IQ test.
Naturally, Trump's response in this case was to…blame Khan, who is Muslim, for terror attacks in London:
"I look at cities in Europe, and I can be specific if you'd like. You have a mayor who has done a terrible job in London. He has done a terrible job. Take a look at the terrorism that is taking place. Look at what is going on in London. I think he has done a very bad job on terrorism. I think he has done a bad job on crime, if you look, all of the horrible things going on there, with all of the crime that is being brought in."
Khan responded by pointing out that the Home Office—a division of the national government—is responsible for immigration policy. But it seems hopeless to point out these distinctions to the world's most powerful man, who elsewhere in the Sun interview veered into the kind of rhetoric you might find among bona fide white nationalists:
This is exactly the kind of cultural anxiety—which most often manifests as xenophobia and racism—that fuels all far-right movements in the West. The message is clear: If you allow non-white people from Africa and the Middle East to migrate to Europe, the continent as you know it will cease to exist.
Of course, this is predicated on the idea that a country like Britain is defined by ethnicity more than values like free expression, equality before the law, and self-determination. (Or that non-white migrants cannot assimilate to a society that has these values.) It also clings to the delusion that the U.K., like the U.S., has not been a thoroughly multicultural place for decades and can still be refashioned into an Anglo-Saxon ethnostate.
It is not a coincidence that Trump attacked London's Muslim mayor, or tried to tie him to Islamic extremist terrorism and crime, or tried to tie all of that to the migration issue. This is the methodology of white nationalism.
But there was still time for a run-of-the-mill batshit presidential moment.
Some have pointed out already that one reason Lincoln might not have fared so well in opinion polls is that he was assassinated a decade before the method of conducting them, known as "the telephone," was invented. But sure, whatever. Keep on winning.
Having made a biblical mess in the lead-up to the summit, Trump of course arrived expecting to field questions about it.
Oh, you believed that? No, he decided to lend some credence to that baby blimp caricature instead. Then, in a subsequent press conference, he called the whole thing Fake News: