The U.S. House of Representatives voted overwhelmingly to begin impeaching trump ! Not one single republi-con took their oath to the constitution seriously ! Not surprising but very disappointing. We'll see how they vote after the overwhelming evidence is presented to the American public. John Hanno
October 30, 2019
Lord Cromwell could have just as easily been talking about Republicans in the Senate and the House of Representatives.
Stephanie Ruhle Fans
October 30, 2019
From the lips of Captain America himself !!
Chris Evans has got it right.
Stephanie Ruhle Fans
October 31, 2019
Occupy Each Other
October 31, 2019
Drawing Fire. America's Best Political Cartoons.
October 31, 2019
Kevin Siers
ABC News
Marine veteran walked 810 miles in 42 days for veteran suicide awareness
By Ella Torres        October 10, 2019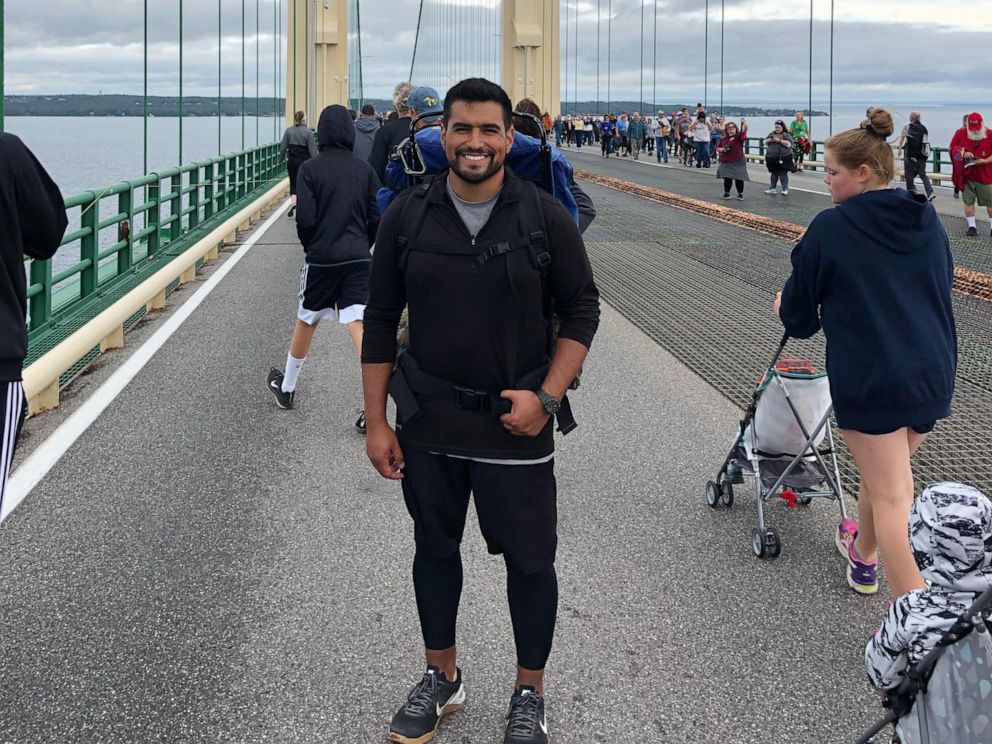 He decided on walking around Lake Michigan for 42 days, and creating a Facebook page where he could post daily updates about the cause.
On Sunday, Snyder finished his walk with 810 miles under his belt and more than 3,500 people following his journey on Facebook.
"I'm still getting messages and phone calls from people who just want to talk and share their story," Snyder said. "Just when I think I understand the magnitude, I learn more."
During his walk, which he began in Manistee, Michigan, he averaged about 20 miles per day.
He planned to sleep outside each night, but was stunned by the acts of kindness that both friends and strangers offered.
"Every single day people were reaching out to support the cause whether it was a roof or a meal … I did not sleep outside once," he said.
"I'm just glad that people have built a community together," added Snyder, who served in Afghanistan as a corporal from October 2017 to April 2018.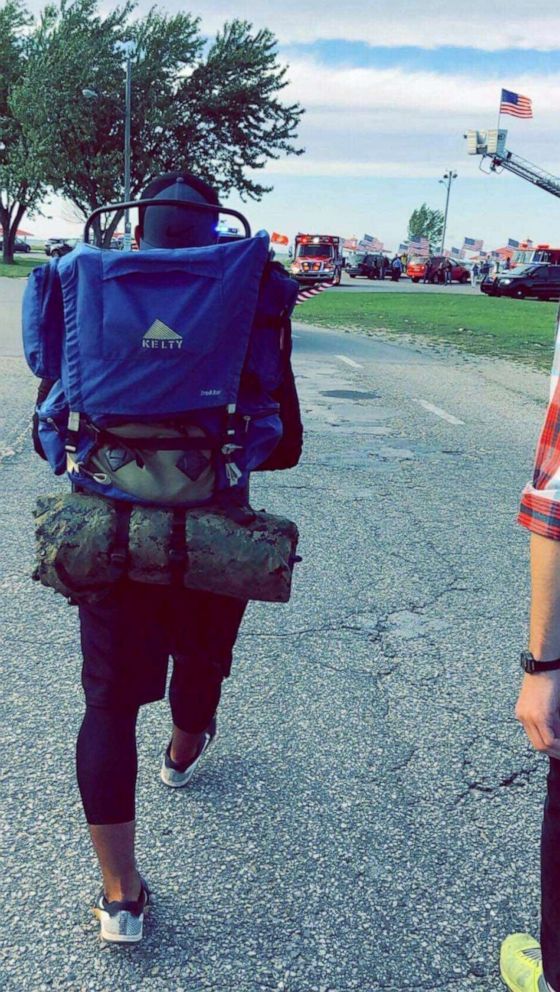 Just before speaking to ABC News, Snyder said he got off the phone with a woman from Michigan who lost a loved one to suicide two days before he began his walk.
He plans to keep the Facebook page open for that exact reason: so more people can reach him.
"I feel humbled and honored to share the burden of those who are still healing from losing a loved one or feeling the pain of someone going through challenges that they've been facing," he said.
Terry Walter – Stephanie Ruhle Fans
Adam Milstein
October 26, 2019
The Israeli soldiers in the photo are the granddaughters of the 4 women at the front of the line at a Nazi concentration camp.
Never Again!      Israel Ministry of Foreign Affairs. 
Newsweek – U.S.
TRUMP IS COMMITTING 'FELONY BRIBERY' BY GIVING FUNDRAISING CASH TO GOP SENATORS AHEAD OF IMPEACHMENT TRIAL: EX-BUSH ETHICS LAWYER
By Jason Lemon         October 31, 2019
President Donald Trump leaves after joining Senate Republicans for their weekly policy luncheon at the Capitol on March 26.CHIP SOMODEVILLA/GETTY
Attorney Richard Painter, who served as the chief White House ethics lawyer in the George W. Bush administration, warned on Thursday that President Donald Trump appeared to be committing "felony bribery" by giving Republican senators fundraising cash ahead of an increasingly likely impeachment trial in the Senate.
The lawyer shared an article published by Politico on Thursday morning. Titled "Trump lures GOP senators on impeachment with cold cash," the article outlined how the president is turning to his large network of donors to raise funds for a few senators facing difficult re-election campaigns in 2020. All of those senators have also signed a resolution condemning the Democratic-led impeachment inquiry.
"This is a bribe. Any other American who offered cash to the jury before a trial would go to prison for felony bribery. But he can get away with it?" Painter, a law professor at the University of Minnesota, wrote on Twitter.  "Criminal."
In a follow-up tweet, Painter argued that GOP lawmakers who accept the fundraising support should face criminal charges as well.
"The senators can raise their own campaign cash. Any senator who accepts cash from @realDonaldTrump before the impeachment trial is guilty of accepting a bribe and should go to the slammer," he tweeted.
The House of Representatives on Thursday will vote on a resolution, which is expected to pass the Democrat-controlled body, to outline the formal impeachment inquiry rules. The resolution will allow for public hearings and the release of transcripts of closed-door depositions. This is not a vote to impeach the president, which is expected to come later after the public hearings. As things stand now, most lawmakers and analysts believe the president will be formally impeached by Congress' lower chamber.
After that, the Senate will be required to take up the inquiry and carry out a trial for the president. As the upper chamber is Republican controlled, it is considered highly unlikely that Trump will be found guilty and removed from office. The president's removal requires a two-thirds majority vote, and the Senate is made up of 53 Republicans, 45 Democrats and two independents, who caucus with the Democrats.
None of the Senate Republicans have publicly stated that Trump's actions have amounted to impeachable behavior, but several have expressed serious misgivings and raised concerns.
"There's lot of things that concern me," GOP Senator Tim Scott of South Carolina said Wednesday, The Hill reported.
"The question on the table is impeachment, and that's the question we should get an answer to, and the answer so far is 'For what would we impeach the president?'" he said. "And the answer is 'I don't see anything for that.'"
Ceadric LeVerne Washington