Roots of Today's Mental Health Crisis
Salon
As president and governor of California, the GOP icon led the worst policies on mental illness in generations
Dr. E. Fuller Torrey         September 29, 2013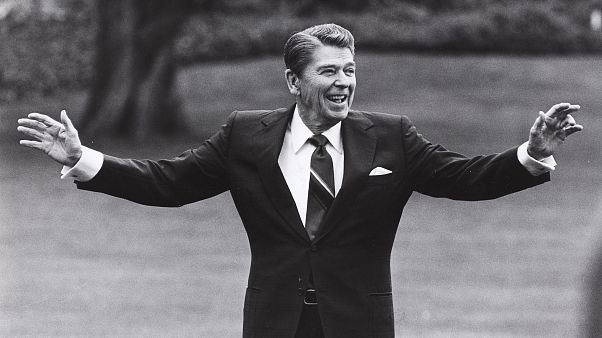 Ronald Reagan (Reuters/Joe Marquette)
In November 1980, Republican Ronald Reagan overwhelmingly defeated Jimmy Carter, who received less than 42% of the popular vote, for president. Republicans took control of the Senate (53 to 46), the first time they had dominated either chamber since 1954. Although the House remained under Democratic control (243 to 192), their margin was actually much slimmer, because many southern "boll weevil" Democrats voted with the Republicans.One month prior to the election, President Carter had signed the Mental Health Systems Act, which had proposed to continue the federal community mental health centers program, although with some additional state involvement. Consistent with the report of the Carter Commission, the act also included a provision for federal grants "for projects for the prevention of mental illness and the promotion of positive mental health," an indication of how little learning had taken place among the Carter Commission members and professionals at NIMH. With President Reagan and the Republicans taking over, the Mental Health Systems Act was discarded before the ink had dried and the CMHC funds were simply block granted to the states. The CMHC program had not only died but been buried as well. An autopsy could have listed the cause of death as naiveté complicated by grandiosity.President Reagan never understood mental illness. Like Richard Nixon, he was a product of the Southern California culture that associated psychiatry with Communism. Two months after taking office, Reagan was shot by John Hinckley, a young man with untreated schizophrenia. Two years later, Reagan called Dr. Roger Peele, then director of St. Elizabeths Hospital, where Hinckley was being treated, and tried to arrange to meet with Hinckley, so that Reagan could forgive him. Peele tactfully told the president that this was not a good idea. Reagan was also exposed to the consequences of untreated mental illness through the two sons of Roy Miller, his personal tax advisor. Both sons developed schizophrenia; one committed suicide in 1981, and the other killed his mother in 1983. Despite such personal exposure, Reagan never exhibited any interest in the need for research or better treatment for serious mental illness.California has traditionally been on the cutting edge of American cultural developments, with Anaheim and Modesto experiencing changes before Atlanta and Moline. This was also true in the exodus of patients from state psychiatric hospitals. Beginning in the late 1950's, California became the national leader in aggressively moving patients from state hospitals to nursing homes and board-and-care homes, known in other states by names such as group homes, boarding homes, adult care homes, family care homes, assisted living facilities, community residential facilities, adult foster homes, transitional living facilities, and residential care facilities. Hospital wards closed as the patients left. By the time Ronald Reagan assumed the governorship in 1967, California had already de-institutionalized more than half of its state hospital patients. That same year, California passed the landmark Lanterman-Petris-Short (LPS) Act, which virtually abolished involuntary hospitalization except in extreme cases. Thus, by the early 1970's California had moved most mentally ill patients out of its state hospitals and, by passing LPS, had made it very difficult to get them back into a hospital if they relapsed and needed additional care. California thus became a canary in the coal mine of de-institutionalization.

The results were quickly apparent. As early as 1969, a study of California board-and-care homes described them as follows:

These facilities are in most respects like small long-term state hospital wards isolated from the community. One is overcome by the depressing atmosphere. . . . They maximize the state-hospital-like atmosphere. . . . The operator is being paid by the head, rather than being rewarded for rehabilitation efforts for her "guests."

The study was done by Richard Lamb, a young psychiatrist working for San Mateo County; in the intervening years, he has continued to be the leading American psychiatrist pointing out the failures of de-institutionalization.

By 1975 board-and-care homes had become big business in California. In Los Angeles alone, there were "approximately 11,000 ex-state-hospital patients living in board-and-care facilities." Many of these homes were owned by for-profit chains, such as Beverly Enterprises, which owned 38 homes. Many homes were regarded by their owners "solely as a business, squeezing excessive profits out of it at the expense of residents." Five members of Beverly Enterprises' board of directors had ties to Governor Reagan; the chairman was vice chairman of a Reagan fundraising dinner, and "four others were either politically active in one or both of the Reagan [gubernatorial] campaigns and/or contributed large or undisclosed sums of money to the campaign." Financial ties between the governor, who was emptying state hospitals, and business persons who were profiting from the process would also soon become apparent in other states.

Many of the board-and-care homes in California, as elsewhere, were clustered in city areas that were rundown and thus had low rents. In San Jose, for example, approximately 1,800 patients discharged from nearby Agnews State Hospital were placed in homes clustered near the campus of San Jose State University. As early as 1971 the local newspaper decried this "mass invasion of mental patients." Some patients left their board-and-care homes because of the poor living conditions, whereas others were evicted when the symptoms of their illness recurred because they were not receiving medication, but both scenarios resulted in homelessness. By 1973 the San Jose area was described as having "discharged patients…living in skid row…wandering aimlessly in the streets . . . a ghetto for the mentally ill and mentally retarded."

Similar communities were becoming visible in other California cities as well as in New York. In Long Beach on Long Island, old motels and hotels were filled with patients discharged from nearly Creedmore and Pilgrim State Hospitals. By 1973, community residents were complaining that their town was becoming a psychiatric ghetto; at the local Catholic church, patients were said to "have urinated on the floor during Mass and eaten the altar flowers." The Long Beach City Council therefore passed an ordinance requiring patients to take their prescribed medication as a condition for living there. Predictably, the New York Civil Liberties Union immediately challenged the ordinance as being unconstitutional, and it was so ruled. By this time, there were about 5,000 board-and-care homes in New York City, some with as many as 285 beds and with up to 85% of their residents having been discharged from the state hospitals. As one New York psychiatrist summarized the situation: "The chronic mentally ill patient has had his locus of living and care transferred from a single lousy institution to multiple wretched ones."

California was the first state to witness not only an increase in homelessness associated with de-institutionalization but also an increase in incarceration and episodes of violence. In 1972 Marc Abramson, another young psychiatrist working for San Mateo County, published a landmark paper entitled "The Criminalization of Mentally Disordered Behavior." Abramson claimed that because the new LPS statute made it difficult to get patients admitted to a psychiatric hospital, police "regard arrest and booking into jail as a more reliable way of securing involuntary detention of mentally disordered persons." Abramson quoted a California prison psychiatrist who claimed to be "literally drowning in patients. . . . Many more men are being sent to prison who have serious mental problems." Abramson's paper was the first clear description of the increase of mentally ill persons in jails and prisons, an increase that would grow markedly in subsequent years.

By the mid-1970's, studies in some states suggested that about 5% of jail inmates were seriously mentally ill. A study of five California county jails reported that 6.7% of the inmates were psychotic. A study of the Denver County Jail reported that 5% of prisoners had a "functional psychosis." Such figures contrasted with studies from the 1930's that had reported less than 2% of jail inmates as being seriously mentally ill. In 1973 the jail in Santa Clara County, which included San Jose, "created a special ward…to house just the individuals who have such a mental condition"; this was apparently the first county jail to create a special mental illness unit.

Given the increasing number of seriously mentally ill individuals living in the community in California by the mid-1970's, it is not surprising to find that they were impacting the tasks of police officers. A study of 301 patients discharged from Napa State Hospital between 1972 and 1975 found that 41% of them had been arrested. According to the study, "patients who entered the hospital without a criminal record were subsequently arrested about three times as often as the average citizen." Significantly, the majority of these patients had received no aftercare following their hospital discharge. By this time, police in other states were also beginning to feel the burden of the discharged, but often untreated, mentally ill individuals. In suburban Philadelphia, for example, "mental-illness-related incidents increased 227.6% from 1975 to 1979, whereas felonies increased only 5.6%."

Of all the omens of de-institutionalization's failure on exhibit in 1970's California, the most frightening were homicides and other episodes of violence committed by mentally ill individuals who were not being treated.
1970: John Frazier, responding to the voice of God, killed a prominent surgeon and his wife, two young sons, and secretary. Frazier's mother and wife had sought unsuccessfully to have him hospitalized.
1972: Herbert Mullin, responding to auditory hallucinations, killed 13 people over 3 months. He had been hospitalized three times but released without further treatment.
1973: Charles Soper killed his wife, three children, and himself 2 weeks after having been discharged from a state hospital.
1973: Edmund Kemper killed his mother and her friend and was charged with killing six others. Eight years earlier, he had killed his grandparents because "he tired of their company," but at age 21 years had been released from the state hospital without further treatment.
1977: Edward Allaway, believing that people were trying to hurt him, killed seven people at Cal State Fullerton. Five years earlier, he had been hospitalized for paranoid schizophrenia but released without further treatment.
Such homicides were widely publicized. Many people perceived the tragedies as being linked to California's efforts to shut its state hospitals and to the new LPS law, which made involuntary treatment virtually impossible. The foreman of the jury that convicted Herbert Mullin of the murders for which he was charged reflected the sentiments of many when he publicly stated:
I hold the state executive and state legislative offices as responsible for these ten lives as I do the defendant himself—none of this need ever have happened….In recent years, mental hospitals all over this state have been closed down in an economy move by the Reagan administration. Where do you think these . . . patients went after their release? . . . The closing of our mental hospitals is, in my opinion, insanity itself.
In response to queries about the homicides, the California Department of Mental Health had its deputy director, Dr. Andrew Robertson, testify before a state legislative inquiry in 1973. His testimony must rank among the all-time least successful attempts by a public official to reassure the public:
It [LPS] has exposed us as a society to some dangerous people; no need to argue about that. People whom we have released have gone out and killed other people, maimed other people, destroyed property; they have done many things of an evil nature without their ability to stop and many of them have immediately thereafter killed themselves. That sounds bad, but let's qualify it. . . . the odds are still in society's favor, even if it doesn't make patients innocent or the guy who is hurt or killed feel any better.
1980's: THE PROBLEMS BECOME NATIONAL
Until the 1980's, most people in the United States were unaware that the de-institutionalization of patients from state mental hospitals was going terribly wrong. Some were aware that homicides and other untoward things were happening in California, but such things were to be expected, because it was, after all, California. President Carter's Commission on Mental Health issued its 1978 report and recommended doing more of the same things—more CMHCs, more prevention of mental illness, and more federal spending. The report gave no indication of a pending crisis. The majority of patients who had been discharged from state hospitals in the 1960's and 1970's had gone to their own homes, nursing homes, or board-and-care homes; they were, therefore, out of sight and out of mind.
In the 1980's, this all changed. De-institutionalization became, for the first time, a topic of national concern. The beginning of the discussion was heralded by a 1981 editorial in the New York Times that labeled de-institutionalization "a cruel embarrassment, a reform gone terribly wrong." Three years later, the paper added: "The policy that led to the release of most of the nation's mentally ill patients from the hospital to the community is now widely regarded as a major failure." During the following decade, there were increasing concerns publicly expressed about mentally ill individuals in nursing homes, board-and-care homes, and jails and prisons. There were also periodic headlines announcing additional high-profile homicides committed by individuals who were clearly psychotic. But the one issue that took center stage in the 1980's, and directed public attention to de-institutionalization, was the problem of mentally ill homeless persons.
During the 1980's, an additional 40,000 beds in state mental hospitals were shut down. The patients being sent to community facilities were no longer those who were moderately well-functioning or elderly; rather, they included the more difficult, chronic patients from the hospitals' back wards. These patients were often younger than patients previously discharged, less likely to respond to medication, and less likely to be aware of their need for medication. In 1988 the National Institute of Mental Health (NIMH) issued estimates of where patients with chronic mental illness were living. Approximately 120,000 were said to be still hospitalized; 381,000 were in nursing homes; between 175,000 and 300,000 were living in board-and-care homes; and between 125,000 and 300,000 were thought to be homeless. These broad estimates for those living in board-and-care homes and on the streets suggested that neither NIMH nor anyone else really knew how many there were.
Abuse of mentally ill persons in nursing homes had originally come to public attention during 1974 hearings of the Senate Committee on Aging. Those hearings had described nursing homes actually bidding on patients in attempts to get those who were most easily managed; bounties of $100 paid by nursing homes to hospital psychiatrists for every patient sent to them; and exorbitant profits for the nursing homes. As a consequence of such hearings and a 1986 study of nursing homes by the Institute of Medicine, Congress passed legislation in 1987 requiring all Medicaid-funded nursing homes to screen new admissions to keep out patients who did not qualify for admission because they did not require skilled nursing care. Follow-up studies indicated that the screening mandate had little effect on admission policies or abuses.
Abuse of mentally ill persons in board-and-care homes also periodically surfaced at this time:
1982: "Nine ragged, emaciated adults" were found in an unlicensed home for mentally ill individuals in Jackson, Mississippi. They were living in a 10-by-10 foot building with "no toilet or running water, only a plastic bucket to collect body wastes. A hose and faucet outside the building were used for washing. There were two mattresses on the concrete floor and a single cot in the room." There were also "two vicious dogs chained outside the room."
1984: Seven "former patients" died in a fire in a "rooming house" in Worcester, Massachusetts. "The report released this week said officials of Worcester State Hospital who referred the former patients to the rooming house had been warned by community health workers that the privately owned house was not safe."
Sociologist Andrew Scull in 1981 summarized the economics of the board-and-care industry: "The logic of the marketplace suffices to ensure that the operators have every incentive to warehouse their charges as cheaply as possible, since the volume of profit is inversely proportional to the amount expended on the inmates." In addition, because many board-and-care homes were in crime-ridden neighborhoods, mentally ill individuals living in them were often victimized when they went outside. A 1984 study of 278 patients living in board-and-care homes in Los Angeles reported that one-third "reported being robbed and/or assaulted during the preceding year."
The problems of mentally ill individuals in nursing homes and board-and-care homes rarely elicited media attention in the 1980's. By contrast, the problem of homeless persons, including the mentally ill homeless, became a major story. In Washington, Mitch Snyder and the National Coalition for the Homeless burst onto the national scene by staging hunger strikes and sleep-ins on sidewalk grates. Their message was that homeless persons are just like you and me and all they need is a house and a job. Snyder challenged President Reagan, accusing him of being the main cause of homelessness, and the media extensively covered the controversy. By the time Snyder committed suicide in 1990, homelessness had become a major topic of national discussion.
Despite the claims of homeless advocates, media attention directed to homeless persons made it increasingly clear that many of them were, in fact, seriously mentally ill. In 1981, Life magazine ran a story titled "Emptying the Madhouse: The Mentally Ill Have Become Our Cities' Lost Souls." In 1982, Rebecca Smith froze to death in a cardboard box on the streets of New York; the media focused on her death because it was said that she had been valedictorian of her college class before becoming mentally ill. In 1983, the media covered the story of Lionel Aldridge, the former all-pro linebacker for the Green Bay Packers; after developing schizophrenia, he had been homeless for several years on the streets of Milwaukee. In 1984, a study from Boston reported that 38% of homeless persons in Boston were seriously mentally ill. The report was titled "Is Homelessness a Mental Health Problem?" and confirmed what people were increasingly beginning to suspect—that many homeless persons had previously been patients in the state mental hospitals.
By the mid-1980's, a consensus had emerged that the total number of homeless persons was increasing. The possible reasons for this increase became a political football, but the failure of the mental health system was one option widely discussed. A 1985 report from Los Angeles estimated that 30% to 50% of homeless persons were seriously mentally ill and were being seen in "ever increasing numbers." The study concluded that this was "in part the product of the de-institutionalization movement….The 'Streets' have become 'The Asylums' of the 80's."
The appearance of Joyce Brown on the streets of New York in 1986 added a new dimension to the national dialogue. Prior to taking up residence on a steam grate at the corner of East 65th Street and Second Avenue, Brown had worked for 10 years as a secretary. She had then become mentally ill, was hospitalized, and discharged. While living on the street, Brown was observed urinating on the sidewalk, defecating in the gutter, tearing up money given to her by passersby, and running into traffic. New York mayor Ed Koch ordered her to be involuntarily hospitalized, well aware that the Civil Liberties Union's lawyers would contest the case. Koch's statement reflected the sentiments of many: "If the crazies want to sue me, they have every right to sue, and by crazies I'm . . . talking about those who say, 'No, you have no right to intervene to help.' " The civil liberty lawyers prevailed, and the civil right to be both psychotic and homeless thus added another legal wrinkle to the ongoing homeless debate.
By the end of the 1980's, the origins of the increasing number of mentally ill homeless persons had become abundantly clear. A study of 187 patients discharged from Metropolitan State Hospital in Massachusetts reported that 27% had become homeless. A study of 132 patients discharged from Columbus State Hospital in Ohio reported that 36% had become homeless. In 1989, when a San Francisco television station wished to advertise its series on homelessness, it put up posters around the city saying, "You are now walking though America's newest mental institution." Psychiatrist Richard Lamb added: "Probably nothing more graphically illustrates the problems of de-institutionalization than the shameful and incredible phenomenon of the homeless mentally ill."
At the same time that mentally ill homeless persons were becoming an object of national concern during the 1980's, the number of mentally ill persons in jails and prisons was also increasing. A 1989 review of available studies concluded that "the prevalence rates for major psychiatric disorders . . . [in jails and prisons] have increased slowly and gradually in the last 20 years and will probably continue to increase." Various studies reported rates ranging from 6% (Virginia) and 8% (New York) to 10% (Oklahoma and California) and 11% (Michigan and Pennsylvania). By 1990, a national survey concluded:
Given all the data, it seems reasonable to conclude that approximately 10 percent of inmates in prisons and jails, or approximately 100,000 individuals, suffer from schizophrenia or manic-depressive psychosis [bipolar disorder].
This 10% estimate contrasted with the 5% prevalence rate that had been widely cited a decade earlier.
Amid the various studies, disturbing trends were evident. Among 132 patients discharged from Columbus State Hospital in Ohio, 17% were arrested within 6 months. In California, seriously mentally ill individuals with a history of past violence, including armed robbery and murder, were being discharged from mental hospitals without any planned aftercare. In Colorado in 1984, George Wooton, diagnosed with schizophrenia, was booked into the Denver County Jail for the hundredth time; he would be the first prominent member of a group that would become widely known as "frequent flyers." In several states the bizarre behavior of mentally ill inmates was also becoming problematic for jail personnel; in Montana a man "tried to drown himself in the jail toilet," and in California inmates tried to escape "by smearing themselves with their own feces and flushing themselves down the toilet." To make matters worse, civil liberties lawyers frequently defended the rights of mentally ill prisoners to refuse medication and remain psychotic. At a 1985 commitment hearing in Wisconsin, for example, a public defender argued that his jailed mentally ill client, who had been observed eating his feces, "was in no imminent danger of physical injury or dying" and should therefore be released; the judge agreed.
As more and more mentally ill individuals entered the criminal justice system in the 1980's, local police and sheriffs' departments were increasingly affected. In New York City, calls associated with "emotionally disturbed persons," referred to as "EDP's," increased from 20,843 in 1980 to 46,845 in 1988, and "experts say similar increases have occurred in other large cities." Many such calls required major deployments of police resources. The rescue of a mentally ill man from the top of a tower on Staten Island, for example, "required at least 20 police officers and supervisors, half a dozen emergency vehicles, several highway units and a helicopter." In an attempt to deal with these psychiatric emergencies, the police department in Memphis, Tennessee, in 1988 created the first specially trained police Crisis Intervention Team, or CIT, as it would become known as it was replicated in other cities.
Finally, the 1980s witnessed increasing episodes of violence, including homicides, committed by mentally ill individuals who were not receiving treatment. The decade began ominously with three high-profile shootings between March 1980 and March 1981. Former congressman Allard Lowenstein was killed by Dennis Sweeney, John Lennon was killed by Mark David Chapman, and President Ronald Reagan was shot by John Hinckley. All three perpetrators had untreated schizophrenia. Sweeney, for example, believed that Lowenstein, his former mentor, had implanted a transmitter in his teeth through which he was sending harassing voices.
As the decade progressed, such widely publicized homicides became more common:
1985: Sylvia Seegrist, diagnosed with schizophrenia and with 12 past hospitalizations, killed three and wounded seven in a Pennsylvania shopping mall.
Bryan Stanley, diagnosed with schizophrenia and with seven past hospitalizations, killed a priest and two others in a Wisconsin Catholic church.
Lois Lang, diagnosed with schizophrenia and discharged from a mental hospital 3 months earlier, killed the chairman of a foreign exchange firm and his receptionist in New York.
1986: Juan Gonzalez, diagnosed with schizophrenia and psychiatrically evaluated 4 days earlier, killed two and injured nine others with a sword on New York's Staten Island Ferry.
1987: David Hassan, discharged 2 days earlier from a mental hospital, killed four people by running them over with his car in California.
1988: Laurie Dann, who was known to both the police and FBI because of her threatening and psychotic behavior, killed a boy and injured five of his classmates in an Illinois elementary school.
Dorothy Montalvo, diagnosed with schizophrenia, was accused of murdering at least seven elderly individuals and burying them in her backyard in California.
Aaron Lindh, known to be mentally ill and threatening, killed the Dane County coroner in Madison, Wisconsin. This was one of six incidents in that county during 1988 "involving mentally ill individuals . . . [that] resulted in four homicides, three suicides, seven victims wounded by gunshots, and one victim mauled by a polar bear" when a mentally ill man climbed into its pen at the local zoo.
1989: Joseph Wesbecker, diagnosed with bipolar disorder, killed 7 and wounded 13 at a printing plant in Kentucky.
Another indication that such episodes of violence were increasing was a study that compared admissions to a New York state psychiatric hospital in 1975 and 1982. It reported that "the percentage of patients who had committed violence toward persons while living in the community in the 1982 cohort was nearly double the percentage in the 1975 cohort." In addition, "the percentage of patients who had had encounters with the criminal justice system in the 1982 cohort was more than quadruple the percentage in the 1975 cohort."
Is there any way to estimate the frequency of these episodes of violence committed by mentally ill person who were not being treated? There was then, and continues to be, no national database that tracks homicides committed by mentally ill persons. However, a small study published in 1988 provided a clue. In Contra Costa County, California, all 71 homicides committed between 1978 and 1980 were examined. Seven of the 71 homicides were found to have been done by individuals with schizophrenia, all of whom had been previously hospitalized at some point before the crime. The 10% rate was also consistent with the findings of another small study in Albany County, New York. Therefore, by the late 1980's, it appeared that violent acts committed by untreated mentally ill persons was one of the consequences of the de-institutionalization movement, and the problem appeared to be a growing one.
Excerpted from "American Psychosis: How the Federal Government Destroyed the Mental Illness Treatment System" by E. Fuller Torrey with permission from Oxford University Press USA. Copyright 2014 E. Fuller Torrey.