Esquire
Manafort Is Mueller's Opening Salvo
The first round of indictments in the Russia investigation are just that: the first.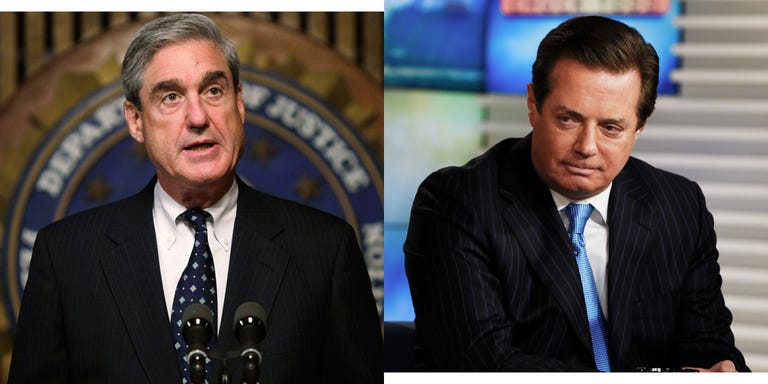 Getty
By Charles P. Pierce             October 30, 2017  
Ten months. It took Richard Nixon four years to get himself tangled up with serious felonies. It took Ronald Reagan five years to sign off on arming the Contras in contravention of federal law. Hell, it was almost three years—and two special prosecutors—into Bill Clinton's term before anybody was indicted with the remotest connection to whatever the Whitewater affair really was all about.
Ten months is all it took for the president*'s former campaign manager, a guy who ran the president*'s campaign for almost twice as long as evil genius Steve Bannon did, and his principal aide, who was still hanging around the White House as recently as last June, to get hauled into FBI headquarters early Monday morning to begin what may be several years worth of similar perp walks. Ten months. This is impressive. From The New York Times:
"The charges against Mr. Manafort, President Trump's former campaign chairman, were not immediately clear but represent a significant escalation in a special counsel investigation that has cast a shadow over the president's first year in office. Also charged was Mr. Manafort's former business associate Rick Gates, who was also told to surrender on Monday, the person said.Mr. Manafort walked into the F.B.I.'s field office in Washington at about 8:15 a.m. with his lawyer. Mr. Gates is a longtime protégé and junior partner of Mr. Manafort. His name appears on documents linked to companies that Mr. Manafort's firm set up in Cyprus to receive payments from politicians and business-people in Eastern Europe, records reviewed by The New York Times show. Mr. Manafort had been under investigation for violations of federal tax law, money laundering and whether he appropriately disclosed his foreign lobbying."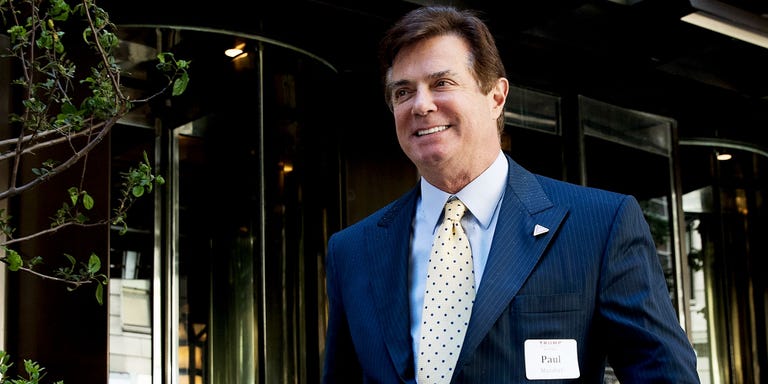 Getty
Later reporting on Monday morning confirmed that at least some of the charges against Manafort concern tax fraud, which could mean almost anything up to and including sweetheart deals involving Russian oligarchs. This is what makes the indictment of Gates every bit as intriguing as the indictment of Manafort. As the NYT reported in June:
"As investigators examine Mr. Manafort's financial and political dealings at home and abroad, they are likely to run into Mr. Gates wherever they look. During the pair's heady days in Ukraine, it was Mr. Gates who flew to Moscow for meetings with associates of Oleg Deripaska, a Russian oligarch. His name appears on documents linked to shell companies that Mr. Manafort's firm set up in Cyprus to receive payments from politicians and business-people in Eastern Europe, records reviewed by The New York Times show."
These indictments are possibly the least important part of what happened on Monday morning, although one of the 12 counts—"conspiracy against the United States"—sounds pretty damn serious. (In what manner did Manafort allegedly "conspire against the United States" and with whom? Legal beagles will have to explain if one can conspire against the United States simply by laundering money for one's own pecuniary gain, or whether said alleged laundering has to have a specific purpose other than that. Here's the statute. It looks like money laundering and/or tax fraud would fit under the "or any agency thereof" specification. Sounds worse than it is, maybe, but it still sounds very bad. And who might the other conspirators be?)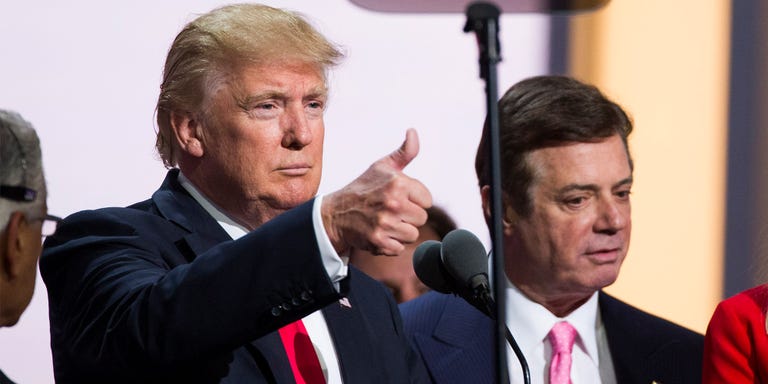 Getty
What is most important, of course, is that the snowball has started to roll downhill. For a while on Monday, whomever in the White House is charged with the task of hiding the presidential* telephone had done a fairly good job. The president*'s Twitter account was rigged for silent running. Republican congress-critters also were maintaining a discreet distance in the immediate aftermath of the news. (Congressman Sean Duffy of Wisconsin popped up on Three Dolts On A Divan to say "dossier," "Hillary," and "uranium" a few times, but his heart didn't seem to be in it.)
At the very least, it would seem to me, Republican congressional leaders ought to be forced to take a position as to what they would do if the president* fired Robert Mueller now that the first shoe has dropped. This should be an easy one, of course, but there is that tax bill to pass, and all that money to shove upwards to the donors, so obligations to the Constitution can wait.
The snowball has started to roll downhill.
More significant is the fact that Mueller is apparently investigating every damn thing he can get his hands on. The role of the Bank of Cyprus in all of this has taken on a critical importance and it's important to remember that Wilbur Ross, the current Secretary of Commerce, used to be on the board of that bank before he joined Camp Runamuck. This damn thing could go everywhere.
And the backlash, while muted as Monday dawned and indictments broke over Washington, is going to be fierce. For example, throughout the endless Clinton snipe hunts of the 1990s, one of the prime movers was the editorial page of The Wall Street Journal, which was run back then by a fanatic named Robert Bartley. It was the WSJ editorial page that gave us the consequential headline, "Who Is Vincent Foster?" It hounded the unfortunate Clinton White House counsel to the point at which Bartley's operation earned the distinction of being the first editorial page to be specifically cited as a cause of action in a suicide note, as well as making the WSJ editorial page the source of noxious and fantastical theories about Foster's suicide that persisted right into last November's political campaign, when the president* resurrected them because he is a vicious and soulless man.
Anyway, they're apparently suiting up again. Over the weekend, the WSJ ran an editorial demanding that Mueller resign. It also published an op-ed by a couple of Bush 2 lawyers advising the president* to pardon everyone—a move that likely would set off cranial detonations at both ends of Pennsylvania Avenue and the birthing of bovines generally throughout the country. Nevertheless, when the WSJ editorial page last drifted into the plak tow, the vast conservative media apparatus was still in its larval stages. God alone knows what will happen now that it's fully gestated and howling across the landscape. With the Republican congressional leadership so far hiding behind the curtains, there's nothing to restrain the beast and, sooner or later, the president* is going to find his phone.
Great day in the morning, it's going to be bloody.