Esquire
LeBron James Neatly Dismissed Trump's Racial Divisiveness in a Must-See Interview
The world's greatest basketball player says he'd 'never sit across' from the president.
By Jack Holmes     July 31, 2018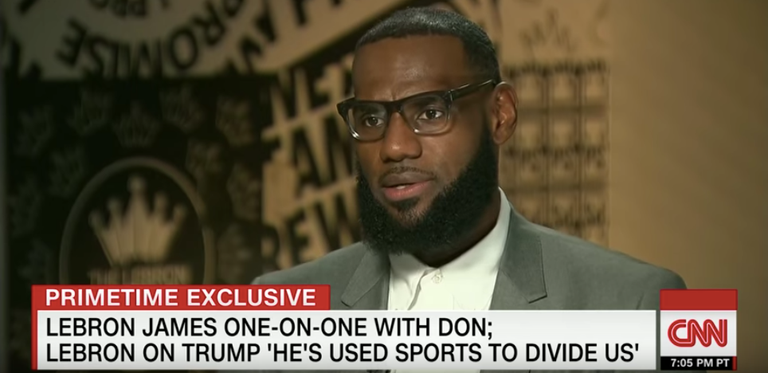 YouTube
Monday was the first day of school for hundreds of children in Akron, Ohio. They will attend a brand new academy, the I Promise School, which was built by Akron native LeBron James through his LeBron James Family Foundation. The world's greatest basketball player launched the school to give at-risk youth in the area, as he once was, the opportunity to thrive—academically, athletically, and otherwise—despite sometimes perilous circumstances. In an endearing touch, James will give each student at his school a bike, "because he often credits his bicycle as a huge factor in his childhood that gave him an escape from dangerous parts of his neighborhood and the freedom to explore."
To mark the occasion, James sat down with CNN's Don Lemon for a wide-ranging conversation that often strayed into far larger issues. That included race, and the president:
Rather than embrace their displays as an opportunity to discuss the realities of racial injustice in policing, Trump called the predominantly black athletes who have chosen to protest during the national anthem "sons of bitches" from the presidential podium. He also suggested they be fired. He has repeatedly sought fights with black athletes over whether they will attend championship ceremonies at the White House. There is no question he sees political gain in ginning up resentment among his supporters for wealthy athletes of color who exercise their First Amendment right to dissent. Of course, that's part of a larger program of racial resentment and xenophobia. Elsewhere in the interview, James said simply that Trump has given people more confidence to air their racism in public—to "throw it in your face."
One measure of this will be the reaction to the launch of James' school. A calling card of those who oppose the anthem protests begun by Colin Kaepernick, and athlete activism more generally, is their accusation that athletes who protest on the field are not doing anything for their communities off of it. This has never been true: Kaepernick, for instance, has now given $1 million to charities serving underprivileged communities across the country, just as he promised. But James has now embarked on a grand mission in service of the community where he was born and raised by a single mother, from which he made it out against the odds. He will now intervene in the lives of hundreds of Akron children to try to give them the best shot of making it, too. Surely we can expect the same suspects who demand athletes walk the walk off the field to applaud him now—regardless of what he says about the president.
We can't, of course, because none of this is about the practicalities. It's not about Respect For The Anthem, which plenty of fans angry about the protests spend at the concession stand buying beer. It's not about The Troops, whom so many people are so eager to speak on behalf of. (I spoke to four members of our armed forces, and they had a diverse array of viewpoints on the anthem protests. You know, like any group of Americans might.) And it's not about "Chicago," or "black-on-black crime," or "doing something for the community," as you might hear in the conservative infotainment sphere. It's about telling a group of primarily black athletes to "shut up and dribble," as Fox News' Laura Ingraham once told LeBron James.
James himself is under no illusions about all that, as reflected in his answer to Lemon's question on what he'd say to Donald Trump, American president, if he were sitting across from him:
This is reminiscent of an all-time James tweet: his response to Trump's Mean Girls White House un-invitation to Steph Curry:
The whole interview is worth your time: