EcoWatch
Indonesia Calls in the Army to Fight Plastic Enemy
Olivia Rosane       April 20, 2018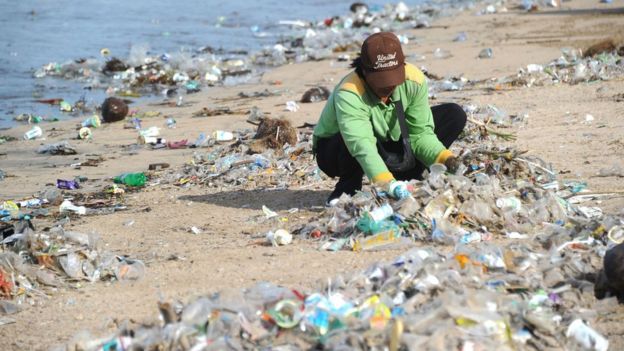 Bali's popular Kuta Beach has a fair share of rubbish on its shores
In March, a diver's video of masses of plastic floating off the Indonesian coast went viral. But that plastic often reaches the ocean through the country's rivers, clogging them to such an extent that Indonesia had to call in the army, the BBC reported Thursday.
The BBC spent time on the ground in Bandung, Indonesia's third largest city, and observed a concentration of bottles, plastic bags and styrofoam packaging so large it looked like an iceberg.
Reporters watched the army attempt to clear the river by riding a barge and removing debris with nets, but as they cleared, more trash would flow from upstream.
The soldiers filmed by the BBC had intended to load the plastic they collected onto trucks, but the trucks never arrived, so the soldiers used a digger to push it further downstream, where it would swamp the cleanup efforts of others.
"My current enemy is not a combat enemy, what I am fighting very hard now is rubbish, it is our biggest enemy," army Sergeant Sugito told the BBC.
West Java Environmental Protection Agency head Dr. Anang Sudarna, who petitioned the president to send in the army, said their efforts had made a difference, but there is still much more work to do.
"The result is a little bit improved … but I am angry, I am sad, I am trying to think how best to solve this … the most difficult thing is the people's attitude and the political will," Sudarna told t1he BBC.
Indonesia is one of five Asian countries that accounts for 60 percent of the plastic entering the world's oceans, a 2015 study found. Another 2017 study found that 86 percent of the plastic currently flushed through the world's rivers came from Asian countries, including Indonesia. The huge quantities of plastic pollution are the result of economic growth and increased quality of life in these countries, which have meant that waste collection has not kept pace with changing consumption patterns.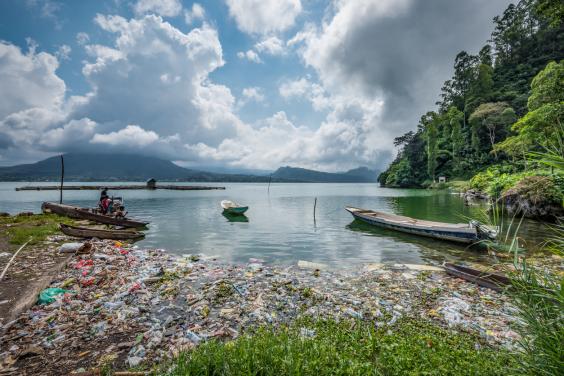 Plastic pollution in Bali's Lake Batur (Getty)
In Indonesia, plastic packaging has begun to replace traditional, biodegradable food storage devices like banana leaves, the BBC reported. Further, there is a local culture of disposing of waste in ditches and streams, which cannot support the quantities of plastic waste now being discarded.
Sugito said he wanted to encourage Indonesians to see plastic as a resource, and not just something to throw away.
"[P]lastic cartons and drinking bottles can be separated from the other rubbish and sold," he told the BBC.
To encourage this mindset, officials have set up "eco-villages" in Bandung where residents can trade in different kinds of plastic containers for cash.
While the problem is still overwhelming, the army's involvement illustrates an observation from Radboud University environmental science professor Ad Ragas that Indonesian authorities had begun to take plastic pollution much more seriously in the past two years.
He partly credited social media posts of clogged rivers for raising awareness and inspiring action.
"They immediately see that 'this is what my river look likes now and I'm doing that because I'm throwing all this plastic away' so they get feedback much quicker than they used to," he told the BBC.
The BBC's report arrives just in time for Earth Day, which is taking on the problem of plastic pollution this year. If the push is successful, Indonesia's rivers would finally have the freedom to flow again.
RELATED ARTICLES AROUND THE WEB
Nestlé, Unilever, P&G Among Worst Offenders for Plastic Pollution in
Bali isn't alone in its 'sea of plastic' pollution problem – the rest of