The Street
Florida's Latest Tourism Problem Is Twice the Width of the United States
Jena Greene – March 27, 2023
The dreaded return of an invasive species could ruin beach-going up and down the coast.
Between hurricane season, rising water levels, ongoing feuds between Disney and the local government, and crazed spring breakers, Florida already has enough to worry about.
The last thing the state wants is a giant blob of seaweed headed directly for a coastal impact on its pristine sunny beaches — but it's looking like that's what it's going to get.
DON'T MISS: If You Want to Visit Florida for Spring Break, It May Be Too Late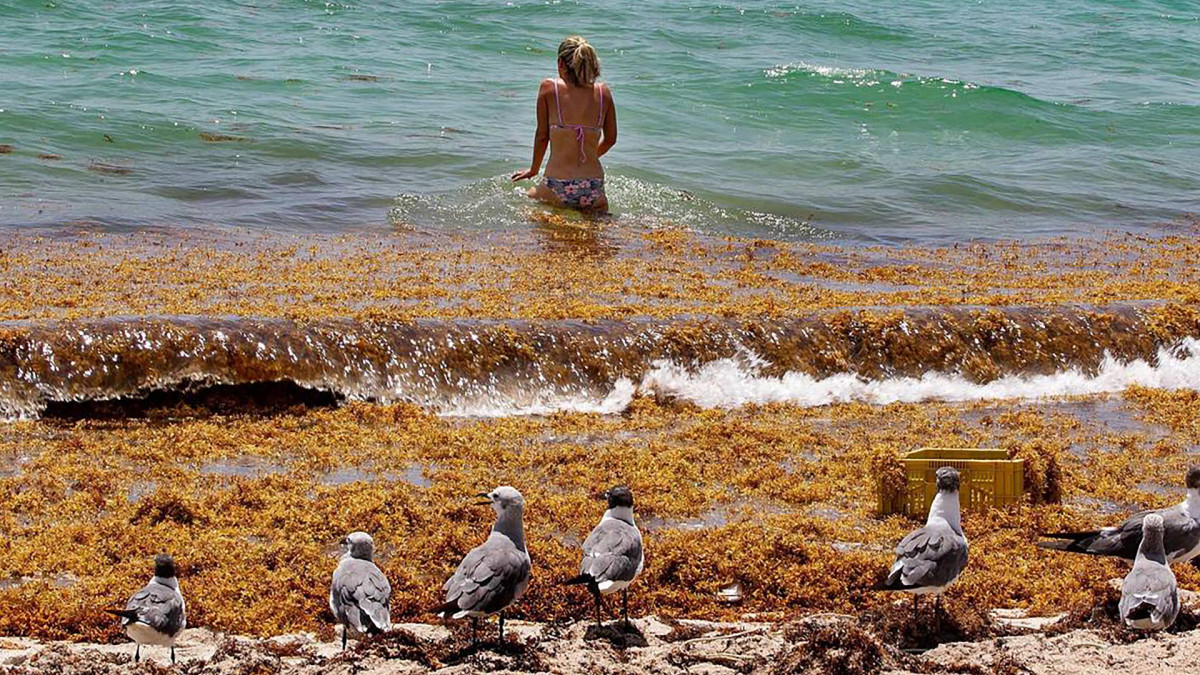 What is Sargassum Seaweed?
Buoyant brown seaweed, or The Great Atlantic Sargassum Belt as it's formally known, is something many Floridians have come to know. It's an invasive species that's something of a grim reaper for sea life; it kills some marine animals and destroys coral reefs in its path.
Sargassum is a brown, rubbery seaweed that releases a foul odor once it washes up on the beach and decays in the sunlight. In the ocean, the seaweed tends to bind up and reproduce, creating big, blobby problems for boaters and animals. It's also one of the few marine species that replicates (and therefore, gets bigger) while on the water's surface.
Once it's washed up, it can take days or even weeks to remove the stuff. Since it smells sulphuric and makes beaches difficult to enjoy, some hotels even see decreased foot traffic while it's around.
How Big Is the Seaweed Blob Heading for the U.S.?
Sargassum regularly washes up on coastal North and central America, particularly around Florida, Mexico and the Caribbean. But this year's Sargassum is massive at 5,000 miles (8,000 km) long, and stretches between West Africa and the Gulf of Mexico. That's nearly twice as wide as the U.S.
"What is unusual this year compared to previous years is it started early," University of South Florida oceanography professor Chuanmin Hu said. "The algae generally blooms in the spring and summer, but 'this year, in the winter, we already have a lot.'"
Experts say it's already started showing up on Key West, FL. There's already an estimated 10 million metric tons of the seaweed floating around in the middle of the ocean and it's likely to get bigger before it washes up.
Sargassum Can Affect Travel and Tourism
It's no surprise that many hotels view giant seaweed blobs as problematic for tourism, but there are several measures some can take to mitigate its impact.
"Keeping sargassum at bay from a beach where it's determined to wash ashore is like fighting a rising tide," Afar reports. "Apart from removing what washes ashore as it arrives, [USF professor Brian] Barnes says a hotel might consider installing a floating boom offshore (usually made of PVC and deployed parallel to the shoreline) with the goal of preventing sargassum from coming ashore. But again, it represents a small measure against a monumental task."
Luckily, mild to moderate exposure to Sargassum doesn't a major risk to human health, and some animals, including sea turtles, even dine on the stuff.