Reuters – Business
Enbridge shares fall on Minnesota pipeline route ruling
Reuters          April 24, 2018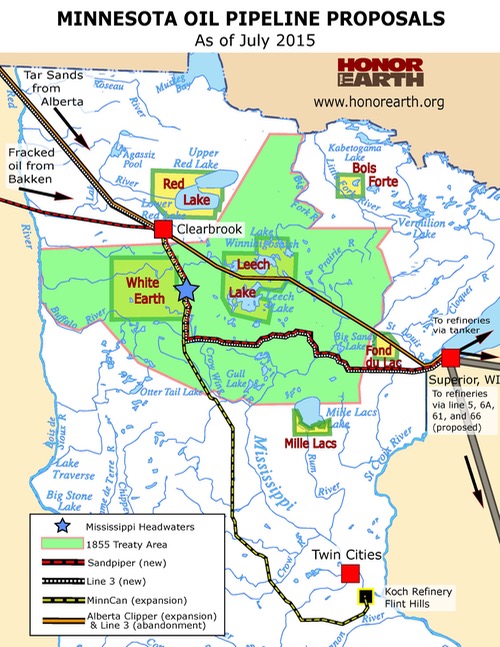 Toronto, April 24 (Reuters) – Shares of Canadian pipeline operator Enbridge Inc dropped more than 4 percent on Tuesday after a Minnesota judge agreed the Line 3 oil pipeline replacement project was needed, but rejected the company's preferred route.
Enbridge has proposed a C$8.2 billion ($6.4 billion)replacement of its existing Line 3 export pipeline, which extends from Alberta into Wisconsin, doubling capacity on the line to 760,000 barrels per day.
But the project has run into opposition in Minnesota from the state, along with Native American tribes and environmental activists who have questioned whether the replacement is needed.
Administrative Law Judge Ann O'Reilly, of the Minnesota Office of Administrative Hearings for the Public Utilities Commission ruled late on Monday that Enbridge should be issued permission for the replacement, but said the company should use its existing right of way, adding hurdles to the project's construction.
Under the judge's recommended route, the existing pipeline would need to be removed and the new one put in its place. Enbridge had asked to leave its current Line 3 in the ground and lay new pipe, at times following a new corridor in the state.
The company said in a statement that it was pleased the judge had supported the project and said it would review her recommendations on routing.
The latest obstacle to Line 3 comes as work has been halted on Kinder Morgan Canada's Trans Mountain expansion pending a May 31 decision on whether the project, which faces opposition in the Canadian province of British Columbia, will go ahead.
Canada's oil producers, meanwhile, are desperate for new export pipelines, as rising production and tight capacity on existing pipelines and via rail has led to Canadian crude trading at a wide discount to the West Texas Intermediate benchmark.
Shares of Enbridge were down 4.72 percent at C$37.94 on Tuesday morning.
($1 = 1.2827 Canadian dollars) (Reporting by Julie Gordon in Toronto; Editing by Dan Grebler)