Pittsburg Post Gazette
Pennsylvania will receive an extra $1.63 billion in federal infrastructure funds to fix bridges, 3rd most in U.S.
Ed Blazina, Pittsburgh Post-Gazette  January 14, 2022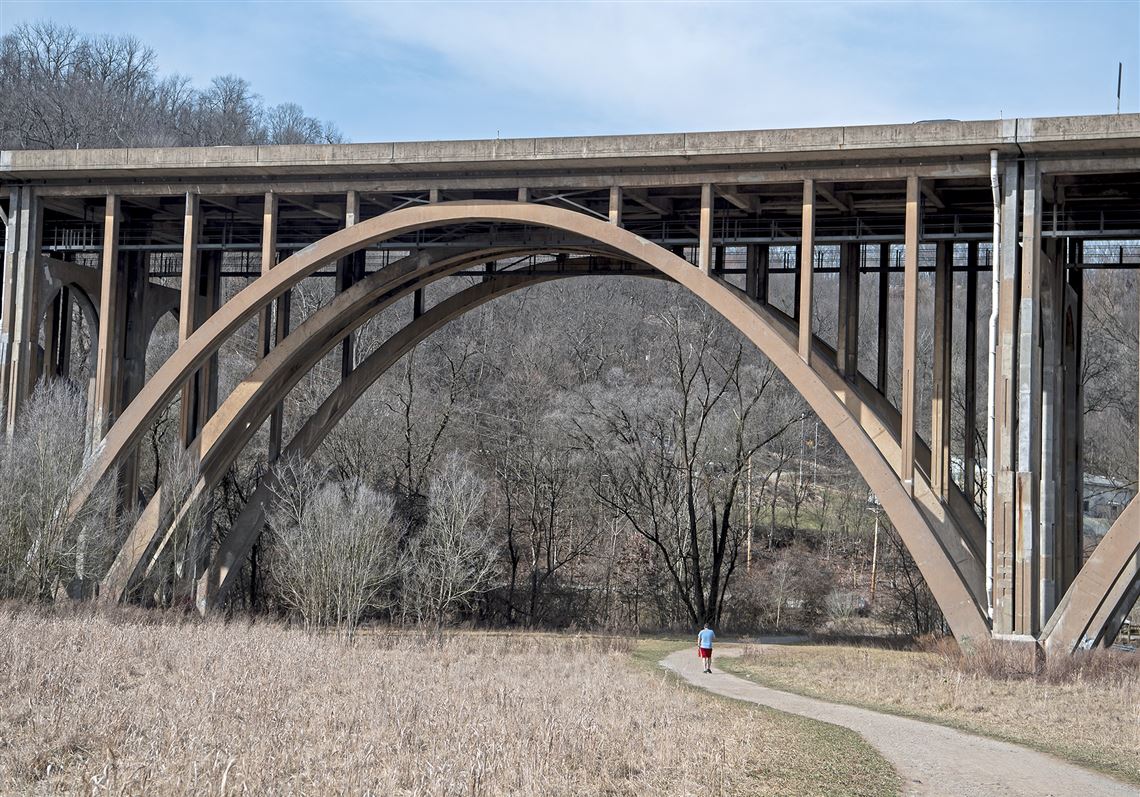 Pennsylvania has the second most bridges in poor condition and will receive an additional $1.63 billion in federal funds over the next five years to help fix some of them, according to details of a federal bridge program announced Friday.
Background material released by senior Biden Administration officials shows that Pennsylvania has 3,353 bridges listed in poor condition — second behind Iowa, which has 4,571. The state will receive the third most money for bridges under the federal infrastructure bill, one of seven states to receive at least $1 billion over five years.
The state is waiting for decisions by regional planning organizations before it announces which bridges will benefit from the new program, which will bring $327.2 million to the state this year. Possibilities in this area include two structures on the Parkway East — the Commercial Street Bridge on the inbound side near the Squirrel Hill Tunnel and the Frazier Street Bridge near Oakland — and the McKees Rocks Bridge.
"As far as specific bridges, we're not at that point yet," said Alexis Campbell, spokeswoman for the Pennsylvania Department of Transportation. "We're doing the 2023 update [to the state bridge program] now. We will put that money to good use, for sure." Ashley MurrayAirports, including those in Western Pennsylvania, first among transit hubs to get funds under bipartisan infrastructure law
The Southwestern Pennsylvania Commission, which oversees transportation projects in 10 counties, expects to decide which road and bridge projects to fund at its June meeting.
Gov. Tom Wolf joined U.S. Transportation Secretary Pete Buttigieg in Philadelphia Friday morning to highlight the program. Mr. Wolf called the program "a historic investment" for the state and nation.
"Strong infrastructure is critical to the quality of life for all Pennsylvanians, especially strong, safe bridges," the governor said. "Bridges are the lifelines that connect our communities to one another, while modern, reliable infrastructure is essential for Pennsylvania-based businesses to expand."
Other Democrats also touted their support for the program.
"For a long time, Pennsylvanians have had to make do with driving over thousands of bridges in poor condition," Sen. Bob Casey said in a statement. " Now, I am proud to say that this year alone, hundreds of millions of dollars will go towards repairing and upgrading those bridges, which are so vital to the Commonwealth.
"This investment will better connect communities, stimulate job growth across Pennsylvania and make commutes to work and school much safer."
Rep. Conor Lamb, D-Mt. Lebanon said the additional money will help the state fix hundreds of bridges "in desperate need of repair."
"This historic federal funding — passed with bipartisan support — will ensure that we are able to invest in these critical transportation connections in communities across our region and create good, union jobs for construction and trades workers," he said in a statement.
Allie Carroll, spokeswoman in Pennsylvania for the Republican National Committee, said Mr. Buttigieg's visit was an attempt by the Biden Administration to cover for "an insanely horrible week" in Washington, where it appears the federal voting rights act is not likely to move forward.
"As Pete Buttigieg grandstands in Philadelphia today, voters know that Biden's sputtering agenda is on a bridge to nowhere," she said in a statement.
The program requires a state match of 20% for bridges that are owned by the state. As an incentive for the state to help other levels of government, the new program waives that local match for bridges owned by counties, cities, boroughs and townships.
The additional money for bridges comes in addition to $4 billion over five years for state roads the agency will receive under the infrastructure bill. That will average out to about $1.33 billion extra for five years, but it still falls way short of the extra $8.1 billion a year the state says it needs to meet normal annual road and bridge work.
So that extra money will not stop the state from pursuing additional funding from other sources. That includes charging tolls on nine major bridges, including the Interstate 79 bridge near Bridgeville, that the department wants to turn over to private firms for replacement and maintenance for 30 years using tolling proceeds.
It also wants to replace the gasoline tax with fees for each package delivered to homes and for rides provided by services such as Uber and Lyft as well as eventually charging motorists a fee for miles driven.
Federal officials said the bridge money is available immediately and states can begin spending it this spring. They acknowledged some areas, including local PennDOT projects, have experienced trouble obtaining steel and other material due to supply chain problems.
The long-term nature of the program should stimulate industry to step up production and the shortage of materials should not delay the program overall, they said.
Nationally, the bridge program will invest $27.3 billion over five years, which the federal Department of Transportation called the "largest dedicated bridge investment since the construction of the interstate highway system" in the 1950s. Officials stressed that the money was allocated to states, Washington, D.C., Puerto Rico and tribal nations according to need.
The amount each state gets varies by the size and condition of its poor bridges. For example, Iowa has the most bridges rated poor at 4,571, but many of them are small so it will receive $438 million for upgrades while California's 1,634 bridges are larger and more expensive, so it will receive the most money at $4.2 billion.
As far as neighboring states, New York will receive the second most money at $1.9 billion for 1,702 poor bridges; New Jersey will get $1.1 billion for 502 poor bridges; West Virginia $506.7 million for 1,5454 bridges; and Ohio $483.3 for 1,377 bridges.
This program also isn't the only one dedicated to bridges. The department is developing guidelines for a five-year, $12.5 billion competitive grant program.