The Telegraph
Ukraine-Russia war: One in five Wagner convicts killed in Ukraine, says Prigozhin
Maighna Nanu – May 24, 2023
One in five Wagner convicts have been killed in Ukraine, the chief of the Russian mercenary group has claimed.
Yevgeny Prigozhin said that around 10,000 prisoners he recruited to fight in Ukraine have been killed on the battlefield.
"I took 50,000 prisoners of which around 20 per cent were killed," Prigozhin said in a video interview published late Tuesday.
Prigozhin said a similar percentage were killed among those who had signed a contract with Wagner, but did not give a precise figure.
Last year, Prigozhin toured Russian prisons in a bid to convince inmates to fight with Wagner in Ukraine, in exchange for a promised amnesty upon their return should they survive.
Convicts are believed to have been used as cannon fodder in Ukraine, accounting for most of Wagner's losses in the pro-Western country.
03:01 PM
Today's liveblog is now closed
Thanks for following today's liveblog.
We will be back tomorrow with all the latest updates on Ukraine.
02:59 PM
Ukraine's main church to switch calendar in move away from Russia
Ukraine's main Orthodox church said it had decided to switch to a calendar in which Christmas is celebrated on Dec. 25, a move that distances it from Russia.
Ukrainian Christians, a majority of whom are Orthodox, have traditionally celebrated Christmas on Jan. 7 alongside other predominantly Orthodox Christian countries such as Russia, which invaded Ukraine last year.
"This question arose with new impetus as a result of Russian aggression," the Orthodox Church of Ukraine (OCU) wrote in a Facebook post announcing the change away from the Julian calendar.
"Nowadays, the Julian calendar is perceived as connected with Russian church culture," it said.
Ukraine's main Catholic church, which considers about one in 10 Ukrainians to be worshippers, announced a similar change in February.
02:41 PM
Ukraine in pictures:
02:33 PM
Ukraine joining Nato in the midst of a war 'not on the agenda', says Stoltenberg
Ukraine will not be able to join Nato as long as the war is going on, the alliance's chief Jens Stoltenberg said on Wednesday.
"I think that everyone realized that, to become a member in the midst of a war, is not on the agenda," he said at an event organised by the German Marshall Fund of The United States in Brussels. "The issue is what happens when the war ends."
02:31 PM
Switzerland takes step towards sale of 25 Leopard 2 tanks back to Germany
The Swiss government backed the decommissioning of 25 advanced Leopard 2 battle tanks with a view to selling them back to Germany, a step that could allow Western countries to send more military aid to Ukraine.
Germany had in February asked Switzerland to sell some of the tanks back to arms maker Rheinmetall, which would allow the company to backfill gaps in the armaments of European Union and Nato members.
Germany, Poland, Portugal, Finland and Sweden are among countries sending Leopard tanks to help Ukraine defend itself against Russian attack, creating gaps in their own arsenals.
The issue is sensitive for the Swiss authorities. Under its neutrality laws and a separate arms embargo, Switzerland is prohibited from sending weapons directly to Ukraine.
The Swiss military currently has 134 Leopard 2 tanks in service and a further 96 in storage.
02:29 PM
Russia risks revolution unless elite get serious about war, Wagner chief says
Russia could face a revolution and lose the conflict in Ukraine unless the elite get serious about fighting the war, the founder of the Wagner mercenary group has warned.
"We are in such a condition that we could f***ing lose Russia – that is the main problem … We need to impose martial law," Yevgeny Prigozhin said on his Telegram channel.
With Russian families receiving the remains of their sons who have died in Ukraine even as the children of the country's wealthiest oligarchs are pictured on lavish holidays, he said, Russia could face turmoil on a scale not seen since the 1917 revolution, when Russians rose up and overthrew the monarchy.

"This divide can end as in 1917 with a revolution – first the soldiers will stand up, and after that – their loved ones will rise up," he said. "There are already tens of thousands of them – relatives of those killed – and there will probably be hundreds of thousands."
01:30 PM
Ukraine's Defence Minister: 'Glad to host Ben Wallace in Kyiv'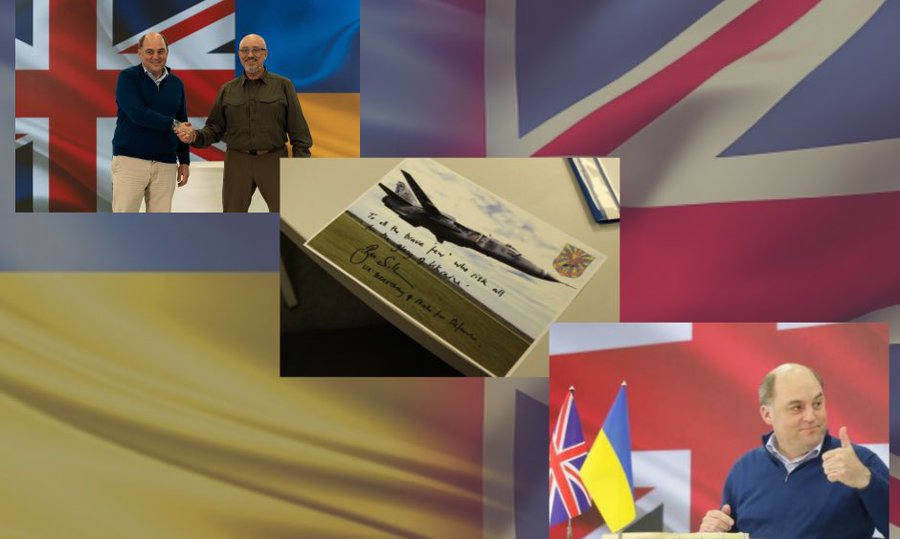 01:02 PM
WHO condemns Russia's aggression in Ukraine in vote
The World Health Organisation assembly passed a motion on Wednesday condemning Russia's aggression against Ukraine, including attacks on healthcare facilities.
The motion passed by 80 votes to 9, with 52 abstentions.
The Western-led motion, put forward at the UN agency's annual meeting, also called for an assessment of the impact of Russia's aggression on the health sector.
There was no immediate reaction from Russia. Moscow has consistently denied targeting civilians during what it calls its "special military operation" in Ukraine.
12:15 PM
Russia will respond to future incursions 'extremely harshly', says defence minister
Moscow will respond to attacks on Russian soil "extremely harshly", Russia's defence minister has warned, after Russian jets and artillery fought off an armed group that crossed from Ukraine.
"We will continue to respond promptly and extremely harshly to such actions by Ukrainian militants," Sergei Shoigu told military officials, according to comments published by the defence ministry.
12:14 PM
Russia to give Bakhmut Soviet-era name after capturing city from Ukraine
Bakhmut will be renamed with its former Soviet name, the acting head of the self-proclaimed Donetsk People's Republic has claimed.
The small eastern city is believed to have fallen to Russia in recent days after a long and bloody siege that left it almost completely destroyed.
"Bakhmut had the misfortune to be Ukrainian. Now it's not Ukraine, it's Russia. And it's not Bakhmut — it's Artemovsk," Denis Pushilin said in a video posted on Telegram.

It comes as Oleksiy Danilov, a Ukrainian national security adviser, claimed that part of Bakhmut is still under Ukrainian control.

"If they [Russians] believe they have taken Bakhmut, I can say that this is not true. As of today, part of Bakhmut is under our control," he told CNN. "I can't say that all of it, but part of Bakhmut is still under our fire."
10:56 AM
Ukraine in pictures:
10:23 AM
Older people account for a third of Ukraine's war victims
Older people have suffered and died at a disproportionately high rate since Russia's invasion of Ukraine, a UN report has showed, with some perishing because they were barred from fetching medicines or leaving basements.
The report compiled by UN human rights monitors showed that about a third of the civilians killed in the first year of the war, or 1,346 of 4,187 documented victims, were over 60.
The toll only includes individuals whose age is known and the real number of victims is much higher, the UN says. About a quarter of Ukraine's population is elderly.
09:49 AM
Pictured: Ukrainian tankers ride along the road towards their positions near Bakhmut
09:46 AM
Finland says Russia set to terminate agreement on military visits
Russia has informed neighbouring Finland that it will terminate a bilateral agreement on mutual visits to military installations, the Finnish defence ministry said late on Tuesday.
The bilateral agreement, signed in 2000, provided for one annual Russian assessment visit to Finland and a similar visit by Finland to the Leningrad Military District in north-west Russia, the Finnish ministry said in a statement.
Finland last month joined the Nato military alliance in response to Russia's invasion of Ukraine, drawing a threat from Moscow of "counter-measures."
The bilateral agreement, last applied in 2019 before the outbreak of the Covid-19 pandemic, was among several post-Cold War measures taken to improve East-West relations.
09:00 AM
West sees Russia and China as threat to its dominance, says Lavrov
Sergei Lavrov, the Russian foreign minister, said that the West saw Russia and China as "adversaries" that posed what he called an existential threat to the West's "dominance".
"As evidenced by statements made at the recently concluded G7 summit in Japan, the West views Russia and China as strategic adversaries posing almost an existential threat to its dominance," Mr Lavrov said
08:40 AM
Drone attacks overnight in Russian border region, claims governor
A Russian official in the southern Belgorod region bordering Ukraine claimed that the territory was targeted by numerous drones overnight, following an armed incursion into the territory from Ukraine.
"The night was not entirely calm. There were a large number of drone attacks. Air defence systems handled most of them," governor Vyacheslav Gladkov said in a post on social media, adding: "The most important thing is that there are no casualties."
08:15 AM
Moscow shares 'staged photos' of US vehicles allegedly used to attack Russian territory
Moscow has claimed to have captured American vehicles used by anti-Kremlin paramilitary groups during a daring cross-border raid into Russia's Belgorod region.
Images shared via Russia's state controlled media outlets appeared to show two damaged US-made Humvees left abandoned in a crater.
They were pictured close to the Grayvoron border control point, the initial scene of the Belgorod raid.
Pro-Kremlin channels on the Telegram messaging app claimed that two battalions of anti-regime partisans had lost as many as five American vehicles.
However, analysis of the images shared by the Russian government suggests they were staged.
Read more from Joe Barnes here
08:04 AM
Comment: Belgorod attack: Ukraine has turned Putin's little green men against him
Yesterday's cross-border raid from Ukraine into Russia's Belgorod province by anti-Kremlin partisans known as the Russian Freedom Legion and the Russian Volunteer Corps is the largest offensive action inside Russia's borders since Putin's invasion began.

The group seems to have struck the frontier post at Kozinka, apparently killing a border guard, before crossing into Russian territory around Grayvoron with armoured vehicles, mortars and artillery support.

This action is unlikely to develop into a significant assault on Russian territory because the Ukrainian army itself remains constrained to operations within its own borders by agreements with military donor nations.
Read more from Richard Kemp here
08:02 AM
Russian Prime Minister says relations with China at an unprecedented high level
Russian Prime Minister Mikhail Mishustin said that ties with China are at an "unprecedented" high level, characterised by mutual respect of each other's interests and the desire to jointly respond to challenges.
"As our Chinese friends say, unity makes it possible to move mountains," Mishustin told Chinese Premier Li Qiang during a meeting in Beijing.
Mishustin was the highest ranking Russian official to visit the Chinese capital since the war began.
08:01 AM
Good Morning
Good morning and welcome to today's Ukraine liveblog.
We will be guiding you through all the latest updates on Ukraine.