Esquire
Trump's New York Times Interview Is a Portrait of a Man in Cognitive Decline
I don't care whether Michael Schmidt was tough enough. We've got bigger problems.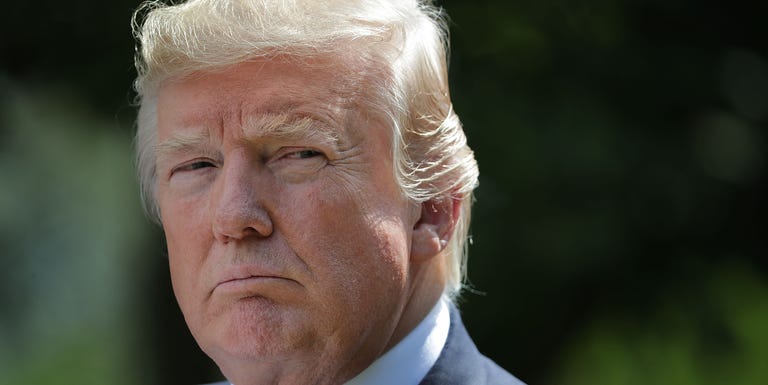 Getty
By Charles P. Pierce          December 29, 2017
On Thursday, El Caudillo del Mar-A-Lago sat down with Michael Schmidt of The New York Times for what apparently was an open-ended, one-on-one interview. Since then, the electric Twitter machine–and most of the rest of the Intertoobz–has been alive with criticism of Schmidt for having not pushed back sufficiently against some of the more obvious barefaced non-facts presented by the president* in their chat. Some critics have been unkind enough to point out that Schmidt was the conveyor belt for some of the worst attacks on Hillary Rodham Clinton emanating from both the New York FBI office and the various congressional committees staffed by people in kangaroo suits. For example, Schmidt's name was on a shabby story the Times ran on July 23, 2015 in which it was alleged that a criminal investigation into HRC's famous use of a private email server was being discussed within the Department of Justice. It wasn't, and the Times' public editor at the time, the great Margaret Sullivan, later torched the story in a brutal column.
Other people were unkind enough to point out that the interview was brokered by one Christopher Ruddy, a Trump intimate and the CEO of NewsMax, and that Ruddy made his bones as a political "journalist" by peddling the fiction that Clinton White House counsel Vince Foster had been murdered, one of the more distasteful slanders that got a shameful public airing during the Clinton frenzy of the 1990s. Neither of those will concern us here. What Schmidt actually got out of this interview is a far more serious problem for the country. In my view, the interview is a clinical study of a man in severe cognitive decline, if not the early stages of outright dementia.
Over the past 30 years, I've seen my father and all of his siblings slide into the shadows and fog of Alzheimer's Disease. (The president*'s father developed Alzheimer's in his 80s.) In 1984, Ronald Reagan debated Walter Mondale in Louisville and plainly had no idea where he was. (If someone on the panel had asked him, he'd have been stumped.) Not long afterwards, I was interviewing a prominent Alzheimer's researcher for a book I was doing, and he said, "I saw the look on his face that I see every day in my clinic." In the transcript of this interview, I hear in the president*'s words my late aunt's story about how we all walked home from church in the snow one Christmas morning, an event I don't recall, but that she remembered so vividly that she told the story every time I saw her for the last three years of her life.
THE PRESIDENT* EXHIBITS THE KIND OF STUBBORNNESS YOU SEE IN PATIENTS WHEN YOU TRY TO RELIEVE THEM OF THEIR CAR KEYS.
In this interview, the president* is only intermittently coherent. He talks in semi-sentences and is always groping for something that sounds familiar, even if it makes no sense whatsoever and even if it blatantly contradicts something he said two minutes earlier. To my ears, anyway, this is more than the president*'s well-known allergy to the truth. This is a classic coping mechanism employed when language skills are coming apart. (My father used to give a thumbs up when someone asked him a question. That was one of the strategies he used to make sense of a world that was becoming quite foreign to him.) My guess? That's part of the reason why it's always "the failing New York Times," and his 2016 opponent is "Crooked Hillary."
In addition, the president* exhibits the kind of stubbornness you see in patients when you try to relieve them of their car keys—or, as one social worker in rural North Carolina told me, their shotguns. For example, a discussion on healthcare goes completely off the rails when the president* suddenly recalls that there is a widely held opinion that he knows very little about the issues confronting the nation. So we get this:
"But Michael, I know the details of taxes better than anybody. Better than the greatest C.P.A. I know the details of health care better than most, better than most. And if I didn't, I couldn't have talked all these people into doing ultimately only to be rejected."
This is more than simple grandiosity. This is someone fighting something happening to him that he is losing the capacity to understand. So is this:
"We're going to win another four years for a lot of reasons, most importantly because our country is starting to do well again and we're being respected again. But another reason that I'm going to win another four years is because newspapers, television, all forms of media will tank if I'm not there because without me, their ratings are going down the tubes. Without me, The New York Times will indeed be not the failing New York Times, but the failed New York Times. So they basically have to let me win. And eventually, probably six months before the election, they'll be loving me because they're saying, "Please, please, don't lose Donald Trump." O.K."
In Ronald Reagan's second term, we ducked a bullet. I've always suspected he was propped up by a lot of people who a) didn't trust vice-president George H.W. Bush, b) found it convenient to have a forgetful president when the subpoenas began to fly, and c) found it helpful to have a "detached" president when they started running their own agendas—like, say, selling missiles to mullahs. You're seeing much the same thing with the congressional Republicans. They're operating an ongoing smash-and-grab on all the policy wishes they've fondly cultivated since 1981. Having a president* who may not be all there and, as such, is susceptible to flattery because it reassures him that he actually is makes the heist that much easier.
So, no, I don't particularly care whether Michael Schmidt was tough enough, or asked enough follow-up questions. I care about this:
"I'm always moving. I'm moving in both directions. We have to get rid of chainlike immigration, we have to get rid of the chain. The chain is the last guy that killed. … [Talking with guests.] … The last guy that killed the eight people. … [Inaudible.] … So badly wounded people. … Twenty-two people came in through chain migration. Chain migration and the lottery system. They have a lottery in these countries. They take the worst people in the country, they put 'em into the lottery, then they have a handful of bad, worse ones, and they put them out. 'Oh, these are the people the United States. …" … We're gonna get rid of the lottery, and by the way, the Democrats agree with me on that. On chain migration, they pretty much agree with me."
We've got bigger problems.