HuffPost
Trump Evangelical Adviser: NFL Kneelers Are Lucky They Aren't 'Shot In The Head'
"I think what these players are doing is absolutely wrong," says Dallas pastor Robert Jeffress.
By Antonia Blumberg   September 25, 2017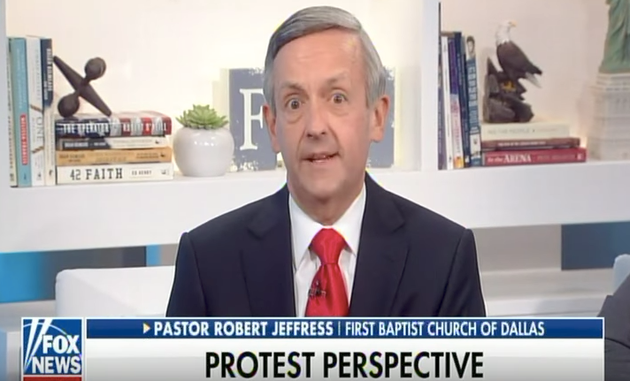 Fox News : Dallas pastor Robert Jeffress is among President Donald Trump's top evangelical advisers. He says the players are lucky they don't live in a country like North Korea.
A conservative pastor on President Donald Trump's informal evangelical advisory council thinks NFL players who kneel during the national anthem to highlight racism should "be thanking God" they haven't been "shot in the head."
Southern Baptist pastor Robert Jeffress, who leads the First Baptist Church in Dallas, made the comments during a "Fox & Friends" segment Monday on Fox News amid debate over the athletes' protests.
"I think what these players are doing is absolutely wrong," Jeffress said. "These players ought to be thanking God that they live in a country where they're not only free to earn millions of dollars every year, but they're also free from the worry of being shot in the head for taking a knee like they would be if they were in North Korea."
Jeffress referenced North Korea, known for suppressing dissent and operating political prison camps, on the same day the Asian country's foreign minister accused Trump of declaring war. His comments come several weeks after the pastor claimed God had given the U.S. president "full power" to launch an attack on North Korea.
Jeffress also claimed the athletes would be executed for protesting in a country known for its human rights abuses, apparently arguing that they should celebrate their freedom of speech by remaining silent.
In a response to a request for clarification, the pastor said: "I stand by my comments as taken within their full context."
He continued:
It is an absolute fact that in many countries of the world professional athletes would be imprisoned ― or worse ― for publicly opposing their nation's anthem or disrespecting their national leaders. If any member of the press doubts this fact, then I would encourage them to take a trip to North Korea themselves, publicly shame Kim Jong Un and then see what happens. All of us should thank God every day that we live in a country where we do not have to fear government persecution for expressing our beliefs.
In his comments on "Fox & Friends," Jeffress defended Trump, who encouraged football fans to boycott the NFL if the league does not "fire or suspend" the protesting athletes.
"I think tens of millions of Americans agree with President Trump when he says they ought to be called out for this," the pastor said. "I know this president. President Trump is not a racist. For President Trump this is not about race. It's about respect of country."
The president, who has a long history of sharing and endorsing racist comments, followed up his call for a boycott in a tweet on Monday saying: "The issue of kneeling has nothing to do with race. It is about respect for our Country, Flag and National Anthem. NFL must respect this!"
But for athletes who choose to kneel, race isn't secondary to their protest.
"We will not stand for the injustice that has plagued people of color in this country," wrote the Seattle Seahawks team, who stayed off the field during the national anthem Sunday. "Out of love for our country and in honor of the sacrifices made on our behalf, we unite to oppose those that would deny our most basic freedoms. We remain committed in continuing to work towards equality and justice for all."
Jeffress also minimized the athletes' statement on racism by comparing the "social injustice" of systematic racism to Christian bakers being forced to prepare cakes for same-sex weddings.
"They didn't respond by calling then-President Obama a bum," said Jeffress, who once claimed the country's first black president was "paving the way for the Antichrist."