The Seattle Times
Solar energy farms gaining traction in Nebraska
By Grant Schulte and Tess Williams, Associated Press       June 3, 2108
Lexington, Nebraska Solar Farm, GenPro Energy Solutions.  The solar farm went online in May 2017 and was at the time the largest solar project in the State at 3.57 MW AC power.
Lincoln, Neb. (AP) — Solar energy is gaining traction in Nebraska as a growing number of cities adopt the technology, and state officials are looking for ways to help the trend along.
The technology has become so popular that some cities have had to expand their recently built solar farms or build new ones to keep pace with customer demand.
Many of the cities are taking advantage of the Nebraska Public Power District's SunWise Community Solar Program, approved in 2016 to help cities and villages adopt solar power in a central location for residents to use.
The program has helped launch new solar farms in Scottsbluff, Venango and Kearney since 2017, and more than half a dozen other cities have expressed interest, said NPPD General Retail Manager Tim Arlt.
Separately, Fremont is moving forward with a second solar farm due to high demand on the first array that went live earlier this year.
                                                         Lexington, Nebraska
Fremont City Administrator Brian Newton said the farm allows customers to buy their own solar panel or pay a one-time fee to use power generated in the farm. He said the first farm sold out to 217 residents within seven weeks.
Arlt said the challenges include finding available land that's close enough to feed into NPPD's grid and making sure the local grid can handle the additional power.
"We want to say yes if a community wants it," he said.
Nebraska lawmakers may review some of the challenges as well.
Sen. Rick Kolowski, of Omaha, has introduced a legislative study to explore ways to promote solar energy, noting its environmental benefits. Kolowski said he wants to see the state use renewable resources more effectively, and he hopes the study could lead to legislation that would provide incentives or tax breaks to encourage more solar energy.
"This isn't going away," Kolowski said. "We have to do it not just for ourselves, but for the future of our state."
The NPPD arrays let residents buy into solar energy without having to install their own rooftop panels. Residents who want to use the energy shoulder the expense to keep the costs from shifting to those who don't.
Despite its rapid growth in Nebraska, solar energy has spread faster in some areas than others because of the state's patchwork of local public utilities, said Cliff Mesner, a Central City attorney, developer and solar energy advocate.
Homeowners who don't live in an area that offers solar energy have few options other than to install solar panels on their property, Mesner said. That in turn can draw objections from neighborhood groups that don't like the appearance of solar panels on rooftops or in yards.
Also concerning is the looming threat of tariffs on aluminum and steel, with are used in solar arrays and could substantially raise costs, Mesner said. President Donald Trump recently signed a bill to extend a federal solar tax credit for homeowners, but it's scheduled to expire in 2021.
Mesner said solar energy has grown faster in states with higher electric rates than Nebraska's because purchasing it made financial sense. But as Nebraska's rates rise, he said, solar will become more feasible.
"I think it's made some great strides in the last few years, but we are behind where other states have been," Mesner said. "We're doing some great things right now, but we've got a long, long ways to go."
Mesner said many homeowners have bought into solar because the costs are fixed for 20 to 25 years as electricity prices continue to rise. Many current solar customers are paying more now, but could end up saving money over the long term, he said.
Kearney launched Nebraska's largest community solar array last year on 53 acres of city-owned land near a technology park. The farm can meet about 5 percent of the city's peak energy needs, enough to power 900 homes.
City officials partnered with NPPD to connect the system to the city's grid and sold off shares of the electricity it produces.
So far, city officials have sold or reserved about 90 percent of the shares and will use some as a recruiting tool for new businesses that want to use green energy, said Kearney Mayor Stan Clouse. The University of Nebraska at Kearney bought about half of the total shares in an effort to use more renewable energy and hedge against long-term price increases.
"It's still in the infant stages, but I'm optimistic," Clouse said.
Clouse said his city approved the project to give residents more energy choices and potentially attract small and mid-sized technology companies with the promise of renewable energy. City officials can't install wind turbines in the area because it's in the migratory flight path of Nebraska's Sandhill cranes, Clouse said.
Clouse, an account manager for the Nebraska Public Power District, pointed to Facebook's decision in 2013 to build a data center in Altoona, Iowa, instead of Kearney, citing nearby wind energy as one factor.
Related:
To fight the Keystone XL pipeline, the #NoKXL Build Our Energy Barn, located near York, Nebraska, built their solar barn in the path of the Keystone XL pipeline. Activists have started a campaign to build more. Mary Anne Andrei/Bold Nebraska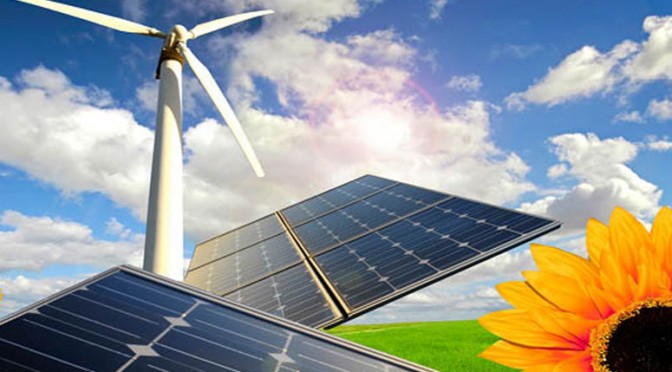 (May 24, 2015) "Geronimo Energy, LLC ("Geronimo") announced the sale of a portfolio of its wind farm and solar energy projects to BHE Renewables, LLC ("BHE Renewables"), a subsidiary of Berkshire Hathaway Energy."
"Included in the portfolio acquired by BHE Renewables are: the Grande Prairie Wind Farm ("Grande Prairie") in Holt County, Nebraska; the Walnut Ridge Wind Farm ("Walnut Ridge") in Bureau County, Illinois; and a portfolio of Minnesota solar project developments ("the Solar Portfolio")."