Esquire
Patagonia's Official Endorsement of Two Senate Candidates Is a First for the Company
"It's about standing up for the millions of Americans who want to see wild places protected for future generations."
By Jonathan Evans        October 19, 2018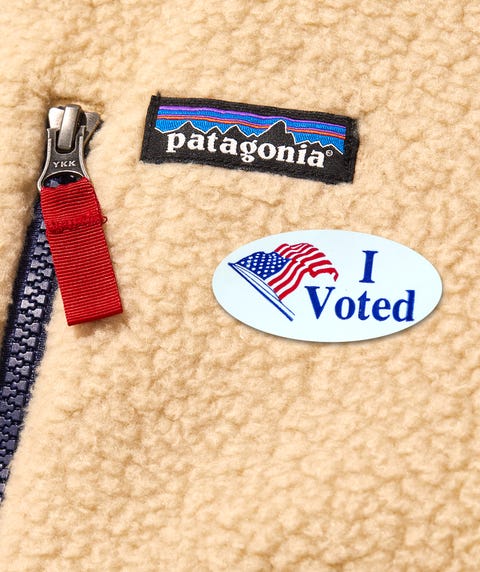 Patagonia has never been shy about its activism. The brand was built for the outdoors, and the folks in charge believe in conserving wild spaces so that future generations can enjoy nature just as much as—hopefully even more than—we do right now. This is the brand, after all, that took a very public stand against the Trump administration's move to eliminate two million acres of protected federal land in Utah.
So perhaps it should come as no surprise that Patagonia is now taking things a step further: for the first time in the company's history, it's officially endorsing two Senate candidates. The first is Jacky Rosen, who already serves in the House and is running for Senator of Nevada. The second is an incumbent, Senator Jon Tester of Montana.
From Patagonia's statement:
Patagonia has fought for the protection of wild places since its founding and has been encouraging its community to vote with the planet in mind since 2004. The company is endorsing candidates for the first time this year because of the urgent and unprecedented threats to our public lands and waters. Nevada and Montana are two states where Patagonia has significant company history and a long record of conservation accomplishments, and where the stakes are too high to stay silent.
Hundreds of corporations back political candidates. The difference with our activism is that we put our logo on it.
Rosen and Tester are both Democrats who the company feels will fight to protect public lands and waters—though it's perhaps worth noting that their affiliation wasn't mentioned in Patagonia's public statement. "This is not born from a desire to get into partisan politics," it reads. "In fact, it's the opposite—it's about standing up for the millions of Americans who want to see wild places protected for future generations. That's something we will always do, regardless of political party."
Patagonia founder Yvon Chouinard, for his part, was a little less willing to stick to the party (or, I guess, no-party) line:
We are supporting Jon Tester because he gives a damn about protecting public lands—and, like US, he's committed to fight back against anyone who doesn't. He goes to work every day for the 95 percent of Montanans who believe recreation on public lands is a priority, unlike Republicans in Congress who only serve the fossil fuel industry.
Wherever you fall on the political spectrum, though, there's one thing we should all be able to agree on: Nature is good. Preserving unspoiled spaces so generations that come after us can also enjoy all that purple mountain majesty we keep going on about seems like a no-brainer. For some folks nowadays, it's not. Here's to Patagonia for taking a stand.
Oh, and a reminder: VOTE.