MintPress News
Locked and Loaded: What Fresh Pretext Will Trigger US in Syria?
Between the imminent arrival of thousands of U.S. troops, Israel's continued military action against Syria, and the Syrian rebel's poised to stage a false-flag attack, it seems that last weekend's strikes were only the kickoff for an expanding U.S.-led military operation targeting the Syrian government.
By  Whitney Webb       April 18, 2018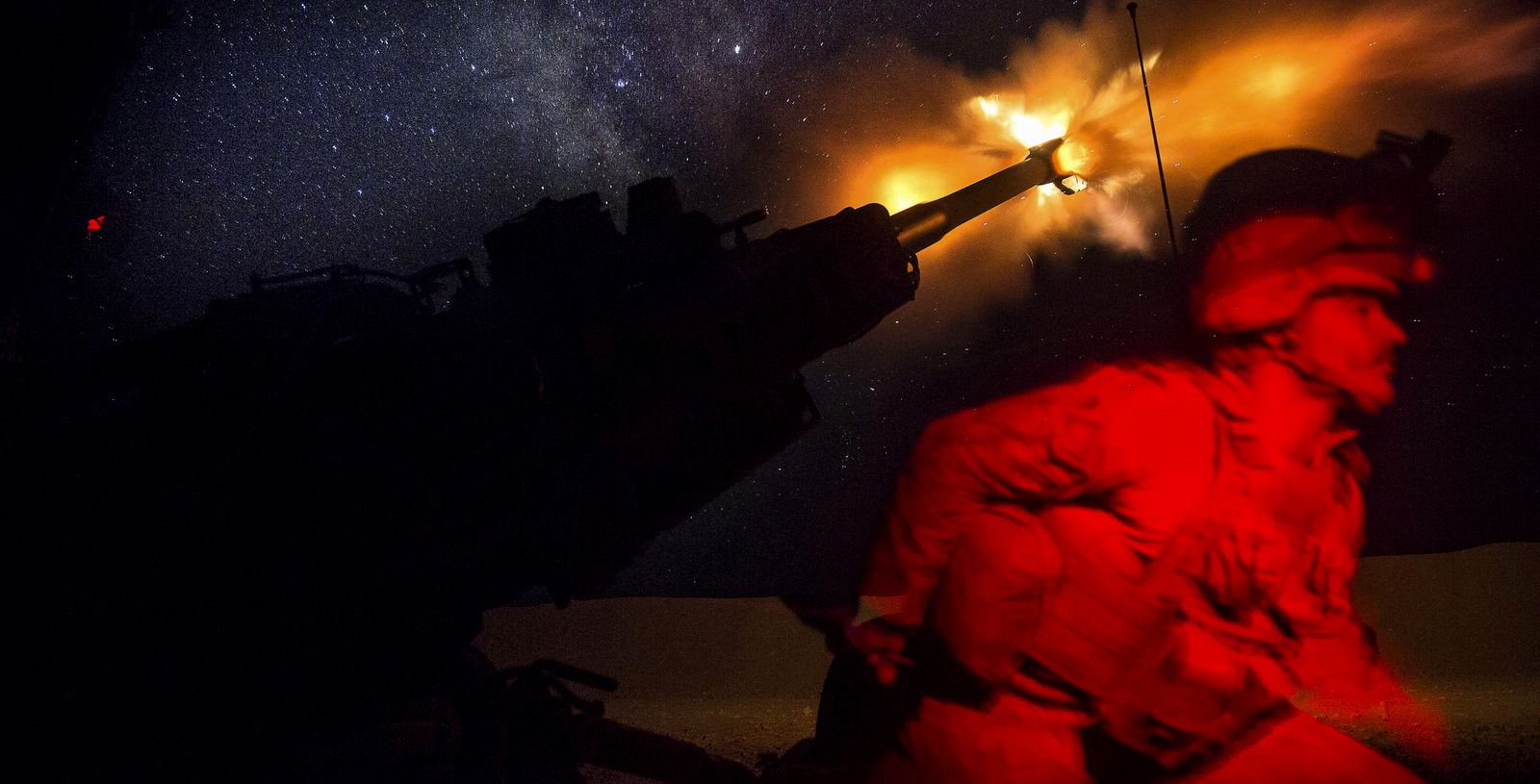 A U.S. Marine fires a howitzer in the early morning in Syria in support of the SDF (Syrian Democratic Forces), June 3, 2017. (Marines Corps Photo)
DAMASCUS, SYRIA – Though U.S. Secretary of Defense James Mattis called the recent strikes targeting Syria a "one-time shot," recent evidence suggests that the U.S. will likely strike Syria again in the coming weeks and months. Indeed, after the U.S. — along with the U.K. and France – chose to attack Syria based on "evidence" from social media and YouTube purporting to show a chemical weapons attack, U.S. officials warned that the U.S. would not hesitate to attack Syria again if similar evidence suggesting Syrian government use of chemical weapons were to emerge, regardless of how flimsy or controversial such evidence might be.
"I spoke to President Trump this morning and he said if the Syrian regime uses this poisonous gas again, the United States is locked and loaded," stated U.S. Ambassador to the United Nations Nikki Haley this past Sunday.
As several analysts have noted, this essentially flings open the door for rebel groups throughout Syria to stage chemical-weapons attacks, knowing that even a single YouTube video will be enough to trigger a military response from the United States that would benefit the rebels' bid to topple Syrian President Bashar al-Assad. In the wake of the recent strikes, rebel groups chided the U.S. for doing insufficient damage to the Assad-led government, calling the strikes a "farce." Surely, the rebels would consider staging a chemical-weapons attack if it would result in a much more significant strike targeting the Syrian military and government.
Such actions on the part of the rebels would not be unprecedented. For instance, recently released information – as well as the testimony of Western journalists on the ground in Douma – suggest that the chemical attack in Douma was staged.
Less than a month prior to the alleged attack in Douma, Russian officials warned that Syrian rebel factions were planning to stage a chemical attack in order to push the U.S. and its allies to attack the Syrian government. "New provocations with the use of chemical weapons are being prepared — performances will be organized in Eastern Ghouta, among others," Russian Foreign Minister Sergei Lavrov stated on March 14th to a group of reporters.
U.S. troop movements belie Mattis' "one-time shot" line
In addition to the high likelihood that Syrian rebels will attempt to bring about further U.S. military action in Syria, the U.S. military already seems to be preparing for that eventuality. Prior to the strikes, but after the U.S. announced that it was considering military action against Syria, the U.S. Navy stated that the Harry S. Truman Carrier Strike Group (HSTCSG) would leave the U.S. and be deployed to the Middle East, focusing particularly on Syria.
Charles Lister: In addition to USS Donald Cook, the U.S has now dispatched USN Carrier Strike Group 8 to the Mediterranean/# Syria:
– USS Harry Truman aircraft carrier
– Carrier Air Wing VII
– USS Hué City missile cruiser
– x6 Arleigh Burke-class Destroyers
– x1 Oliver Hazard Perry-class frigate
The strike group, which consists of 6,500 sailors, is still traveling to Syria and is expected to arrive within the next week. According to the Navy, the group's mission is set to include "maritime security operations and theater security cooperation efforts alongside allies and partners" and the group will "provide crisis response capability and increase theater security cooperation and forward naval presence." Even though Mattis has claimed that U.S. military action targeting Syria was a one-time event, the HSTCSG's deployment to Syria has not been canceled, suggesting that the U.S. is anticipating more strikes against Syria in the near future.
Beyond the imminent arrival of the Truman Strike Group, the U.S. is also amassing thousands of troops along the Syrian-Jordan border. An estimated 4,000 U.S. troops are set to arrive in Jordan for a military exercise called "Eager Lion," which will last for 12 days – coinciding with the arrival of the USS Truman. The exercise will take place around Jordan's capital of Amman, which lies 62 miles (100 km) from the Syrian border. Among the war scenarios to be included in the drill is a simulated attack with chemical weapons.
US Army Central: Senior military leaders from @ArmedForcesJO and @CENTCOM announced the beginning of Exercise Eager Lion 2018 on Sunday.
Israel wastes no time
Furthermore, along with apparent U.S. preparations for war, the U.S.' staunchest ally in the region seems already to be involved in a hot war with Syria. The day after the strikes launched by the U.S., U.K. and France, Israel bombed the T4 airbase near the Syrian city of Homs — killing 14, including Iranian soldiers. Since then, Israel has continued to bomb Syria, with the latest taking place on Monday when the Shayrat airbase – also near Homs – was bombed.
Israel's latest bombings seem to be aimed at provoking a wider conflict, given that they have targeted both Iranian and Syrian assets located within Syria. Israel, whose influence over U.S. foreign policy has arguably reached unprecedented levels under Trump, has also been actively pushing for a wider war in Syria over the past year – with Israeli officials calling for the murder of Assad and bombing of the Presidential Palace in Damascus.
Between the imminent arrival of 6,500 Navy sailors and 4,000 U.S. army ground troops around Syria, Israel's continued military action against Syria, and the Syrian rebels poised to stage a false-flag chemical weapons attack, it seems that last weekend's strikes against Syria were only the foundation for a more significant U.S.-led military operation targeting the Syrian government.
Whitney Webb is a staff writer for MintPress News and a contributor to Ben Swann's Truth in Media. Her work has appeared on Global Research, the Ron Paul Institute and 21st Century Wire, among others. She has also made radio and TV appearances on RT and Sputnik. She currently lives with her family in southern Chile.
 Stories published in our Daily Digests section are chosen based on the interest of our readers. They are republished from a number of sources, and are not produced by MintPress News. The views expressed in these articles are the author's own and do not necessarily reflect MintPress News editorial policy.