The Christian Science Monitor
Helsinki: the promise and peril of upending diplomatic tradition
WHY WE WROTE THIS
Many US presidents have viewed one-on-one meetings with foreign leaders as important. But history offers cautionary tales as to how to go about them.
By Ned Temko     July 23, 2018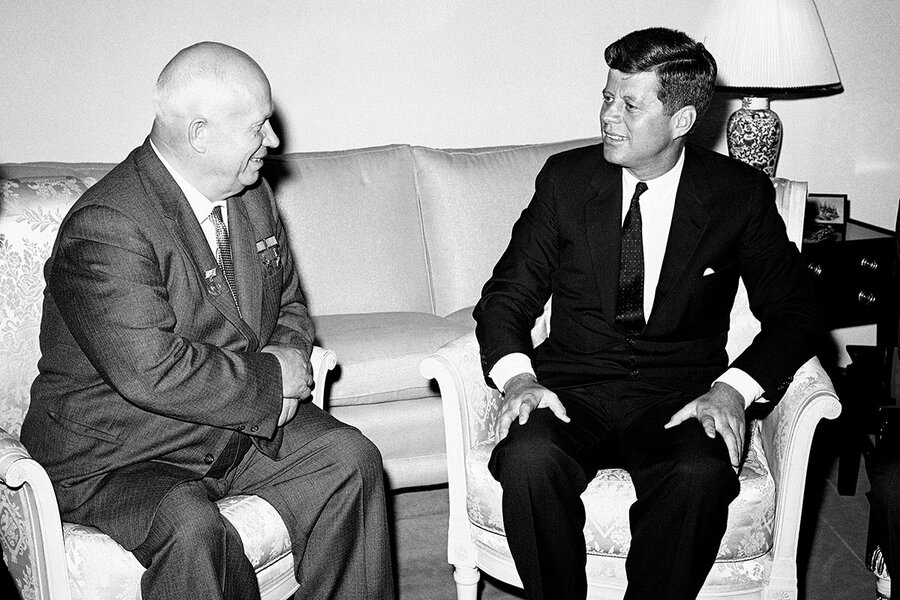 LONDON: There can be no question about the most jarring difference between last week's US-Russia summit and those that have gone before: the tone and tenor of US President Trump's final news conference with Russian President Vladimir Putin.
But the differences run deeper. They represent a fundamental shift from how past administrations have used, prepared for, and organized summits, and how they've approached diplomacy with adversary powers. To borrow a line from Star Trekkers, Mr. Trump is practicing summitry … but not as we know it.
The key question, especially with the announcement that Mr. Putin is being invited for a further meeting in Washington this fall, is whether the promise in the new approach will outweigh the peril.
The promise, from Trump's perspective, is the prospect of cutting through the strictures of traditional diplomacy, relying on personal chemistry to unknot longstanding disputes and secure a breakthrough. The potential peril, unsettling not just to American allies but some of Trump's own diplomats and security advisers, is that in advance of any definitive results, the United States will deal away concessions, weaken its future leverage, and, meanwhile, allow the adversary to shape the narrative.
Trump is not alone among modern presidents in viewing one-on-one meetings with foreign leaders – and the prospect of establishing personal chemistry with them – as critical parts of his diplomatic toolbox. There have even been summits broadly similar to last week's meeting with Putin in Helsinki: John F. Kennedy's with Soviet leader Nikita Khrushchev in 1961, for instance, or George W. Bush's encounter with Putin in 2001, just months into the Bush administration and a year into Putin's rule.
But those precedents suggest reasons for caution. Before Kennedy decided to meet Khrushchev, his own advisers warned against overrating any personal connection with the Soviet leader. Amid rising tensions concerning Berlin, and barely a month after the US Bay of Pigs invasion of Cuba, they need not have worried. It was a testy affair. Yet it highlighted potential pitfalls in summitry. Kennedy came to feel he'd allowed himself to be bullied. Some historians have suggested the Soviet leader's assessment of the new president emboldened him to take on the Americans, first with the construction of the Berlin Wall and then by moving missiles into Cuba the following year.
President Bush's 2001 summit with Putin seemed, at first, a validation of "chemistry." But in a remark that would come back to haunt his administration as tensions grew, he told reporters: "I looked the man in the eye. I found him very straightforward and trustworthy. I was able to get a sense of his soul."
A critical contrast with Trump's approach – on the evidence not just of the Helsinki summit, but his meeting with North Korean leader Kim Jong-un six weeks ago – is the degree of preparation, and protective safeguards, built into past summitry. At virtually all past summits, US presidents arrived with a set agenda, warnings from advisers on potential pitfalls, and an understanding of what, if any, concessions might be given, and broadly of what the post-summit message would be.
We can't know for sure how much of that happened ahead of Trump's meetings with the North Korean and Russian leaders. But after the Kim talks, he announced the cancellation of "provocative" US military exercises with the South Koreans, surprising both South Korea and his own military. His embrace in Helsinki of Putin's "extremely strong and powerful" denial of Russian meddling in the 2016 US election took intelligence and security aides by surprise. The Putin meeting also broke another rule of past summits: that even in meetings without aides, an American note-taker be present to ensure the US side had an accurate picture of what had been said, and could help shape the narrative afterward.
Another concern for past summit planners has been the possibility that merely holding such meetings could represent a concession to authoritarian adversaries the US and its allies had been seeking to isolate: regimes like Putin's in Russia and Kim's in North Korea.
That was one of many reasons that thousands of hours of planning went into President Richard Nixon's summit visit to China in 1972. The trip was calculated not just as a historic opening to China, but a rebalancing of superpower relations that would increase US diplomatic leverage with the Soviet Union. Before it was even announced, in 1971, National Security Adviser Henry Kissinger made a series of secret visits of his own to Beijing. No detail of the Nixon visit – including the summit communiqué – was left to chance.
Whether Trump's more freewheeling approach will work remains to be seen. With no early sign of concrete progress on the "denuclearization" agreed to with Kim, for instance, he has said it's natural such problems take time to resolve. He is still projecting confidence of success.
But one top US diplomat has offered a window into how different the new approach is. On the eve of the Helsinki encounter with Putin, Jon Huntsman, the US ambassador to Russia, cautioned "Meet the Press" not even to call it a summit. Just a "meeting."
"There will be no state dinner, no joint statement, no deliverables that are pre-packaged," he said. "You don't know what's going to come out of this meeting…. This is an effort to see whether we can defuse, and take some of the drama and, quite frankly, the danger out of the relationship."