Esquire
Deborah Ramirez and the Suffocating Banality of Assault
Deborah Ramirez and Christine Blasey Ford's allegations, to my mind, challenge the deepest fibers of conservative masculinity.
By Joanna Rothkopf       September 24, 2018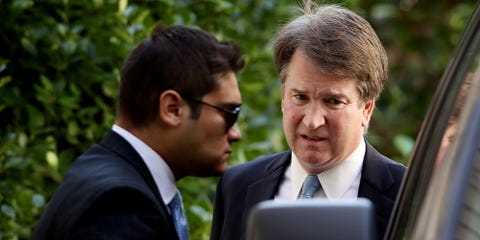 Deborah Ramirez is the second woman to accuse Supreme Court nominee Brett Kavanaugh of sexual assault. In a report published Sunday evening in The New Yorker, Ramirez recounted that while she was a student at Yale University, Kavanaugh—a freshman at the time—"thrust his penis in her face, and caused her to touch it without her consent as she pushed him away." Ramirez had been reluctant to come forward earlier, she said, because she had been drinking and wasn't sure if she remembered the events clearly. After several days of "carefully assessing her memories," however, Ramirez was certain she knows what happened.
"Brett was laughing," she said. "I can still see his face, and his hips coming forward, like when you pull up your pants."
Kavanaugh has unconditionally denied that he played any part in this memory, saying in a statement: "This alleged event from 35 years ago did not happen. The people who knew me then know that this did not happen, and have said so. This is a smear, plain and simple. I look forward to testifying on Thursday about truth, and defending my good name—and the reputation for character and integrity I have spent a lifetime building—against these last-minute allegations."
After learning about Ramirez's allegations last week, The New Yorker reported that Senate Republicans called yet again for the confirmation process to be sped up.
The new allegation comes, as we know, after Dr. Christine Blasey Ford said that during a high school party, Kavanaugh, then a student at Georgetown Preparatory School, pushed her onto a bed, groped her, attempted to take off her bathing suit, and put his hand over her mouth to prevent her from screaming. Kavanaugh and his supporters have alternately suggested Dr. Ford confused Kavanaugh with another similar-looking classmate, denied that it happened altogether (either with the proof of a teenage boy's calendar or with the absurd idea that Ford would have gone to the police, among others), and that even if it did happen, it doesn't matter.
The idea that Republicanism has any apparatus to deal with sexual assault is, largely, laughable to begin with, given it's hard-wiring to promote a certain kind of man at the expense of all others. But Ramirez and Ford's allegations, to my mind, challenge the deepest fibers of conservative masculinity—that now, okay, it's suddenly not cool to shove your dick at a drunk girl at a party? Isn't that exactly what college is for?
I grew up in Washington, D.C., and attended a private school in the same community of private schools as Georgetown Prep. Despite the liberal bent of my specific school, I still was raised to believe in these same conservative principles—that men (boys) held the vast majority of social power, and it was my responsibility to look respectably fuckable, or I guess eager or not unkind, so that someone might decide to date me. That was much easier to pull off, especially if you're a highly socially anxious person like me, if you were a fun level of drunk. That's why, literally until I read Ramirez's quotes in The New Yorker, I had forgotten that I, one in a boundless sorority of women, also had fractured, vague memories of being nearly blackout drunk, pushed into a bathroom, and had a friend's bare dick shoved in my face, and that it had never occurred to me, even once, to tell anyone about it. And that this happened again in college, me still drinking to feel comfortable, the very definition of immaturity, thinking that these experiences were the exception and not the rule. Ramirez and Dr. Ford are putting into relief, yet again, the crushing banality of assault, how pervasive, how cliché, how utterly boring it has been for so long.
Understandably, the outcry over these accusations has caused men and women who were taught this was acceptable behavior to push back. During a dinner for the Faith and Freedom Coalition on Saturday evening, Rep. Steve King said, "I'm thinking, is there any man in this room that wouldn't be subjected to such an allegation? A false allegation?" (Let's assume that his definition of "false" may, perhaps, mean "unwanted.") "How can you disprove something like that?" he continued. "Which means, if that's the new standard, no man will ever qualify for the Supreme Court again."
And last week, on MSNBC, New York Times columnist Bari Weiss, after noting that Kavanaugh had the reputation for being a "prince of a man," said the following baffling collection of words: "What about the deeper, moral, cultural, like, the ethical question here? Let's say he did this exactly as she said. Should the fact that a 17-year-old, presumably very drunk kid, did this, should this be disqualifying? That's the question at the end of the day, isn't it?"