HuffPost
This Church Banner Perfectly Captures How Progressive Christians Feel Right Now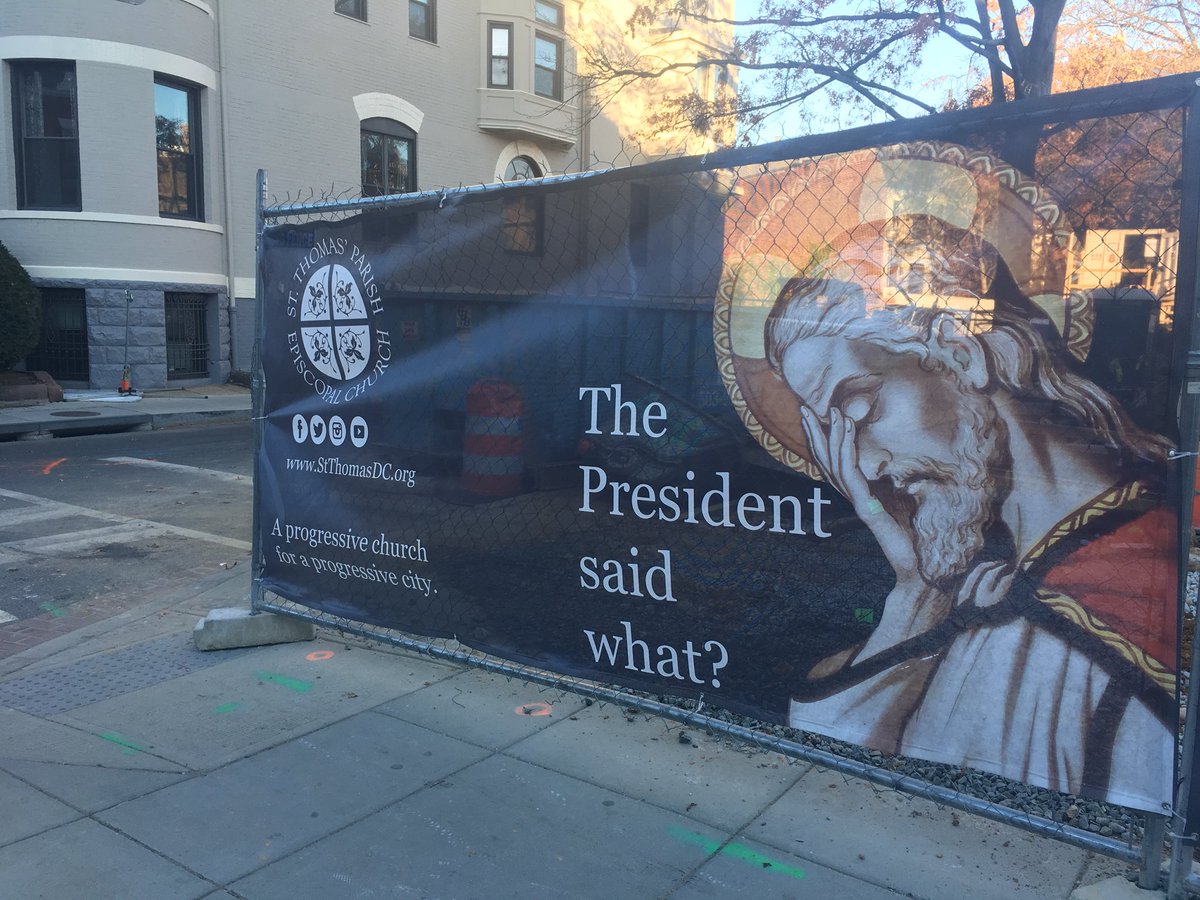 Carol Kuruvilla, HuffPost      December 7, 2017
An Episcopal church is causing a stir in Washington, D.C., after putting up banners that attempt to capture the mood of many progressive Christians in the nation's capital.
The signs from St. Thomas' Parish express frustration over some of the political positions taken by conservative Christians on topics such as gun rights and science. The banners feature an image of Jesus holding a hand to his face, a gesture that some are calling "faithpalming."
One sign, which went viral on Twitter last week, illustrates the congregation's feelings about President Donald Trump. Trump is a Presbyterian (though faith doesn't appear to play a large role in his life), and has continued to enjoy the support of many conservative Christians in the country.
The Rev. Alex Dyer, the priest in charge of the 126-year-old parish, is the one who designed the banner campaign. He told HuffPost that his congregation saw the signs as an "opportunity to give voice to a side of Christianity that many people may not associate with Christianity."
"There are many people who think Christians are close-minded, judgmental, and oppose science," he said. "This is not the people in the congregation or many congregations around the country."
He believes the signs capture the feelings of a lot of people in D.C. about the state of American politics.
"We are a very progressive church in a very progressive city," he said. (The District of Columbia has voted Democratic in every presidential election it's participated in, and went overwhelmingly for Hillary Clinton in the 2016 election.)
The signs were placed around the construction site of St. Thomas' Parish new church building in the city's Dupont Circle neighborhood.
Dyer said his congregation has been troubled by what he called a "constant attack" on their core Christian values.
He described his church as a spiritual home for people who've had bad experiences with other churches, or have been discriminated against based on gender, sexuality or race. The church has a long history of welcoming queer Christians. In the past, it's also expressed support for refugees and immigrants.
"Jesus reached out to those on the margins of society," Dyer said. "He did not build walls. Rather, he broke down the walls that divide us as people."
In response to the president's policies targeting marginalized groups, Dyer said his congregation has participated in marches, protests and vigils.
Avoiding politics is not really an option for a progressive Christian church in Washington, D.C., he said.
"The hope is that people will walk by and think about things a little differently," Dyer said of his banners. "It will remind people of a God who loves them and feels their frustration."