PopSugar
What Is Fentanyl?
The Opioid Epidemic's Biggest Culprit Isn't Heroin Anymore — It's Something Deadlier
Stephanie Haney         August 22, 2017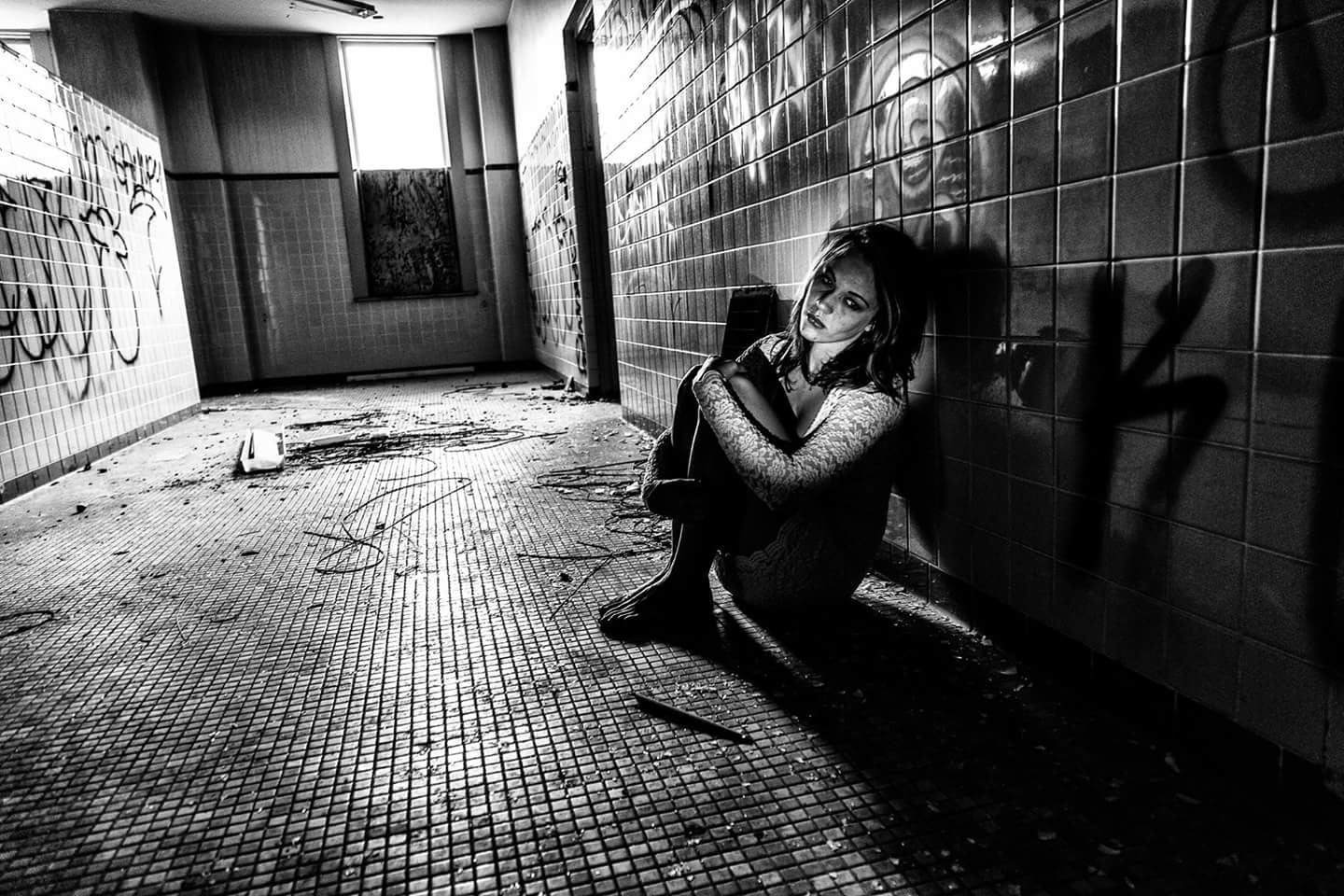 Part of a series of images Jessica* created with photographer John Trew to portray the emotions associated with addiction. Photo courtesy of John Trew.
Andrew, an HVAC engineer, looks better than your average 37-year-old, college-educated man from Canton, OH. Clean-shaven, wearing a fitted maroon polo shirt and black dress pants. Athletic. Energetic. Flirtatious.
He sits on the patio of a local restaurant, sipping his cocktail, skimming the menu at the kind of place you take your kids to after soccer practice.
"Yesterday I had one glass of wine, today I had two. Tomorrow, I don't know," Andrew says, both hands cupped around a sweaty vodka-soda with lime. "But it's not heroin."
But it wasn't heroin two weeks earlier, either, when the husband and father of three woke up on the floor of his sober-living house to six men shaking him. They told him it took two doses of Narcan, an opioid blocker, to revive him after he overdosed on carfentanil for the sixth time this year.
It wasn't heroin, because if you ask drug users, people in recovery, medical personnel, and law enforcement, they'll tell you that drug has all but dried up in the state of Ohio, a state leading the country in fatal opioid overdoses, according to the Center For Disease Control.
If it were heroin, it would've been made from morphine, which is derived from naturally occurring opium.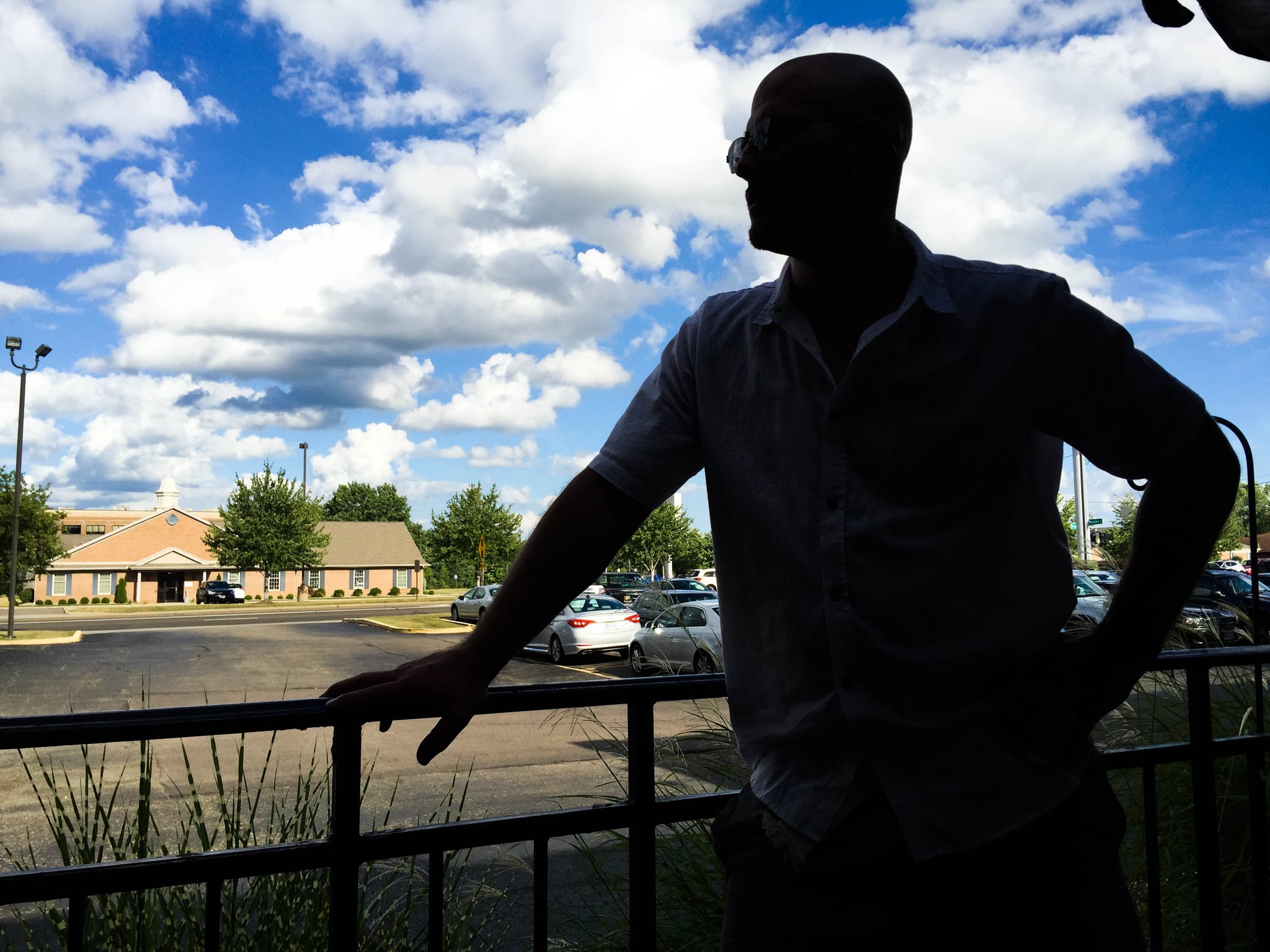 Andrew, 37, looks out from the patio at a restaurant in Canton, OH, on Aug. 18. Photo courtesy Stephanie Haney.
Carfentanil — a synthetic form of fentanyl — is generally used to sedate very large animals, like elephants, and it's 10,000 times stronger than morphine. It's the new drug of choice for those manufacturing and selling illicit drugs in the Buckeye State, which was home to a record-setting 4,149 accidental deaths due to fatal overdoses in 2016.
Fentanyl itself is another popular option. The drug is "50 to 100 times more potent" than morphine, according to the National Institute on Drug Abuse. Oftentimes, drug users don't realize they aren't getting quite what they bargained for until it's too late.
Andrew noticed the switch about six months ago, when he started "falling out" — or losing consciousness — after doses he had previously considered normal.
"I was shooting up all day, every day," he said, as he stretched out his arms to show dark bruises where his veins had collapsed under his skin. And then finally, one day, he overdosed.
The casual observer probably would never know that Andrew was battling opioid addiction at this very moment, but the crisis that's hit America hard doesn't discriminate.
Drug overdose deaths have now become the leading cause of accidental deaths in the US with 52,404 fatalities in 2015, according to the American Society of Addiction Medicine; 33,091 of those deaths, which equates to more than six out of 10, involved an opioid.
And it's getting worse. While official numbers aren't in yet, a New York Times preliminary report has the total number of drug overdose deaths for 2016 at more than 59,000, which it described as "the largest annual jump ever recorded in the United States."
Addiction started for Andrew in 2009, when he started taking his mother's oxycodone, which she had been prescribed after a medical procedure — he says because he "didn't want her taking all of that." He also had a longstanding Adderall prescription added to the mix.
His opioid and Adderall abuse went undetected by his wife until the Summer of 2016, when she noticed he was running out of the ADHD drug before the end of the month. After she made a call to his doctor, his prescription was revoked, and Andrew turned to cocaine. The way he tells it, his wife got fed up, took their kids, and left him, and one week later, he was shooting up heroin.
What Can We Do to Stop the Epidemic?
It's not that uncommon of a story, and it can happen to anybody. President Donald Trump addressed that issue in his press briefing from New Jersey on Aug. 8.
"Nobody is safe from this epidemic that threatens young and old, rich and poor, urban and rural communities," he said. "Everybody is threatened."
But what's debatable is Trump's view that amping up incarceration is the answer to the problem. In the same briefing, he pledged to increase federal drug prosecutions and implied he'd fight to lengthen sentences for convicted federal drug offenders. This is in stark contrast to the Obama administration approach to dealing with drug users.
Two days later, Trump told reporters in New Jersey, "The opioid crisis is an emergency, and I'm saying officially, right now, it is an emergency. We're going to draw it up and we're going to make it a national emergency. It is a serious problem, the likes of which we have never had."
What methods the Trump administration will ultimately employ to combat the epidemic aren't exactly certain at this time.
What we do know is that his comments about "upping federal prosecutions" were made despite a preliminary report issued on July 31 by his Commission on Combating Drug Addiction and the Opioid Crisis. The report almost exclusively recommended addressing shortcomings in access to treatment for addicts, along with prescription drug reform and stopping the influx of synthetic opioids (like fentanyl and carfentanil) from other countries, like China.
That approach is more in line with what people who are living in the throes of the epidemic think would be helpful.
Incarceration Doesn't Work For Everyone
One of those people is Tugg Massa, 42, from Akron, OH. He's a recovering addict and founder of Akron Say No to Dope, a nonprofit organization that serves Summit County, where as many as 250 people died last year from drug overdoses. Those deaths were largely attributed to the introduction of carfentanil in the area in June and July of 2016, according to Ohio.com.
Both fentanyl and carfentanil are a whole lot cheaper on the street than morphine and heroin, he explained, which is why they're being cut with anything and everything people use to get high — usually unbeknownst to the drug user.
"It's not like it was when I was growing up," Tugg said. "Not to glorify drug use of any kind, but it's a lot more dangerous now. It's not heroin. Heroin won't even get the people out there using drugs high anymore because this fentanyl and carfentanil are so strong."
He knows what he's talking about, as someone who used drugs for 27 years. Tugg's been sober since Oct. 10, 2012, the day he was arrested for illegal manufacturing of methamphetamines.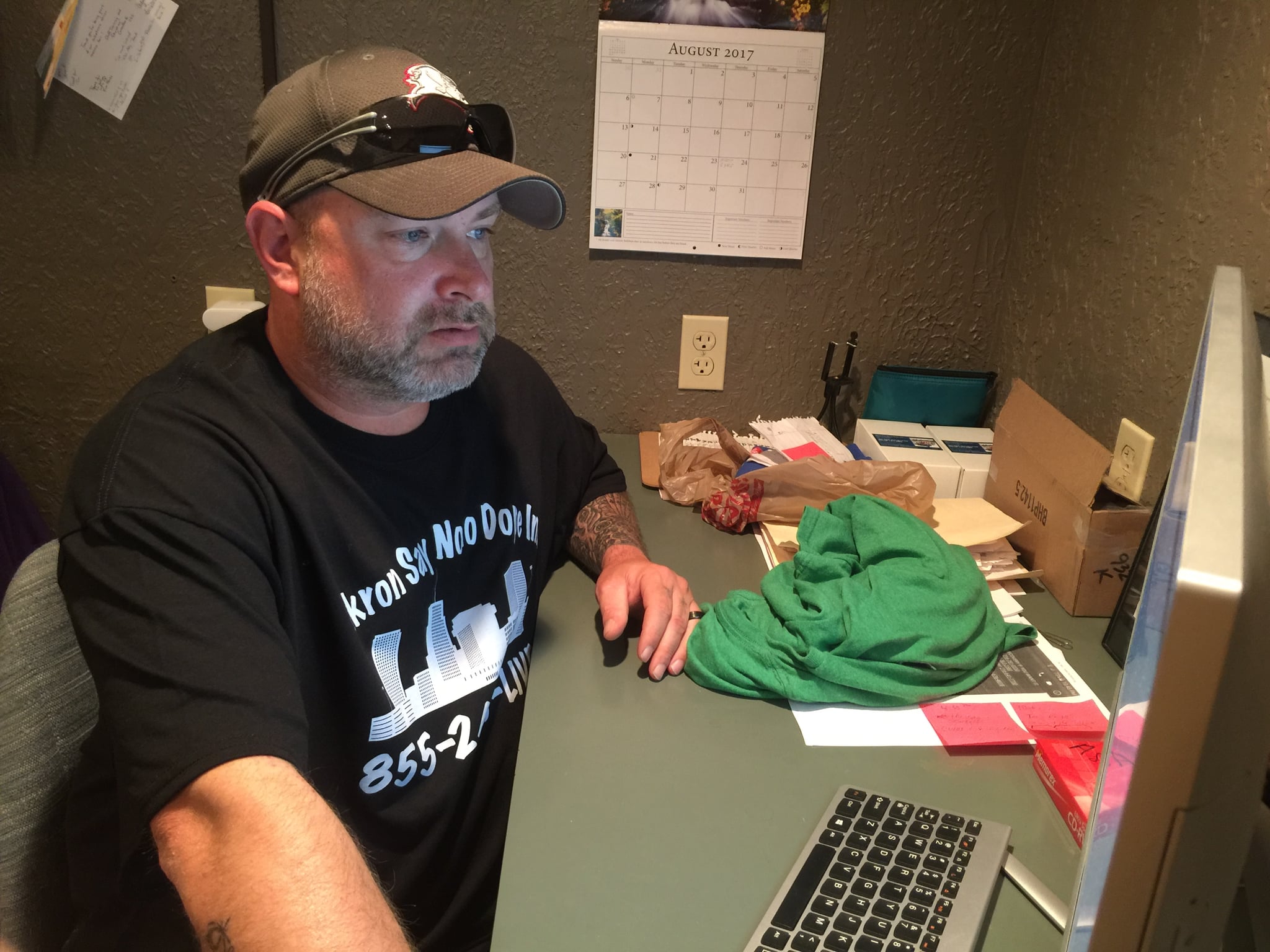 Tugg Massa, 42, checks the call log for Akron Say No to Dope's 24/7 helpline from his organization's thrift store and boutique in Akron, OH, on Aug. 14. Photo courtesy Stephanie Haney.
When Tugg got caught, he was making meth to support his own opioid habit. He spent two years in prison for that charge, where, despite his surroundings, he got clean and earned his GED.
"It was difficult," he said of his time there. "There's a lot of drugs in prison. I had a drug dealer on one side of my cell and a drug dealer in the other cell next to me."
Although he successfully overcame his addiction while incarcerated, he feels strongly that being locked up is not for everyone. Instead, Tugg is a major advocate for drug court, where people get the option of undergoing treatment in lieu of conviction. That means if they make it through a 12-month program, their convictions are dropped.
Treatment Is Crucial — When the Timing Is Right
Sheriff Steve Leahy of Clermont County, OH, generally agrees with Tugg about the need for more access to treatment, but also says it needs to be worked hand in hand with the judicial system.
"You can't throw everybody's ass in jail," he said. "But what you also can't do is hug your way out of it."
Sheriff Leahy speaks from experience as both a member of law enforcement and someone who has witnessed firsthand a loved one's battle against opioid addiction. His ex-wife's struggles gave him valuable insight into what might work in his community.
He points out that some people simply aren't responsive to treatment, possibly because they're not ready for it at that point in their addiction.
"I think there are just some people who do need to be in jail or incarcerated. Maybe because they're selling as a pusher or they are committing crimes and burglaries and other felonies," he said. "You have to protect the community at large. Also, with the same breath, sometimes the only way to protect an individual from themselves is by having them locked up until you can get them to a point of treatment."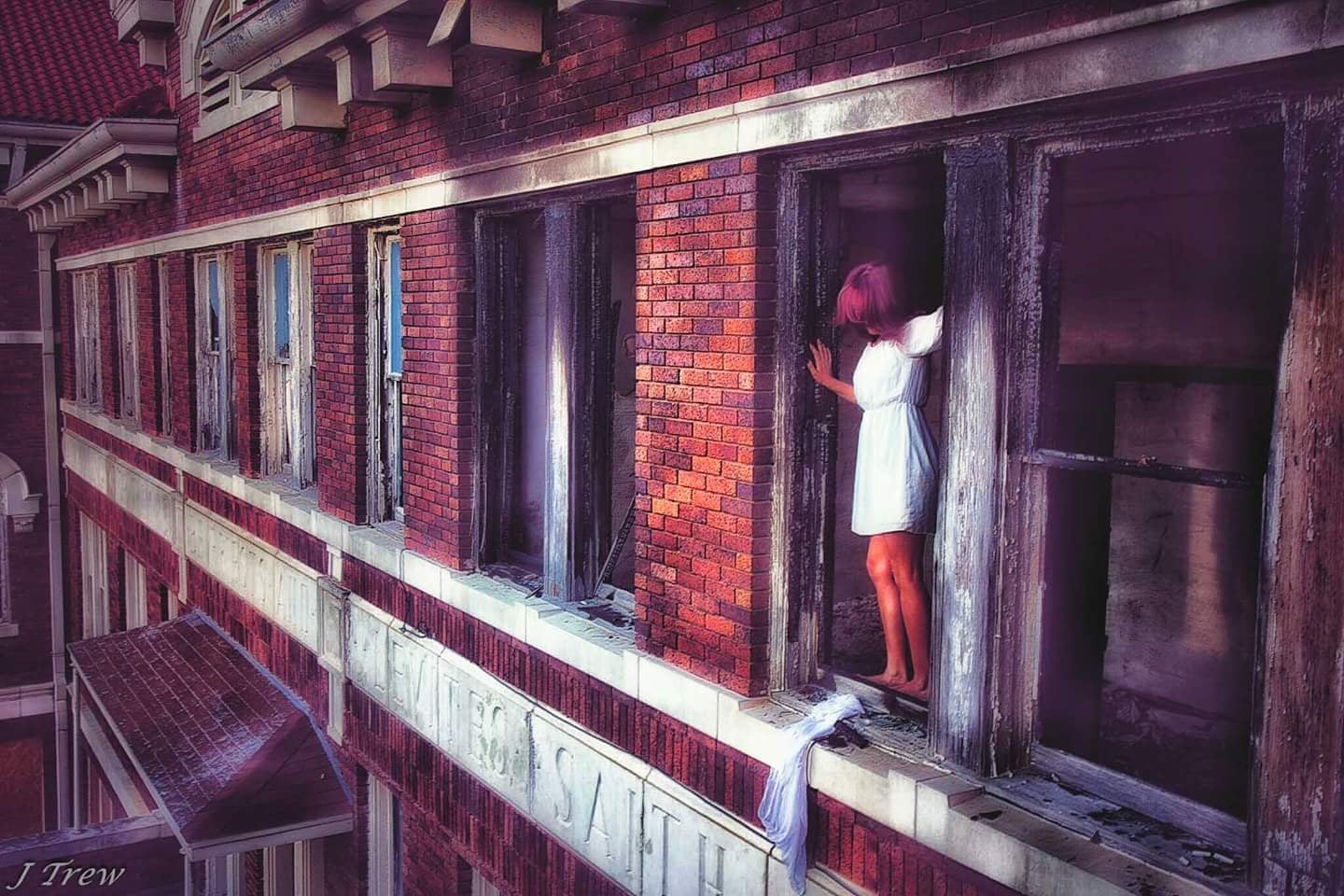 Part of a series of images Jessica* created with photographer John Trew to portray the emotions associated with addiction. Photo courtesy of John Trew.
Whatever they're doing in Clermont County seems to be working. The death toll skyrocketed to 94 in 2015, placing Clermont at the top of the state for accidental overdose deaths, according to Leeann Watson, associate director of Clermont County's Mental Health Recovery Board. That figure was up from 68 in 2014 and 56 in 2013, Watson said, who is also co-chair of the opiate task force. But in 2016, the number dropped slightly to 82 deaths.
One tool that Leahy believes in is his county's community alternative sentencing program, which people can choose to participate in while they are incarcerated.
The program is administered in a wing of the county jail dedicated exclusively to those who have volunteered for treatment. It's an opportunity for convicted drug offenders who are ready to tackle sobriety to make the best use of their time.
"You have to have the buy-in of the court system, which includes the probation department and other mental health and addiction specialists," Leahy said. "It's kind of a multi-pronged attack."
Court Programs Can't Help When Drugs Don't Show Up on Tests
Andrew, who was placed on probation in January after officers found a needle in his car when he got pulled over for speeding, hasn't had to face a choice like those convicted in Sheriff Leahy's jurisdiction yet.
Not after trying out replacement drug therapy with Suboxone and methadone; not after attending treatment facilities in both Mexico and Florida; not after witnessing two people die from opioid overdoses in his own home on two separate occasions. And not even after his own latest overdose.
When his sober-living housemates revived him just two weeks ago, the police were called and he was taken to the hospital.
If he had tested positive for drugs at the hospital, he would've been kicked out of the sober-living house and sent to jail for violating probation.
The crazy thing is, his drug test came back negative.
"I've been given a lot of grace," he says.
"Grace" for Andrew, this time, came in the form of a standard urine test that didn't detect the particular concoction of street opioids that shut his system down.
Yes, you read that right. The standard drug tests administered at many hospitals that treat overdose victims don't pick up carfentanil and the street versions of fentanyl that are killing people in record numbers.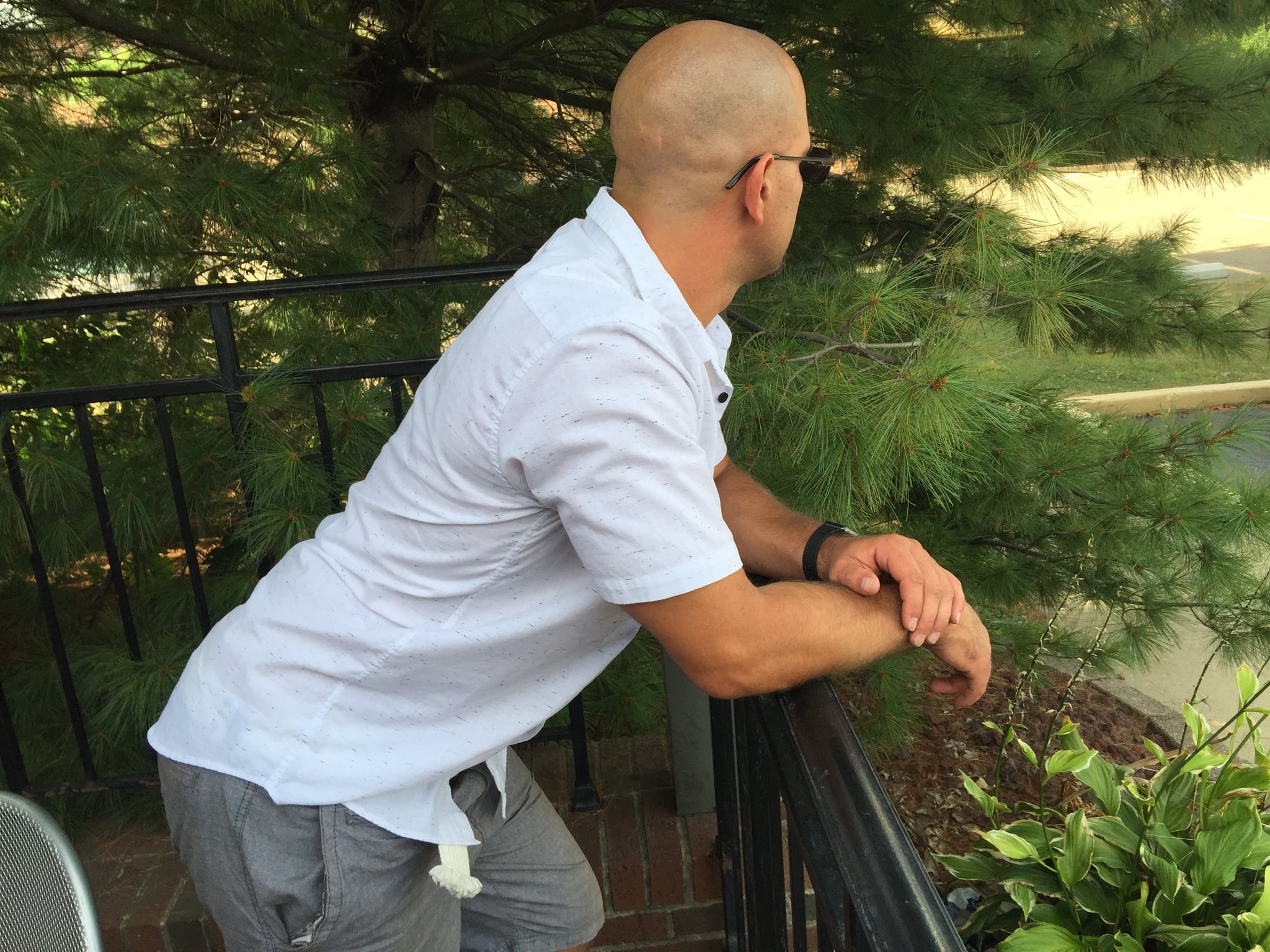 Even after six near-death experiences and witnessing two fatal overdoses in his own home from opioid use in the past year, Andrew says he still can't promise he won't ever use opioids again. Photo courtesy Stephanie Haney.
"You have to know what you're looking for," said Dr. Barry Sample, senior director of Science and Technology at Quest Diagnostics.
Dr. Allison Chambliss, assistant professor of Clinical Pathology at the Keck School of Medicine of USC, elaborated, "Fentanyl and carfentanil are structurally distinct from the other major opioids, and so do not get detected up by the routine urine opioid drug screens out there that are designed to pick up morphine, codeine, and heroin."
Even if you might have an idea what you're looking for, oftentimes the proper tests simply aren't run — either because they're too expensive or the facility where the victim is being treated doesn't have the proper equipment.
Usually it's only large reference and specialty toxicology labs that have the tools required to carry out these kinds of tests, even though they could be run on urine or blood samples, just like more general opioid tests, Chambliss said.
In Andrew's case, the standard test was apparently run, and it came back negative for opioids. He was released from the hospital and was able to go back to the sober-living facility with no probation violation recorded.
Even after that close of a call, where he narrowly escaped losing his liberty — and his life — he admits, "I still can't promise I'll never use opioids again. It's too good."
"Ready" and "Rock Bottom" Look Different For Everyone
Tugg pointed out that in his ministry of recovering addicts, "They have to come to me. I can't go chasing people down."
He shared Sheriff Leahy's sentiment that drug users have to be ready on their own, which many addicts describe as their "rock bottom" moment. For him, it was a letter from his daughter while he was in prison, asking him, "Who do you think you are?"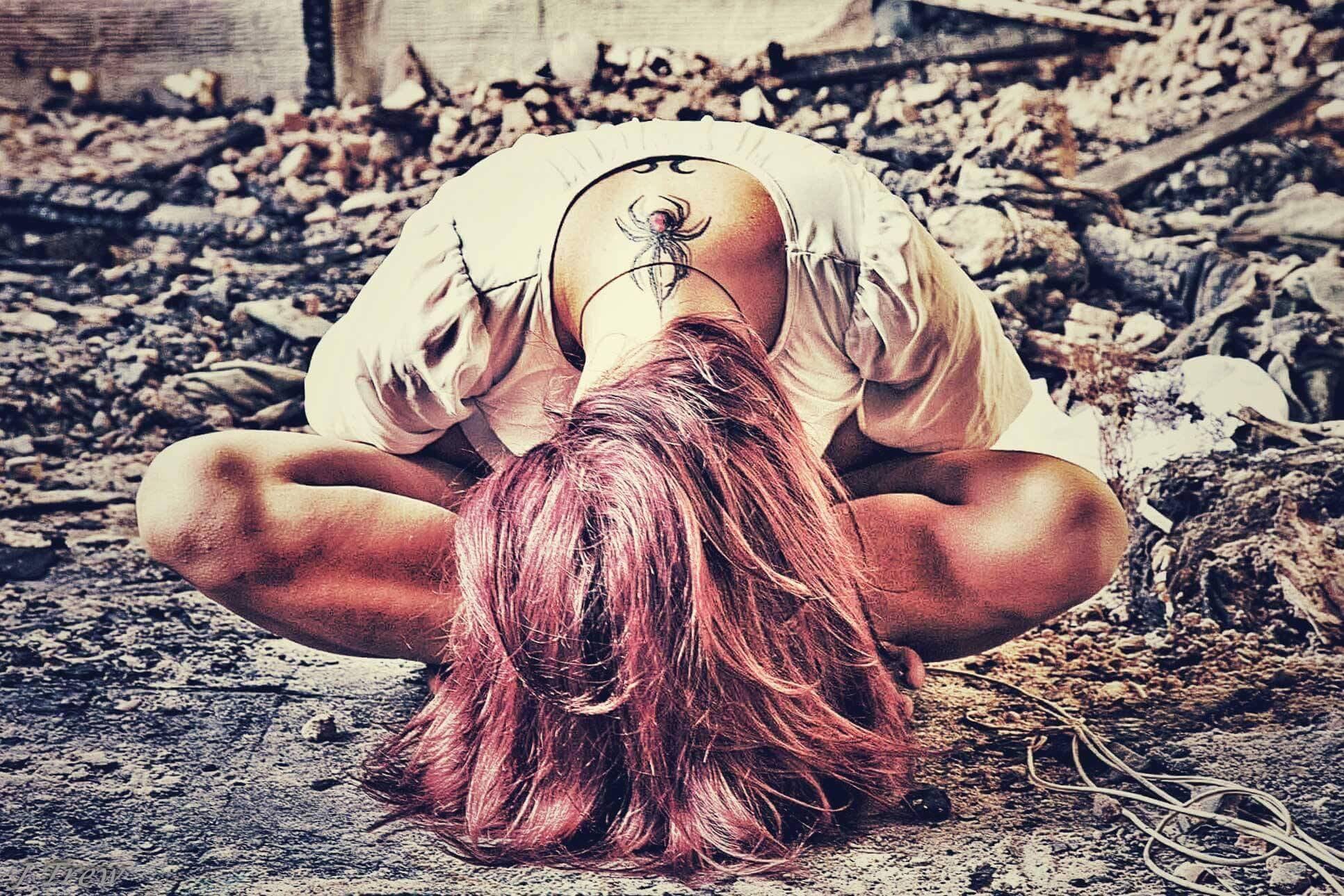 Part of a series of images Jessica* created with photographer John Trew to portray the emotions associated with addiction. Photo courtesy of John Trew.
Rock bottom for *Jessica, 26, from Los Angeles looked very different.
Having used drugs since the age of 13, Jessica became addicted to opioids at 16 after trading away cocaine for "tar" and not realizing that it was, in fact, heroin.
At one of her worst moments, she was homeless, on the street, doing whatever was necessary to score drugs. At another, an obsessed partner held her against her will for half a year.
Jessica says her captor forbid her from speaking to anyone else, eating, showering, or even using the bathroom outside of his presence. She finally convinced this man that her going to treatment would be better for their relationship, which is how she escaped that situation.
"When I got to treatment, I had to learn how to form sentences again. I couldn't speak. I didn't know how to raise my head and look somebody in the eye," she said. "Even just eating was a big thing. I didn't know how to do that anymore. I had to learn how to stop asking permission for things, which was really hard. That's something that I still struggle with today."
But even being held against her will wasn't what brought her to the realization that she needed to get clean.
Her epiphany came in 2012 at the age of 21, when she had "everything" in every materialistic sense of the word. She was living with a wealthy man — who supported her $400-a-day heroin habit — in a beautiful home in Southern California. She said it was hitting an emotional bottom that finally did her drug use in over a period of four months when she was trying to overdose every single day.
"It was a feeling of desperation that was something I hadn't felt before," she said. "That true desperation of, 'I have everything in the world, but I am nothing,' that's what was different this time than all the other times. I finally realized that I as a person had no self-worth."
"I would be looking in the mirror at myself, because I was an IV user, and I would shoot in my neck, so I would have to be in front of a mirror. I'd be standing in front of a mirror, looking myself in the eyes as I'm injecting my neck with heroin trying to die," she said. "Praying that you don't wake up this time, that is the scariest feeling in the whole world," she said.
Today, she's five years sober and has been working for the last two and half years at a sober treatment facility in Texas, which she credits with helping to maintain her sobriety.
The Street View of How to Fight the Opioid Crisis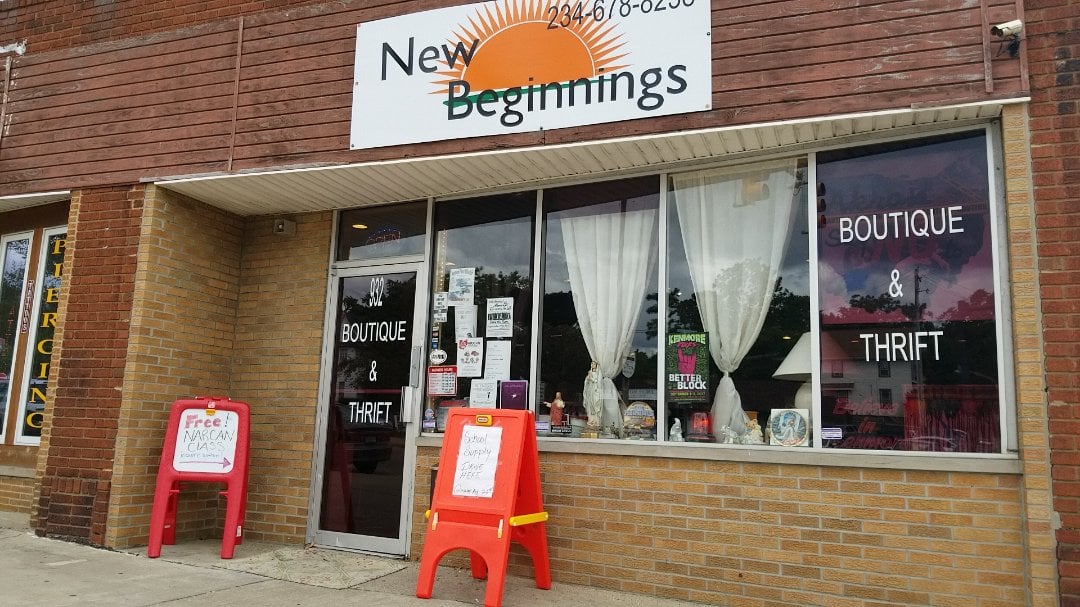 Signs advertise free Narcan class outside New Beginnings, the thrift store and boutique Tugg runs in Akron, OH, in support of Akron Say No to Dope. Photo courtesy Stephanie Haney.
It's unclear exactly what will happen to the wide-scale handling of this epidemic nationwide, if and when the opioid crisis is officially declared a national emergency, but Jessica and the other people we interviewed for this story have a wish list.
Sheriff Leahy, Jessica, and Tugg all agree that more in-house treatment facilities are crucial in this fight.
"When someone is ready to get off of drugs, we need to address that right then," Tugg said. "We need more beds. No wait time."
Jessica noted that in addition to more beds, facilities need more time.
"Long-term treatment is what's working. The 30 day treatment centers are not long enough. You can't work through all the trauma that you've caused to yourself as an addict. Your first week, you're detoxing. Your second, third week, you might be going to groups and start having emotions again, and your fourth and fifth week, you're planning your discharge already. So you've really only gotten a week of actual treatment," she said.
"Starting to form new habits takes a long time. You can't learn that in 30 days, which is why I stayed in treatment for a year and a half," Jessica said. "A lot of treatment centers are only 30 days, which is why they're always full because people, they'll go in, 30 days, get out, relapse, and go back in. The long-term places are getting people and holding them and really turning them back out to be productive members of society."
From a law enforcement perspective, Leahy would also like to see funds available for "one or two more" directed patrol officers, meaning members of law enforcement that are assigned a specific task for a particular purpose. In his community, that purpose would be to have more of a presence to help stop the flow of drugs across jurisdictional lines.
"And maybe a reinstitution of D.A.R.E. or something similar to that," Leahy said. "We can do whatever we're doing now, but we've got to get to the young people."
At the federal level, Trump alluded to the fact that he's talking with China about "certain forms of man-made drugs that come in" during his press briefing.
That prospect got Tugg excited.
"We need to put sanctions on China. If they're not going to regulate what they're sending over here, then there should be sanctions against them," he said. "The fentanyl and carfentanil that's going around, they can get it right through the mail from China and get it dropped off right at their house."
Andrew says he got his last batch of opioids from his housemate, who is connected with one of the major drug cartels in Mexico. He won't say how it arrived in Ohio.
We asked what advice he would give — after everything he's experienced — to someone who was considering trying opioids for the first time today.
"I would say, 'Pull out your phone and look up epitaph, because you're gonna want to know what that word means,'" he says. "And then tell everyone you love that you love them. And then flip a quarter. Because there's a 50/50 chance you're gonna die."
*Names have been changed to protect the identities of these sources.
If you or someone you know is in need of drug-related treatment or counseling, you can reach the Substance and Abuse Mental Health Services Administration (SAMHSA) on its Treatment Referral Routing Service helpline at 1-800-662-HELP (4357).
SAMHSA's National Helpline is a free, confidential, 24/7, 365-day-a-year treatment referral and information service (in English and Spanish) for individuals and families facing mental and/or substance use disorders.
If you're in the Summit County, OH, area, you can call Akron Say No to Dope's 24/7 hotline at 855-246-LIVE (5483).