Millions of Americans with employer health care are still spending a fortune
Adriana Belmonte, Associate Editor           August 18, 2019
As Americans continue grappling with rising health care costs, research indicates that a sizable group of people with employer health care are still spending a ton on their medical bills.
According to the Commonwealth Fund (TCF), "employer plan premium contributions and out-of-pocket costs, like those for prescription drugs, are eating up an increasing portion of household budgets."
An estimated 23.6 million Americans with employer coverage had high premium contributions, high out-of-pocket costs, or both, according to the report.
"It's very arresting to me just to think about 24 million people with employer coverage who are living in households that spend a large share of their income on health care costs," Sara Collins, vice president at the Commonwealth Fund, told Yahoo Finance. "When just thinking about … those human beings, that's pretty striking. … Some households spend almost nothing and some are spending thousands of dollars per year."
High premium contributions were defined as such by TCF "if the total annual amount they pay for their employer plan premiums equals 10% of more of annual household income." Americans were considered to be paying high out-of-pocket costs if "the total annual amount they pay out of pocket for medical expenditures not covered by their employer plan … is 10% or more of annual household income, or 5% or more for families earning less than 200% of the federal poverty level."
The report goes against the notion that employer health plans mean lower health care costs.
"What we've seen over the last few years is a steady growth in the percentage of people who are insured all year but have high out-of-pocket costs relative to their income and deductibles" to the point that "they're considered under-insured," Collins said. "The biggest growth in that trend is occurring among people who have employer plans."
'We've seen steady growth in premiums over time'
The rising premiums, along with increasing out-of-pocket costs, are being driven by the overall increase in health care costs in the U.S. Collins noted that people's incomes aren't "growing very much" while the rate of growth in health care costs are growing faster than median income.
"What's really important for people to understand is that the principal driver of premium growth [and] the principal driver of out-of-pocket costs is the overall rate of growth in health care costs in the economy,' Collins said.
Collins added that the percent that employees have to contribute to their premiums, and while it's stayed relatively stable over time, "when the overall size of the premium goes up, the dollar amount that the employees have to spend on their premiums also goes up."
In 2017, U.S. health care spending grew 3.9%, reaching $3.5 trillion or $10,739 per person, according to the Centers for Medicaid and Medicare Services (CMS). That accounts for about 17.9% of the nation's GDP.
"We can look at policy fixes, changes in benefit design, giving people subsidies to help them offset their out-of-pocket costs," Collins said, "but we're also going to have to look really hard at the drivers of overall health care costs in order to lower the rate of growth in premiums and out-of-pocket costs."
'Pretty striking' disparities
The report found that the median annual household spending on employer insurance premium contributions ranged from $500 to $3,400 between 2016 and 2017. And in 11 states, "households in the top 10% of spending on premium contributions paid $9,000 or more."
Hawaii had the lowest median employer insurance premium contributions at $500 in 2016-2017. South Dakota's median had the highest at $3,400. The highest median premium contributions were mostly in the New England area as Maine, Connecticut, New Hampshire, Rhode Island, and Massachusetts were all among the top 10.
For out-of-pocket costs, Nebraska, Utah, Minnesota, New Hampshire, and South Dakota had the highest medians. At the bottom of the list are states like Hawaii, California, Florida, New York, and West Virginia.
Combining these two categories, the most expensive states were South Dakota, New Hampshire, and Nebraska, while the least-costly states were Hawaii, New York, and D.C.
Adriana is an associate editor for Yahoo Finance. 
Related:
The Washington Times
Kirsten Gillibrand releases plan aimed at boosting mental health care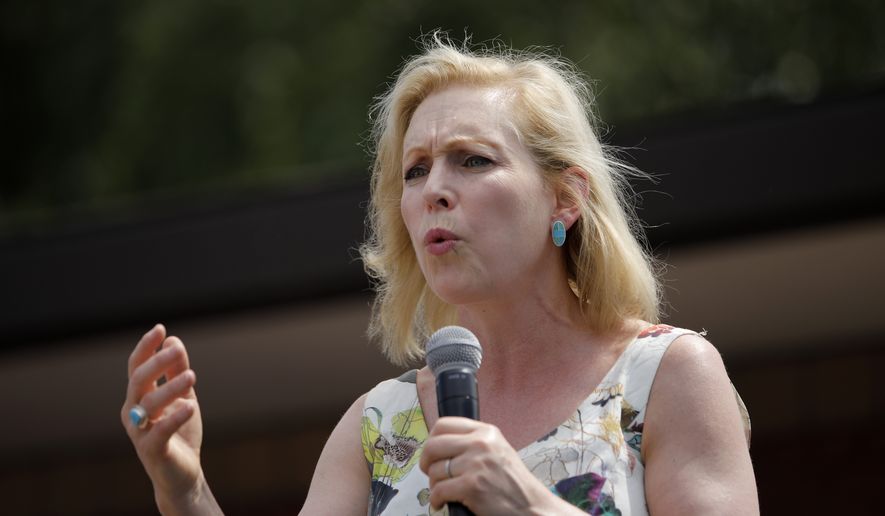 Democratic presidential candidate Sen. Kirsten Gillibrand, D-N.Y., speaks at the Iowa State Fair, Saturday, Aug. 10, 2019, in Des Moines, Iowa. (AP Photo/John Locher)
Sen. Kirsten Gillibrand on Tuesday released a plan intended to boost mental health care services in the U.S., as the subject gets renewed attention in the wake of the recent shootings in Texas and Ohio.
She called for an expansion of community health centers that provide mental and behavioral health care, and said she would work to combat "implicit biases" in mental health care that disadvantage people of color and other "harmed" communities.
"If we truly believe that health care is a right and not a privilege, then access to quality mental health treatments cannot be up for debate," the New York Democrat and 2020 presidential candidate said in a Medium post. "It's time for mental health to be taken as seriously as physical health."
Ms. Gillibrand vowed to expand school-based mental health care treatment, expand access to mental and behavioral health care for rural Americans, and invest further in suicide prevention efforts for young people and the LGBTQ community.
The senator also said she would work to ensure proper reimbursement rates for "non-traditional" treatment and prevention methods, like connecting people seeking treatment with a peer familiar with their background.
READ MORE: