McConnell Greeted at Home by Protests, Pressure Over Gun Laws
By Laura Litvan      August 8, 2019
Senator Majority Leader Mitch McConnell is starting his summer break under siege. Democrats are intensifying pressure on him to take up gun legislation, expletive-hurling protesters have shown up at his front door and his campaign generated social media outrage over a tweet.
It's been a rough stretch for the Kentucky Republican, and the aftermath of two mass shootings in 24 hours last weekend guarantees he'll remain under the spotlight. McConnell, who is up for re-election in 2020, must decide whether to step away from his rigid defense of gun-owner rights as he works with an unreliable partner in President Donald Trump, who is sending mixed signals about where he stands on the issue.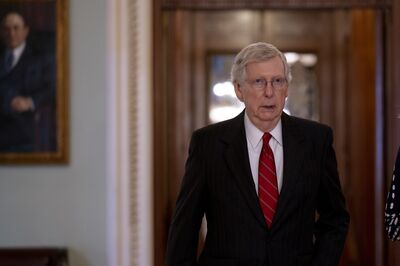 The self-described "grim reaper" of liberal policy plans has stayed firmly in control in the GOP-led Senate by successfully shepherding a host of conservative judges through confirmation, staving off Democratic legislative initiatives and staying out of the line of fire from Trump. The gun issue, one of the most volatile in U.S. politics, will test his ability to maneuver between the Democrats and the president.
McConnell said Thursday that he and Trump spoke earlier in the day about the issue, and both agreed a bipartisan deal is needed and that "two items that for sure will be front and center" are background checks for gun buyers and encouraging state "red flag" laws intended to take firearms away from dangerous or mentally ill people.
"The urgency of this is not lost by any of us because we have seen entirely too many of these outrageous acts by deranged people," he said in an interview on Louisville radio station WHAS. He added, though, that he won't bring the Senate back early from an August recess to act.
The renewed emphasis on gun control comes as McConnell also is fending off Democratic attacks over his unwillingness to allow votes on legislation aimed at securing U.S. elections before 2020, in response to findings that Russia acted to swing the 2016 vote in Trump's favor. MSNBC's Joe Scarborough tagged McConnell as "Moscow Mitch," kicking off the social media trend that's been picked up by chanting protesters.
McConnell on Defensive
Days before lawmakers left Washington for a month-long recess, McConnell took to the Senate floor to angrily defend his record on Russia and to take on his detractors in an unusually impassioned extended address. He accused his critics of engaging in "modern-day McCarthyism."
National scorn and Democratic attacks have followed him back home to Kentucky, where he is campaigning for a seventh term. At a political picnic in Fancy Farm, Kentucky, on Saturday, protesters chanted "Moscow Mitch" as he spoke. Other protesters appeared outside his home in Louisville this week, shouting expletives while he was inside recovering from a shoulder injury on Sunday.
His campaign also was derided by critics over a photo posted on McConnell's Senate re-election twitter account shortly after the Saturday shootings at a Walmart in El Paso, Texas, that left 22 people dead. The photo showed cardboard replicas of tombstones that depicted the Democrats' "Green New Deal" on climate change, his Democratic opponent in 2020, Amy McGrath, and socialism.
McConnell's remarks on Thursday provided the first hints of what he might consider. He told the Louisville radio station that restoring a lapsed ban on assault-style weapons probably would be discussed but that he questions how effective that would be. On background checks, he pointed to an earlier proposal by GOP Senator Pat Toomey of Pennsylvania and Democratic Senator Joe Manchin of West Virginia as a possible model. Their measure, blocked in the Senate in 2013 in part because McConnell's opposed it, would eliminate loopholes for making background checks part of firearms transactions.
"McConnell is a cool customer and he'll let the Senate work its will without taking up Democratic House-passed legislation," said Ron Bonjean, a Republican strategist who was a top aide to past GOP leaders of both the House and Senate.
Trump has been inconsistent about where he is on the matter, hinting at a tough challenge this fall for McConnell when senators return to work.
Trump on Monday gave support to a proposal intended to take firearms away from the mentally ill as he called for bipartisan action following the shootings in Ohio and Texas that killed 31 people and wounded dozens of others. He has proposed nothing that would curtail the availability of firearms.
While the president has threatened to veto House-passed legislation on background checks, on Wednesday he told reporters on the White House lawn that he is in favor of some form of bolstered vetting for gun buyers.
Background Checks
"I'm looking to do background checks," Trump said. "I think background checks are important."
Trump has a track record of backing away from proposed new gun laws. Two weeks after last year's massacre at a Parkland, Florida, high school, Trump convened an extraordinary meeting of top Democrats and Republicans. He indicated he would push through universal background checks and other measures that Democrats long have supported. He ended up backing away from universal checks in the face of opposition from the National Rifle Association.
Senate Minority Leader Chuck Schumer this week repeated his call for McConnell to bring the Senate back for an emergency session and take up legislation approved in February by the Democrat-led House that would require background checks on all gun purchases — including at gun shows and online.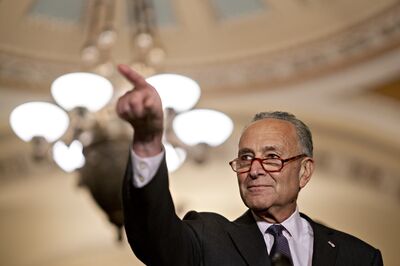 "We're saying to Leader McConnell, do the right thing," Schumer said at a news conference where he was joined by GOP Representative Peter King of New York, who co-sponsored the measure.
Modest Changes
Last year a number of modest policy changes were enacted after the mass shootings in Florida and Las Vegas. The administration took action to ban so-called bump stocks that allow semi-automatic rifles to mimic fully automatic weapons. Congress also voted to improve background checks for gun purchases, spend more on school safety, and let the Centers for Disease Control and Prevention study gun violence — ending what was in effect a 22-year ban that was supported by the NRA.
But they were small steps compared with the 1994 assault-weapons ban that lapsed in 2004.
The twin attacks in recent days seemed to renew momentum for action to address gun violence. Trump ally and Senate Judiciary Chairman Lindsey Graham said Monday that he and Democratic Senator Richard Blumenthal, a gun-control advocate, will draft legislation to help states adopt so-called red flag laws intended to take firearms away from dangerous or mentally ill people.
A number of leading Republicans also called for action. Ohio Governor Mike DeWine, a Republican, on Tuesday issued proposals including a "red flag" law, background checks for most firearm purchases, and tougher penalties for felons with guns and straw purchases.
In the Senate, some senior Republicans called for action on "red flag" legislation, including several members of McConnell's leadership team. That includes Senator John Thune of South Dakota and Senator Todd Young of Indiana.
'Multiple Problems'
"Clearly we have multiple problems in this country – problems of hate, social alienation, and the devaluing of human life – and we're going to have to work together as a nation to address these challenges," Young said in a statement.
But there were few calls for enhanced background checks, with the exception of two GOP senators: Toomey and Susan Collins of Maine.
Democrats are keeping the pressure on.
Representative Tim Ryan, an Ohio Democrat who's among the crowded field of candidates seeking the party's 2020 presidential nomination, said Thursday he'd start a caravan from Niles, Ohio, to McConnell's home in Kentucky to demand action on gun-safety bills.
"People say 'Why is it different now?' I just think this has all accumulated," Ryan said during an interview Thursday with CNN. "You go back: it's Parkland; it's Sandy Hook; it's Columbine. It's all of these things over the past 20 years."
As McConnell navigates the matter, there is some prospect that the pressure to act will be reduced in the weeks before Congress returns to work, said Republican strategist Whit Ayres. Passage of a few weeks means advocates could "lose the momentum of the moment," he said.
"I am hesitant to make any predictions in the aftermath of the latest tragedy, given the fact that past tragedies have raised the possibility of changes in our laws that have never come to fruition," Ayres said. Demand for legislation is clearly growing, but he said it will take "an alignment of the planets to get something significant changed given the controversy over any sort of laws affecting guns."