CNN
India facing its worst water shortage in history, report says
By Swati Gupta      June 15, 2018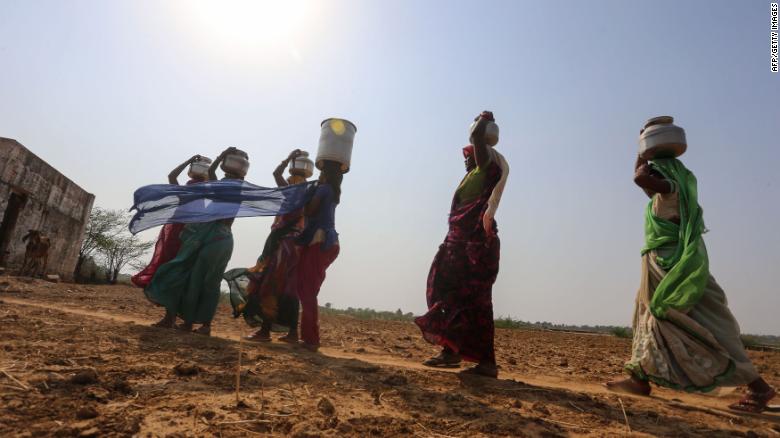 Indian women fetch water from a pit in the bed of Lokpal Sagar Lake in Madhya Pradesh.
Story Highlights
Six hundred million people are dealing with high to extreme water shortage
"We have 4% of the global water and 16% of the global population," an expert notes
(CNN)India is facing its worst water shortage in history. Six hundred million people are dealing with high to extreme water shortage, according to a report by Niti Aayog, a policy think tank for the Indian government.
The report states that an average of 200,000 Indian lives are lost every year due to inadequate supply or contamination of water.
Sustainable water development has seen slow progress in India in recent years. Though 80% of the country's states have water conservation legislation, bad data management and nonexistent pricing of water have kept the country from making significant change, the report states.
Poor irrigation techniques and severe contamination of groundwater have brought India to the edge of this crisis.
India is predominantly an agricultural country, with 80% of its water used for irrigation, the report says. The irrigation practices followed by farmers are inefficient at best.
Cape Town rejoices as rain falls on drought-stricken city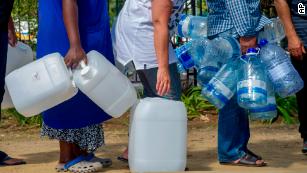 "Policies like several states giving free electricity to farmers or giving financial support for groundwater extraction — borewells and tube wells — results in uncontrolled exploitation and wastage of resource," said Suresh Rohilla, director of urban water management at the Centre for Science and Environment.
Drip irrigation, which is a method to provide an exact amount of water directly to the root of the plant, has seen few customers. The implementation is costly for the average farmer, and state government provides limited support, said Samrat Basak, director for urban water at the World Resources Institute.
"Primarily, water is not valued in India. It is very cheap in India. People think it is free," Basak added.
According to the report, three-quarters of the Indian population is affected by contaminated water, and 20% of the country's disease is thought to directly correlate.
India does not have an adequate number of sewage treatment plants, so untreated urban wastewater is often added to water flowing downstream — the same contaminated water used in rural areas for drinking, according to the report.
Twenty-one major Indian cities are estimated to run out of groundwater by 2020 — just two years away.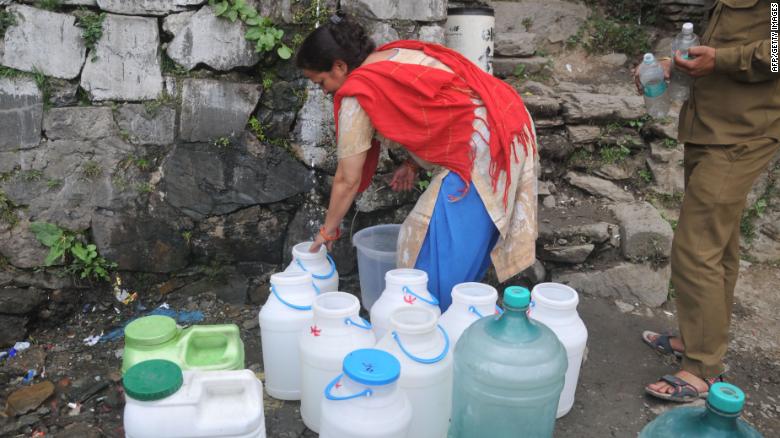 Indian residents wait to collect drinking water in Shimla as the city faces water shortage.
One hundred million people, including those in the large cities of Delhi, Bangalore and Hyderabad, will be living in zero groundwater cities, according to the report.
"People think that if they own the land, they own the water. India as a country extracts the highest amount of groundwater in the world," Basak said.
As India develops and grows to support its 1.3 billion people, the country is on the brink of an inescapable crisis.
Some states have shown a marked improvement in water quality standards during the past year.
"There have been time to time policies and programs launched by central and state governments," Rohilla said. However, the government has not shown that it is serious enough to translate its goals into reality," he added.
Authorities have launched better water management practices and legislation for the protection and restoration of water bodies, the report says.
The initiative to release this report is a step in the right direction, Basak said.
State governments have control over water-related policies, and the lack of legislation for groundwater extraction and the inability to price water for every home due to political constraints has led to a paralysis in the formation of a sustainable framework.
Cities have seen a return to the use of water tankers due to a lack of groundwater and in turn no water being supplied to the taps in people's homes.
At a single tap at the back of the tanker, hundreds of people line up with cans and containers to get a few liters every day.
"We have 4% of the global water and 16% of the global population. The minute you bring this statistic into the equation, there is a non-rocket-science understanding of how this has happened," Basak said.