ThinkProgress
Senator Corker Kickback' sends Republicans scrambling in advance of tax vote
What happened? Bob Corker, and many others, want answers.
Sen. Bob Corker, R-Tenn. (Credit: AP Photo / J. Scott Applewhite)
Judd Legum             December 17, 2017
Bob Corker, a Republican Senator from Tennessee, is retiring. He has made a show of criticizing Trump's agenda, and he was the only Republican to vote against the Senate version of the tax bill, citing deficit concerns. Independent analysis shows the bill would increase the deficit by about $1.5 trillion over 10 years.
A PORTION OF CORKER'S PRESS RELEASE EXPLAINING HIS VOTE AGAINST THE SENATE TAX BILL
After they passed their respective chambers, the Senate and House bills were then sent to a conference committee where senators made more changes, although nothing was altered that would significantly change the bill's impact on the deficit.
That's why it was inexplicable that Corker announced his support for the legislation that came out of conference. He didn't try to argue the new bill was any better for the deficit. Or even that there were changes made to the bill that made it more palatable to him. Rather, he just stated that "every bill we consider is imperfect" and he would vote for it.
Corker made his announcement two hours before the text of the tax bill was made public. In the 503-page text was a new provision that was not in the House or Senate legislation. It would specifically benefit real estate investors who operate "pass-through" businesses. This group includes President Trump — and also Bob Corker, who "has millions of dollars of ownership stakes in real-estate related LLCs that could also benefit" from the new provision.
The savings to Corker could be substantial, according to the Center for Economic and Policy Research.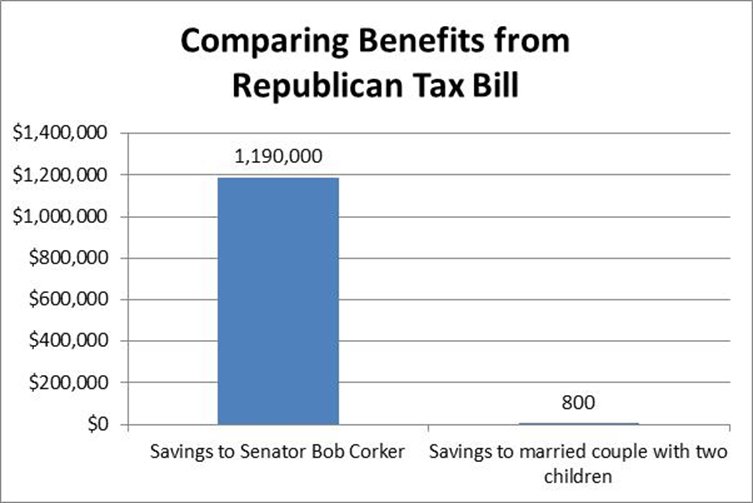 Dean Baker@DeanBaker13: Senator Corker does considerably better with the Republican tax bill than a married couple earning $30,000, with two kids http://cepr.net/blogs/beat-the-press/swamping-the-drain-with-senator-bob-corker-and-the-republican-tax-bill …
Corker then contacted the International Business Times and said the new provision did not influence his position on the bill because he hadn't actually read it before announcing his vote. "I had like a two-page summary I went through with leadership. I never saw the actual text," Corker said.
Corker initially told IBT that the new provision "sounds totally unnecessary and borderline ridiculous" but later admitted he doesn't "really know what the provision does to be honest. I would need an accountant to explain it." Last year, Corker made up to $7 million from real estate pass through companies he owns.
His story, however, hit a snag when Sen. John Cornyn (R-TX), the Senate Majority Whip, told ABC News that the provision that benefits real estate investors was added as part of an effort to "cobble together the votes we needed to get this bill passed." When asked if the provision was added specifically to secure Corker's vote, Cornyn dodged the question.
Now Corker is in the hot seat. On Sunday night, he sent a letter to Senate Finance Committee Chairman Orrin Hatch (R-UT) and asked him to "provide an explanation of the evolution of this provision and how it made it into the final conference report."
"I think that because of many sensitivities, clarity on this issue is very important and hope that you will respond in an expeditious manner," Corker added.
With John McCain (R-AZ) heading back to Arizona to tend to medical issues, Corker's vote could prove decisive in the Senate, which is expected to vote on the legislation early this week. Meanwhile, #CorkerKickback is trending on Twitter.