Newsweek
CEO Compensation has risen 940 percent since 1978, but worker compensation has only increased 12 percent
By Daniel Moritz – Babson     August 14, 2019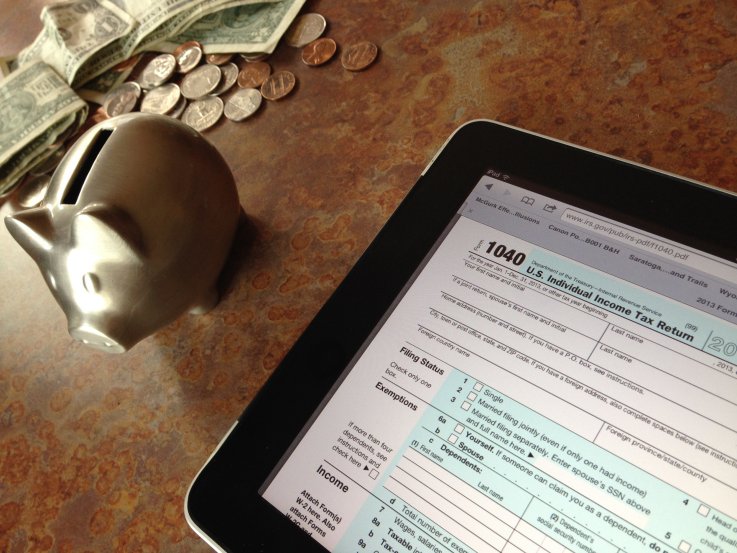 A standard 1040 form is shown with some cash from a piggy bank.WILL & DENI MCINTYRE / CONTRIBUTOR
CEO's at America's 350 top public firms earned  278 times more than their typical employee in 2018, according to a study from the Economic Policy Institute released Wednesday.
The study emphasized the widening gulf between compensation given to employees and CEO's at the country's top firms.
While inflation-adjusted CEO compensation has risen 940 percent since 1978, worker compensation had only increased 11.9 percent, the report said. Its findings highlight the decades-long bifurcation of CEO and employee pay, which in 1965 was at a much lower ratio of 20-1.
The analysis included figures for compensation when stock options were immediately realized and when they were granted. The 940 percent increase references CEO compensation when executives cashed in their stock. But CEO pay increased even more, 1,007.5 percent, under the options granted measure.
While top executive compensation has grown 52.6 percent since 2009 when stock options were exercised, rank-and-file workers witnessed just 5.3 percent compensation growth. Between 2017 and 2018, compensation for employees at the evaluated firms decreased.
The EPI analysis found that CEO's were paid an average of $17.2 million last year, when stock options were cashed in. Significantly, CEO compensation rose much faster than even the most highly paid employees, indicating that skill is not the sole determinant of rising CEO pay. The percent increase in CEO compensation has far outpaced S&P stock market growth.
"Ballooning CEO pay is not a reflection of the market for executive talent," EPI research assistant Julia Wolfe, who co-conducted the analysis, said in a press  release. "We know this because CEO compensation has grown far faster than even the top 0.1 percent of earners. This means that CEO pay can be curbed with little, if any, impact on the output of the economy or firm performance."
The analysts recommended reinstating elevated marginal income tax rates for high earners, capping compensation and raising the tax rate for firms that have high ratios of CEO-to-worker pay. They also recommended permitting shareholders to have greater control over CEO compensation.
"The escalation of CEO compensation has fueled the growth of top one percent incomes and widespread inequality across the country," EPI Distinguished Fellow Lawrence Mishel, who co-conducted the analysis, said in a press release.
In June, the AFL-CIO released a similar report highlighting the vast gap between CEO and employee compensation. Tesla CEO Elon Musk, who received a performance-linked equity options package worth $2.3 billion last year, earned 40,688 times more than the company's median employee. The AFL-CIO report said that America's 60 largest companies paid $0 in federal income taxes last year.
While the EPI report focuses on the leaders of companies earning the most money, Democratic candidates have sought to highlight broader wealth disparities between the rich and the poor.
Wealth mobility has decreased since the 1980's, according to research from the Federal Reserve Bank of Cleveland. And income inequality is rising rapidly, with the poorest families in the country taking on debt, while families in the 90th percentile of wealth witnessed fivefold wealth increases between 1963 and 2016.
Candidates vying for the Democratic presidential nomination have promoted policies to diminish the nation's wealth gap.
"The American people are sick and tired of corporate CEO's who now make 278 times more than their average employees, while they give themselves huge bonuses and cut back on the healthcare benefits of their employees," Vermont Senator and 2020 candidate Bernie Sanders told Newsweek reporter Nicole Goodkind on Wednesday.
"We need an economy and a government that works for all of us, not just the top one percent. That means, among other things, raising the minimum wage to at least $15 an hour, making it easier for workers to join unions, guaranteeing healthcare as a right, and demanding that the wealthiest people and most profitable corporations pay their fair share of taxes," he added.
Nicole Goodkind conducted additional reporting for this article.