Atlanta Business Chronicle
Walmart exec in Atlanta: We want to redevelop our parking lots into bustling town centers

Amy Wenk, Staff Writer, Atlanta Business Chronicle    October 24, 2018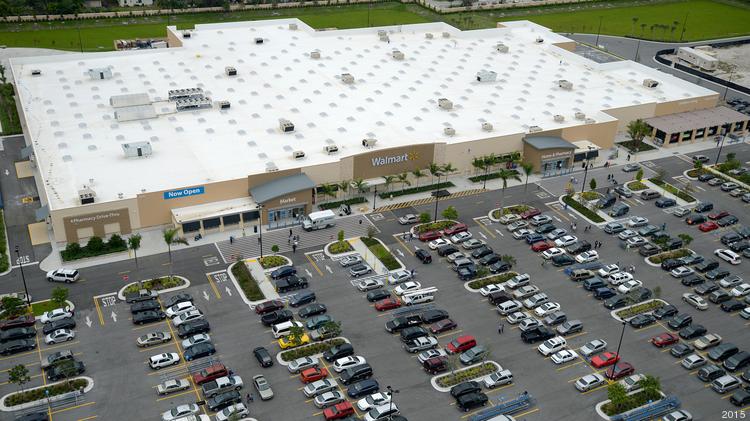 The nation's largest retailer wants to redevelop its sprawling parking lots into bustling town centers.
Walmart is evaluating whether to transform underused land at its stores across the U.S. (including metro Atlanta) into new offerings, such as restaurants, shops, food halls, parks, entertainment venues and more, said a top executive with Walmart during an Oct. 23 retail conference in Atlanta.
It's a new concept called the "Walmart Town Center," said LB Johnson, vice president of U.S. Realty Operations for Walmart, the keynote speaker at the 2018 International Council of Shopping Centers (ICSC) Southeast Conference & Deal Making.
"We want to provide community space, areas for the community to dwell – a farmer's market, an Easter egg hunt, trick or treating," Johnson said. "We want to provide pedestrian connectivity from our box to the experiential zones that are planned on our footprint. We want to augment these experiences and activities with more food and beverage, with health and fitness, essential services and entertainment."
Walmart plans to break ground next spring on a Town Center project, transforming a Supercenter in Loveland, Colo. There, the retailer owns 12 acres of vacant land next to the store and 6 to 8 acres of parking field (typical for a Supercenter), Johnson said.
"A transformation is underway," Johnson said. "We are working with the local community to really master plan a vision, not only for Walmart, but shared with the municipality. We are using terms like collaboration space. We are thinking through dwelling space … We are going to hold ourselves accountable to the community to improving well being."
According to a fly-through video about the Town Center concept shown at the Atlanta retail conference, Walmart could possibly add restaurants such as Bartaco, Shake Shack and Chipotle, and retailers such as Orangetheory Fitness and bowling alley Pinstripes. It also suggested other uses such as fuel pumps, pet stores and urgent care.
Walmart on a website shows multiple plans for projects, including in Springfield, Mo., and Windsor Heights, Iowa.
When asked if Walmart would consider Town Center projects in metro Atlanta, Johnson said yes, especially since there are large parking fields at its stores here. He also said Walmart could look to add other uses to its sites, such as apartments, to create a live, work, play environment.
"So as we begin to look across the country and evaluate the Walmart Town Center opportunities, we will be tapping the talent, expertise and partnership from members of this community to support our efforts," Johnson told the ICSC conference attendees on Oct. 23.
Consider the amount of real estate.
Across the U.S., Walmart has 5,358 stores, including 3,561 Supercenters and 597 Sam's Clubs, according to a March 30 filing with the U.S. Securities and Exchange Commission.
Georgia has the fifth-largest number of Walmart-owned stores in the U.S., with 215 stores, including 154 Supercenters and 24 Sam's Clubs.
Only Texas (601), Florida (380), California (320) and North Carolina (217) have more stores.
"They certainly own an incredible amount of real estate," said Atlanta retail veteran Penelope Cheroff, president of The Cheroff Group Ltd. "They would be in a catbird seat to develop those sites."
Especially, she said, if Walmart targets markets where land prices have soared since they opened their stores. Prime sites could include Walmart stores at Cumberland, Perimeter and Mall of Georgia.
"It makes a lot of sense especially if they are looking at those markets that have densified and grown up around them," Cheroff said.