The Guardian
Global Development
Trafficking and exploitation in focus is supported by: About this content
The terrible truth about your tin of Italian tomatoes
Court documents reveal that fruit from two food giants on UK supermarket shelves was picked by workers in southern Italy under 'conditions of absolute exploitation'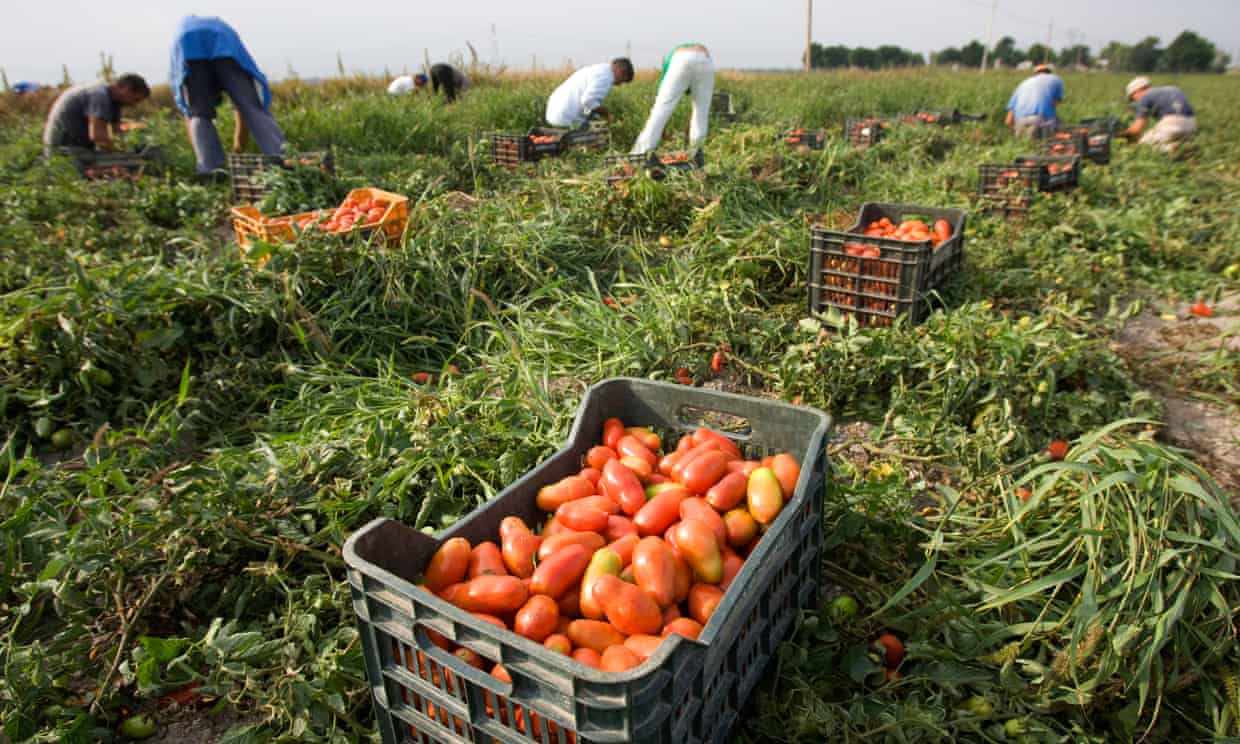 Farm workers pick tomatoes in southern Italy. The country's tomato industry is worth an estimated €3.2bn (£2.85bn). Photograph: Tony Gentile/Reuters
Isabel Hunter and Lorenzo Di Pietro           October 24,  2017 
Two of Italy's biggest food companies have been implicated in labour abuses of migrant workers picking tomatoes bought by thousands of British and European consumers every week, according to court documents.
Italian prosecutor Paola Guglielmi has named food giants Mutti and Conserve Italia as benefiting from "conditions of absolute exploitation" in the country's hugely lucrative tomato industry, as part of an investigation into the death of a seasonal laborer.
Both Mutti and the Conserve Italia brand Cirio supply major UK supermarkets with premium tinned tomatoes and passata, and are named in court documents signed by Guglielmi.
The case began with the death of Abdullah Muhammed, a 47-year-old legal Sudanese immigrant and father of two, who suffered a heart attack while working in the fields of Nardó, which sits on the heel of southern Italy, in July 2015. The allegation against his employer was that Muhammed's life could have been saved if he had been allowed to go to hospital.
The Italian investigator used her powers to track the supply chain up to the very top of the country's €3.2bn (£2.85bn) processed tomato industry. While the companies are not liable for the death, their link is significant.
Like thousands of other workers, Muhammed's day would start at 4am and he would work until 5pm handpicking tomatoes in the fierce heat of the southern Italian summer. Labor abuses listed in the court documents include working for 12 hours a day, seven days a week, without breaks, with minimal pay and no access to medical staff.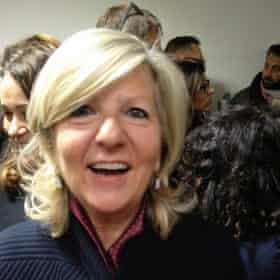 Italian prosecutor Paola Guglielmi. Photograph: Courtesy of Corriere Salentino
"The person responsible for the crime by law was just the gangmaster," Guglielmi told the Guardian.
"But in this case there was also manslaughter. That guy would not have died if there had been a doctor's visit. The violation of the safety provisions on the job was flagrant."
Through a far-reaching investigation, Guglielmi checked telephone records, tapped phone calls and conducted aerial surveillance to painstakingly link the exploitation of seasonal migrant workers to industrial giants.
While workers make an average of €30 a day in the Puglia region, they can expect to lose up to half of that just to pay for food, transport, water and a cut to their gangmaster.
The gangmaster or "caporalato" system is rife across the Italian agricultural sector where migrants – both legal and illegal – are organized into informal labor groups that are hired by Italian landowners to harvest their crops.
The file accuses Italian company owner Giuseppe Mariano and Sudanese gangmaster Mohammed Elsalih of manslaughter. The preliminary investigation has now concluded, and a judge will decide whether the case should go to trial.
The companies named in the file are not liable and stress the extent to which they encourage their suppliers to treat their workers ethically.
A spokesman for Conserve Italia, which produces the Cirio brand of tinned tomatoes that is sold by Tesco, said it requires all its suppliers agree to "respect" their workers and the company's ethical code, and that the company cut ties with the supplier involved after they were made aware of Muhammed's death.
"We know in the south of Italy there are some situations that are not in line but we can't do the work – it's not our responsibility to verify what happens in the region but we do ask our suppliers to respect human rights," he said. "We don't pay less than the normal price."
Conserve Italia has since said in a statement that it plans to sue the suppliers for damages "to protect its reputation as the most ethical company in this business".
Mutti also issued a statement. "Mutti has always been committed to fight any exploitation of workers' systems by all means … ," it said. "Mutti selects its farmers and agricultural partners with special care and maintains a constant dialogue with them along the entire supply chain. As far as the protection and security of workers is concerned, each contract involves specific requirements on work conditions (salary regularity as well as security in the workplace). Mutti will continue to foster its commitment to work in cooperation with its competitors, farmers associations and the Italian institutions to avoid accidents in fields."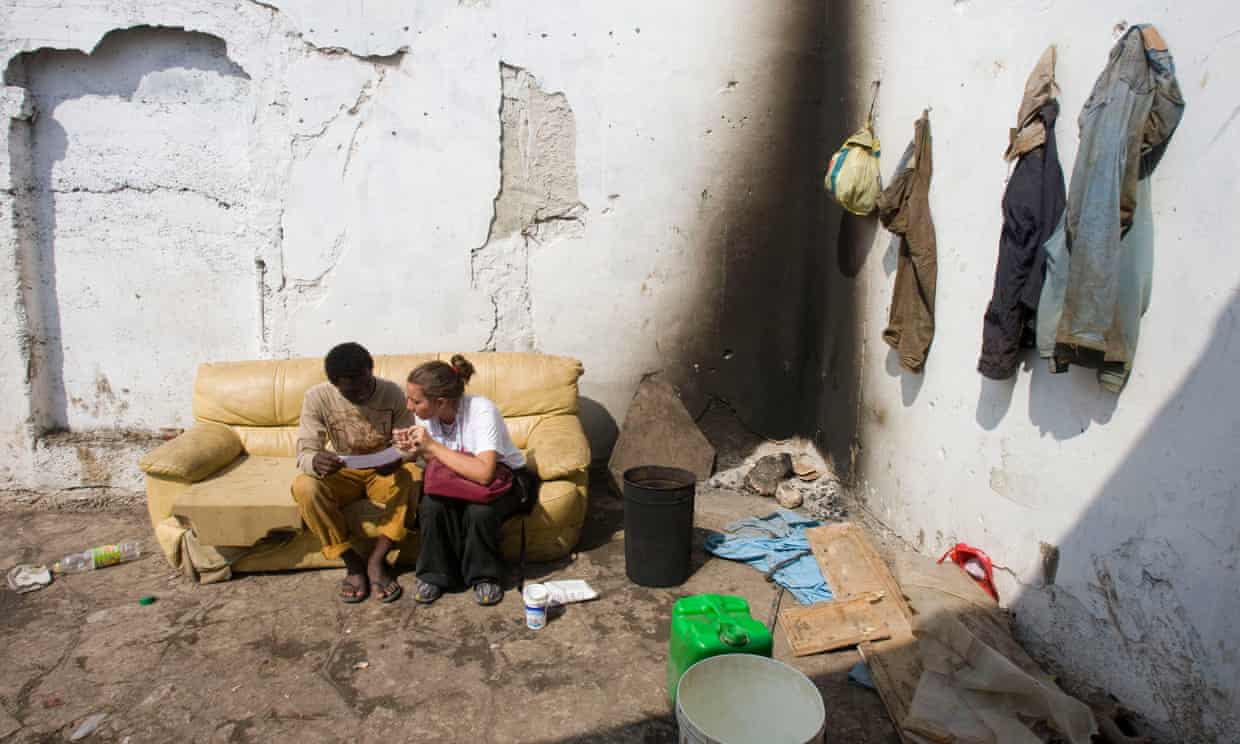 A member of Médecins Sans Frontières talks to an African worker in a makeshift camp in the countryside near the village of Rignano Garganico, southern Italy. Photograph: Tony Gentile/Reuters
Activists claim that the low production costs drive interests not to tackle the exploitation problem properly. Yvan Sagnet, 32, from Cameroon worked just five days in the fields near to where Mohammed died before leading a mass strike of the workers in 2012. Now he campaigns to end what he brands "slavery".
"When I arrived in Puglia I discovered the gangmaster system – conditions were inhuman – they were ghettos that were like concentration camps," he said.
"One day a guy got sick [in the fields], he couldn't handle it and in those places there is no way to get first aid – there is no address. There is no cellphone signal. The workers don't speak Italian so the gangmasters take advantage … The gangmaster insisted, 'If you don't pay me the 20 euros I will not take you. If you do you can go to the hospital tonight.'"
After years of campaigning and organizing a mass strike against the gangmasters, a strengthened law outlawing the caporalato system came into effect last year.
But campaigners say very little has changed in isolated farms where authorities do not do enough to proactively crack down on the practice.
"The interests of these fields are linked with the interests of the politicians and people who own the most important companies in Italy," said Valeria Sallustio, former president of Finis Terrae, an Italian NGO that worked closely with the workers in Nardó.
Zoe Maddison, spokesperson for the British Retail Consortium (BRC), which represents Tesco and Sainsbury's among other major UK supermarkets, said: "This is a tragic case and we expect the Italian authorities to carry out a full investigation.
"The welfare of all people who work in our supply chains is of key importance to us, and BRC members will investigate any allegations of malpractice."