A Real Christian
John Hanno, tarbabys.com       June 28, 2017
What if God was one of us,                                                       Just a slob like one of us,                                                         Just a stranger on a bus,                                                          Trying to make his way home,
by Eric Bazilian (of the Hooters)
Got a heads up listening to the Norman Goldman Show on Chicago Progressive Radio Station WCPT, 82 AM. Norman marked the passing of Sister Sam, founder of Meals on Wheels, by asking his listeners: Who is a Christian…#whoisachristian ? Many progressives have been asking themselves the same question ever since Evangelical Christians and self-professed conservatives decided to install very-unchristian like and un-conservative Donald J. Trump in the White House. These last few weeks have been especially troubling. I've blogged often about the Trump administration and the Republi-con controlled congress' attempts to strip away life saving health care from 23 million poor and challenged Americans, so no need to rehash this calamity.
The Donald, clearly truth challenged, and evidenced by the recent New York Times full page list of all of Donald's lies just since he's been in office, likes to portray himself as something he is not. In Trumps own words:
"I'm a big Christian."
"People were not sure I was a nice person," he said, "and I am. I am. I am. I am. I'm a giving person. I believe in God, I believe in the Bible. I'm a Christian. I have a lot of reasons. I love people."
"Paul [Ryan] wants to knock out Social Security, knock it down, way down. He wants to knock Medicare way down. … I want to keep Social Security intact. … I'm not going to cut it, and I'm not going to raise ages, and I'm not going to do all of the things that they want to do. But they want to really cut it, and they want to cut it very substantially, the Republicans, and I'm not going to do that."
"I was the first & only potential GOP candidate to state there will be no cuts to Social Security, Medicare & Medicaid."
"The Republicans who want to cut SS & Medicaid are wrong. A robust economy will Make America Great Again!"
"Every Republican wants to do a big number on Social Security. They want to do it on Medicare. They want to do it on Medicaid. And we can't do that," Trump said in 2015. "And it's not fair to the people who've been paying in for years."
"I'm not going to cut Social Security like every other Republican and I'm not going to cut Medicare or Medicaid," Trump said. "Every other Republican is going to cut, and even if they wouldn't, they don't know what to do because they don't know where the money is. I do."
"I'm an environmentalist, I'm the biggest environmentalist."
But Mr. Trump fully endorsed the AHCA passed by the Republi-cons in the House, a debacle of a replacement for Obamacare, favored by only 16% of America. He then later called it "mean," after public outcry, because it cut $880 billion from Medicaid and cut 23 million American's healthcare. Now he's touting a meaner and even more punitive flim-flam version of the ACA replacement proposed by the Republi-con Senate, favored by only 12 to 17% of us, because it still cuts $780 billion from Medicaid and kills healthcare for 22 million American. Both of these plans are simply enormous $1 trillion tax cuts for the richest Americans and have nothing to do with improving Obamacare or America's health care system. It's a historic transfer of wealth from the poorest Americans to the richest 1%.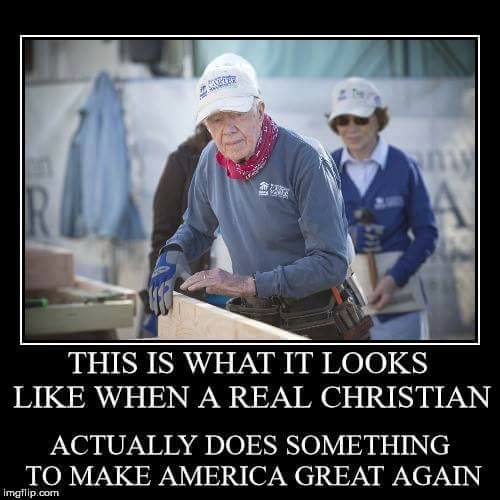 The only explanation I can fathom from listening to Trump, is that the definition of words mean nothing to him. Words are not true or false; they're just words, tools used to get what you want. Tools used by salesmen to close the deal. Facts are likewise not true or false, they're just more groups of words, used for the benefit of the speaker or fabulist.
Trump's proposed budget, roundly dismissed by anyone with any sense, including many conservatives, proposes enormous cuts to environmental programs and to social safety net programs.
Vox reports Trumps budget "will violate his promises in a rather flagrant fashion. Axios's Jonathan Swan reports that the 2018 budget proposal will include $1.7 trillion in cuts to mandatory spending programs over the next 10 years, "from programs including SNAP (food stamps), CHIP (Children's Health Insurance Program), and SSDI (Disability Insurance)." But Swan obfuscates the issue by saying the plan, "won't reform Social Security or Medicare — in line with his campaign promise."
"Let's be extremely clear about something: SSDI stands for Social Security Disability Insurance. It is part of the Social Security program. While in the public mind, "Social Security" usually connotes payments you receive in retirement based on your prior earnings, Social Security also encompasses a program compensating past workers who develop disabilities that prevent them from participating in the workforce. That's disability insurance, the program that Trump's budget is set to cut."
And yes, Trump proposes cutting Sister Sam's "Meals on Wheels" program and other safety net programs for the same poor and disadvantage souls Sister Sam has ministered to for the last 40 years. Norman and I and most Americans don't believe Mr. Trump or the Republi-cons in Congress are real Christians. And we don't need a dictionary to prove it.   John Hanno
 
LA Times
Sister Sam, founder of St. Vincent Meals on Wheels, dies at 82
Sister Alice Marie Quinn, known as Sister Sam, was once called "L.A.'s Mother Teresa" by former Mayor Richard Riordan. She died Friday at 82.
Andrea Castillo, Los Angeles Times     June 25, 2017
In 1977, Sister Alice Marie Quinn started what became St. Vincent Meals on Wheels with a single pot of stew served to 83 seniors in a church basement near MacArthur Park.
On Friday — days after celebrating her 82nd birthday — Sister Sam, as she was known by friends, died of natural causes.
As executive director  of St. Vincent Meals on Wheels, Sister Sam would rise every morning before dawn for an hour of prayer, then get to work overseeing the preparation and delivery of nearly 3,500 meals to the city's homeless, homebound, disabled and terminally ill.
Her cause arose from observation. A registered dietitian, Sister Sam noticed that many low-income, elderly people living in apartments near St. Vincent Medical Center, where she had served as assistant dietary director, weren't eating right.
"Over the years it became so much more than plates of food," she once said. "It became friendship, family and nourishment for the soul."
Now headquartered in an industrial-sized kitchen in the same neighborhood, the nonprofit has a staff of 78 and more than 300 volunteers who prepare, deliver and serve hot and frozen meals, as well as weekly breakfasts, to more than 1,800 Angelenos.
Chef Wolfgang Puck organized an extravagant 75th birthday party for Sister Sam. The two had been friends since the 1980s, when Puck asked her if St. Vincent could benefit from some of the proceeds from his annual American Wine and Food Festival. He has been a major fundraiser ever since.
At the time, Puck said no one deserved the honor more than Sister Sam.
"She's like a saint," he told The Times in 2010. "If anybody should go to heaven, it should be her. She should sit in the first row up there. Or at the best table."
Among the accolades she and St. Vincent garnered are the International Foodservice Manufacturers Assn. Silver Plate Award in 2006, for outstanding achievement in specialty food services, and she was named "Woman of the Year" in 1988 by the state of California. In 2013, the Los Angeles City Council declared the day before Thanksgiving as St. Vincent Meals on Wheels Day.
St. Vincent Meals on Wheels is a ministry of the Daughters of Charity, an order of nuns dedicated to the poor. Sister Patricia Miguel, a fellow Daughter of Charity who was close to Sister Sam, said she never wavered in her commitment to serve homebound seniors.
"Her life of service has inspired everyone who knew her," Miguel said.
The Daughters of Charity has named the organization's longtime director of development, Daryl Twerdahl, as the interim executive director.
"Sister Alice Marie mentored us, loved us, chided us, but above all else, she taught us to serve with compassion and respect," Twerdahl said. "We will continue her legacy with every meal served."
The viewing is at 5:30 p.m. Tuesday and the rosary will be held at 7. A mass and burial will be held at 10 a.m. Wednesday. Services will be at St. Vincent de Paul Church, 621 W Adams Blvd. Burial will be at Resurrection Cemetery, 966 Potrero Grande Drive in Rosemead.